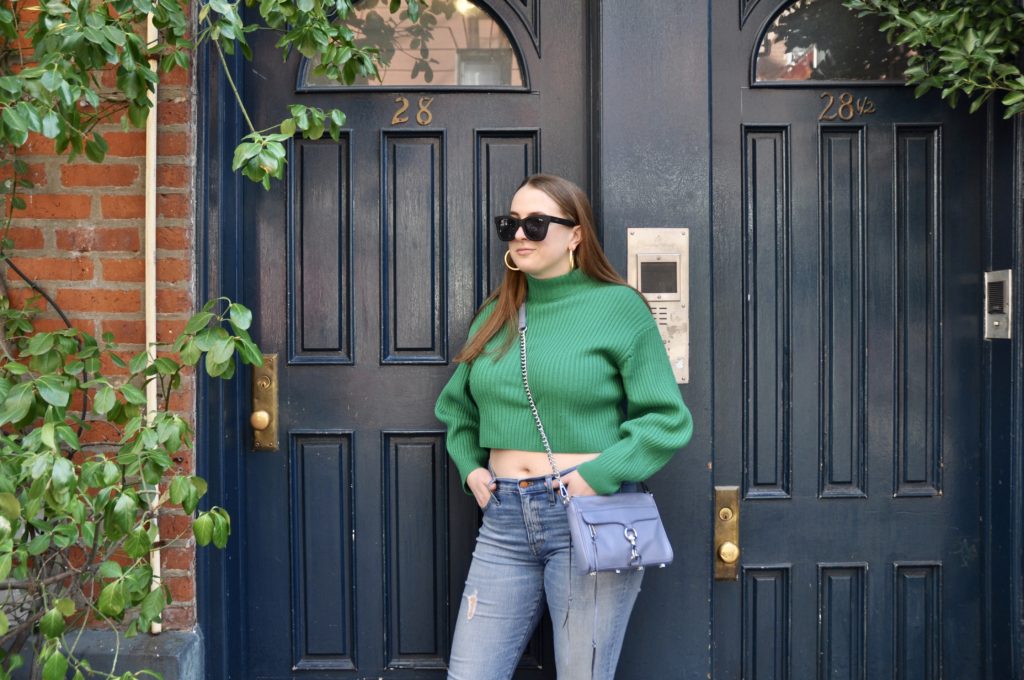 SHOP THE LOOK: EARRINGS | Madewell Jeans (SIMILAR STYLE) Tibi Sweater (SIMILAR COLOR & SIMILAR STYLE)| Rebecca Minkoff Bag (SIMILAR STYLE) | SUNGLASSES
January is already zipping by, as I write my first blog post of 2020. Steph & I are getting back into our home rhythm after spending the long weekend away. I will be sharing both the good & bad details of our trip soon!
One of my main goals for this month is to focus on increasing my daily energy level, so I can tackle all of THE OTHER GOALS that I outlined for myself in the months ahead. This was a simple but powerful concept I learned from Gretchen Rubin's book, THE HAPPINESS PROJECT. Her justification for starting this kind of self-improvement at the start of January clicked for me this year. I want to feel enthusiastic about daily life, so I am seeking ways to energize my mind, body, & spirit!
AUDIOBOOKS
I listen to the Harry Potter series without fail on a small iPod at least once a year. Apart from that, my audiobook selection has been pretty limited since high school. When I was heading back to the office on January 2nd, I decided to re-open my barely used LIBBY APP. This app connects directly to your local library, so users can download e-books or audiobooks for free. Last summer on the beach in Positano, I had devoured MY BRILLIANT FRIEND, the first of "The Neopolitan Novels". THE STORY OF A NEW NAME was the second book in this series & it was immediately available as an audiobook. I quickly finished it & I am making my way through the third book now. While my daily commute used to drag on, I now happily hop on the subway to continue whatever story I am in the middle of listening to. I love sharing my recommendations, so I will start including book links for titles that educate, inspire, & entertain.
PHYSICAL ACTIVITY
Steph & I joined a gym at the start of last fall. One of the most straightforward methods for boosting my energy is a work-out. I have started enjoying my runs, where I usually listen to a rotation of playlists, audiobooks, & podcasts. I am not especially concerned with how long or how fast I am running. Losing weight is not my motivation. I am doing something good for myself rather than punishing myself for the french fries I ate the night before. I think this mental shift is one of the main reasons I have felt more inclined to visit the gym. Another simple thought which has made me more likely to head out for even a short session – I have never regretted going. Half the battle is just getting out the door & I usually leave a work-out feeling happier.
KNITTING
Like all of us at work or at home, I spend a lot of the day looking at a screen. As we end our nights, I was looking for a soothing activity I could do instead of watching a final Netflix episode. I felt inspired to pick the knitting needles back up & finish a project I have been working on. My family are probably laughing to themselves right now because I have been slowly but surely working on the same bright rainbow scarf since I was ten years old. I have decided that this is the year I unplug & unwind while I finally finish it. While much of my life has changed since I was a kid, it makes me feel calmer knowing that my hands still remember that simple motion.
What activities are energizing you this January? I would love to hear in the comments!
Xx,
Erin