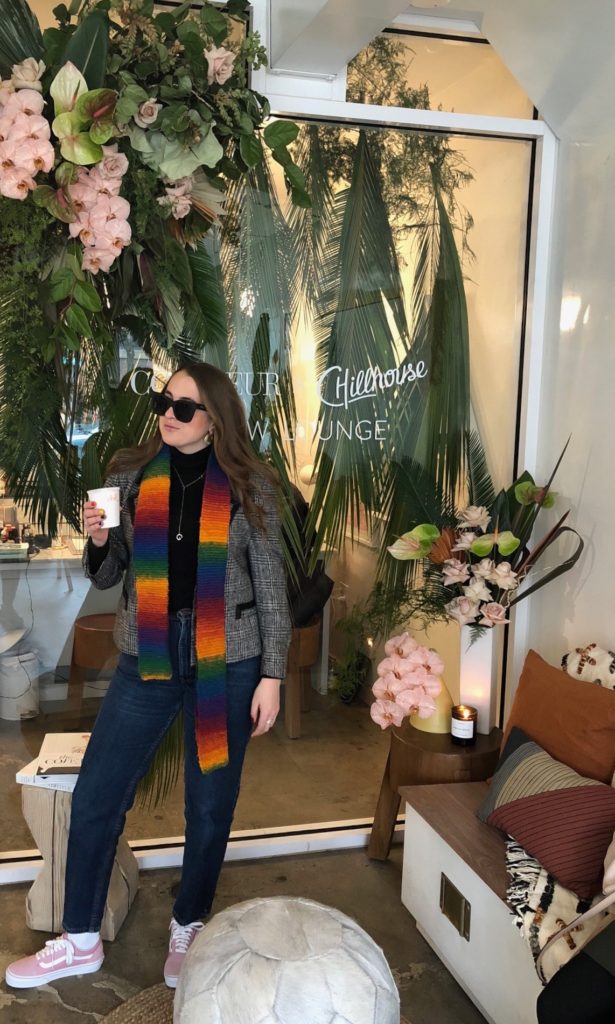 NYFW F/W 2018 coverage continues today! A huge thank you to all who read for being patient, as I have written, edited, & linked. These posts are important to me, as I seek to share details thoroughly.
FRIDAY, FEBRUARY 9TH
I started the morning with an appointment at TRESEMME, a thoughful & appreciated service for show attendees, as I wrote in my FIRST NYFW RECAP. A friend offered me an invitation to her show at noon, which, unfortunately, was at capacity. As I mentioned in THIS POST, it can be disappointing to miss a show during NYFW, but on the positive side, I saw ALEXIA again while waiting in line & she snapped a few photos for me. I love how the yellow of the taxis pops against my blue coat & jeans.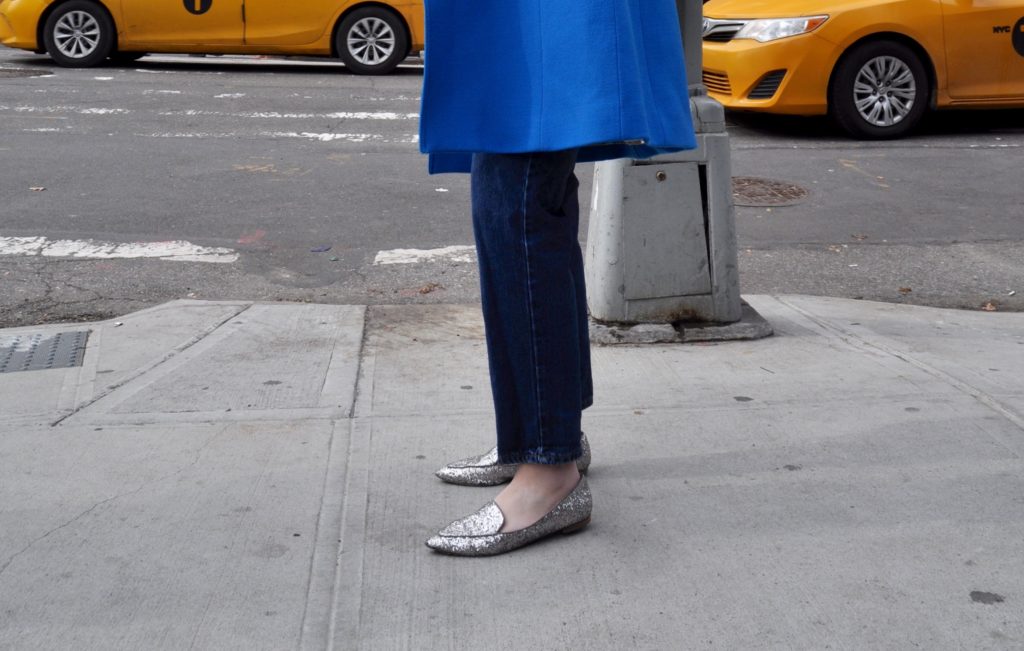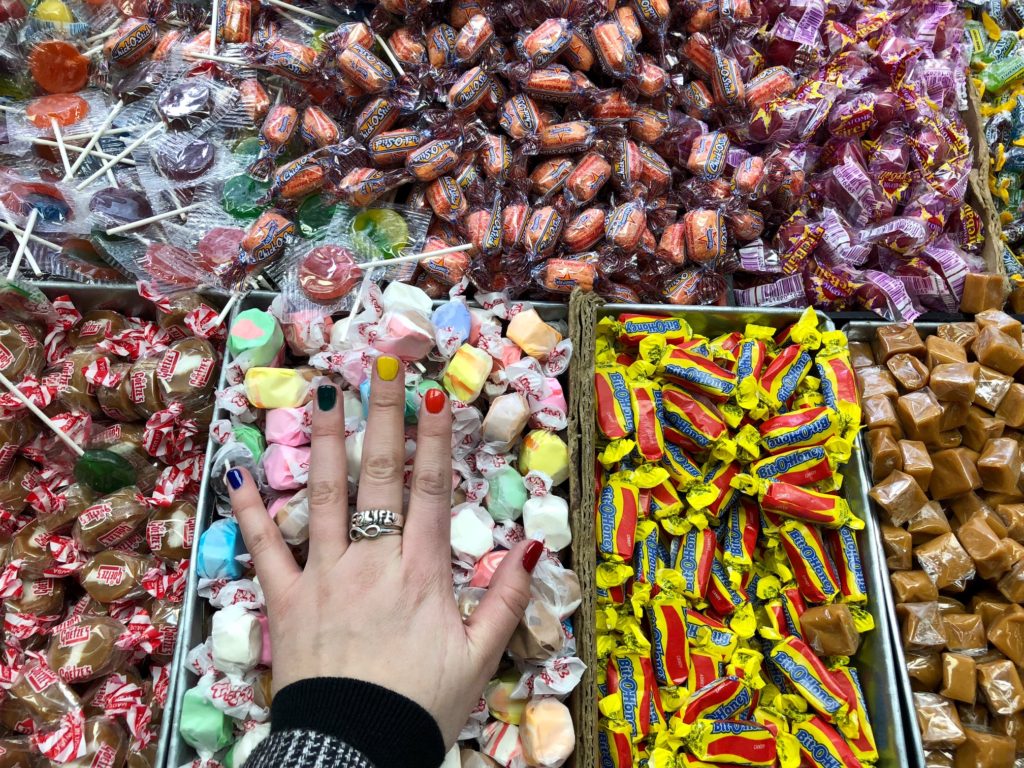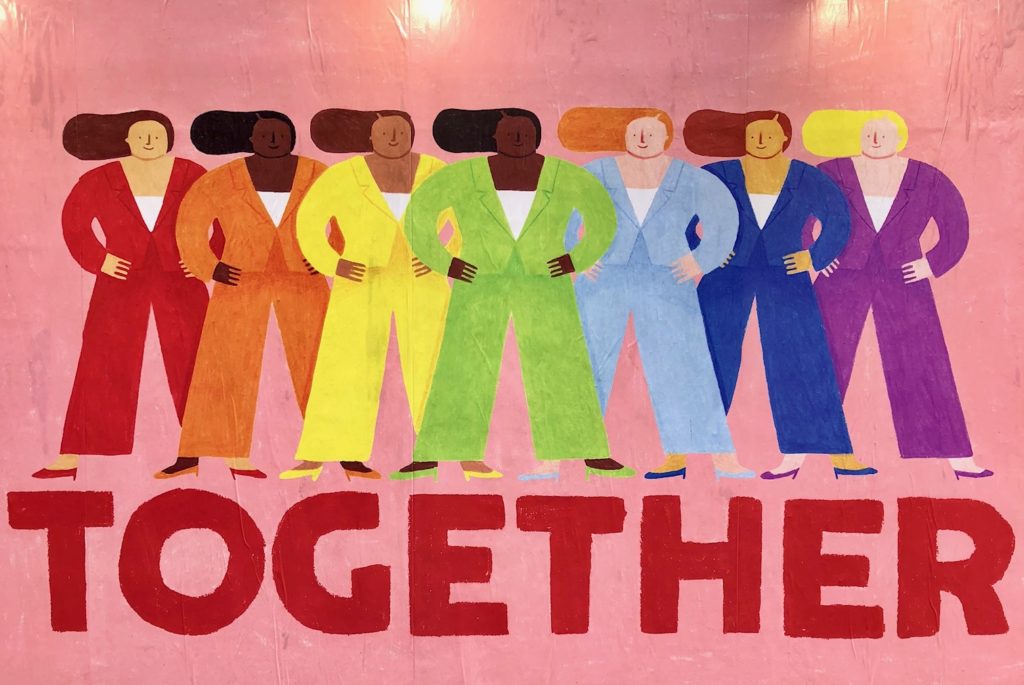 Once I quickly changed, I headed to the Lower East Side. The plans I had made fell through, so after exploring for a bit, I decided to treat myself to a coffee at CHILLHOUSE. Their team collaborated with COVETEUR to transform their already chic space into an elevated NYFW Lounge. Kelsea of EAST OLIVIA outdid herself with the floral arrangements. CB2 & BYREDO supplied furniture & fragrant candles that made CHILLHOUSE if possible even ~chiller~ for a moment of rest.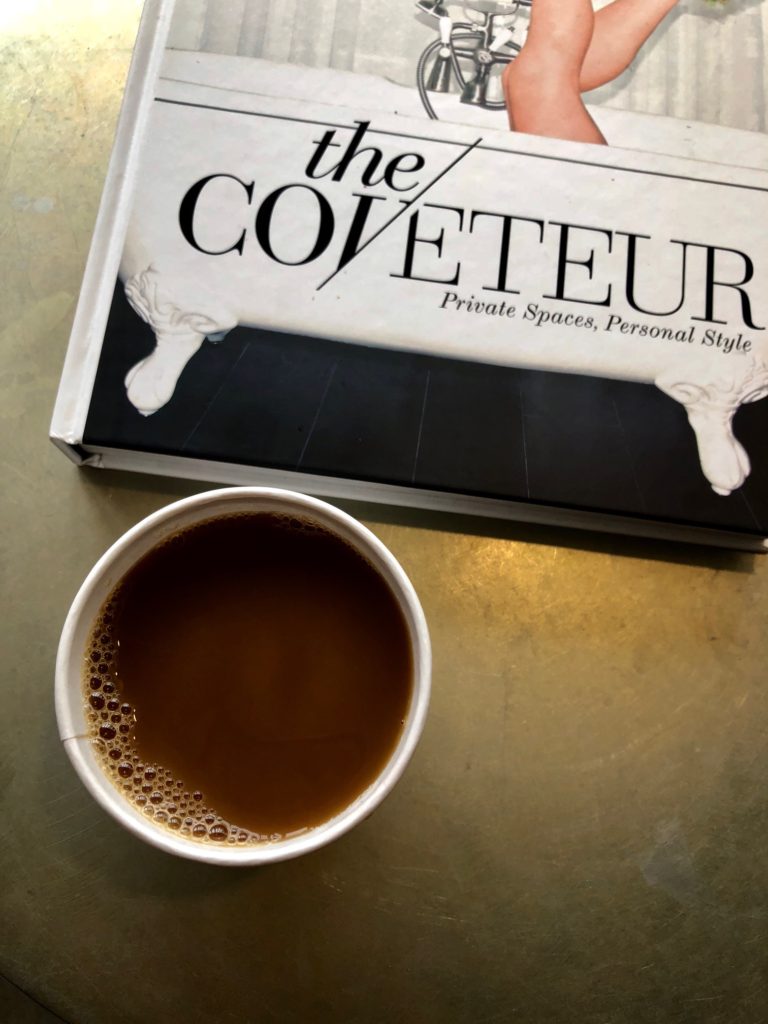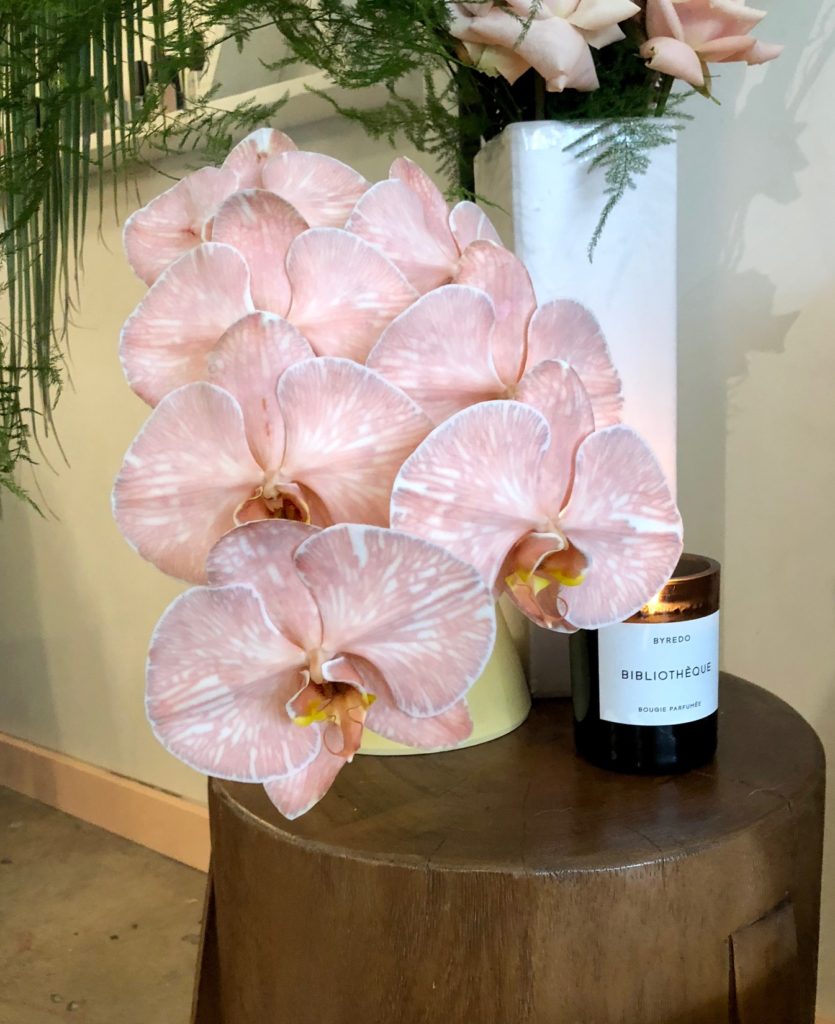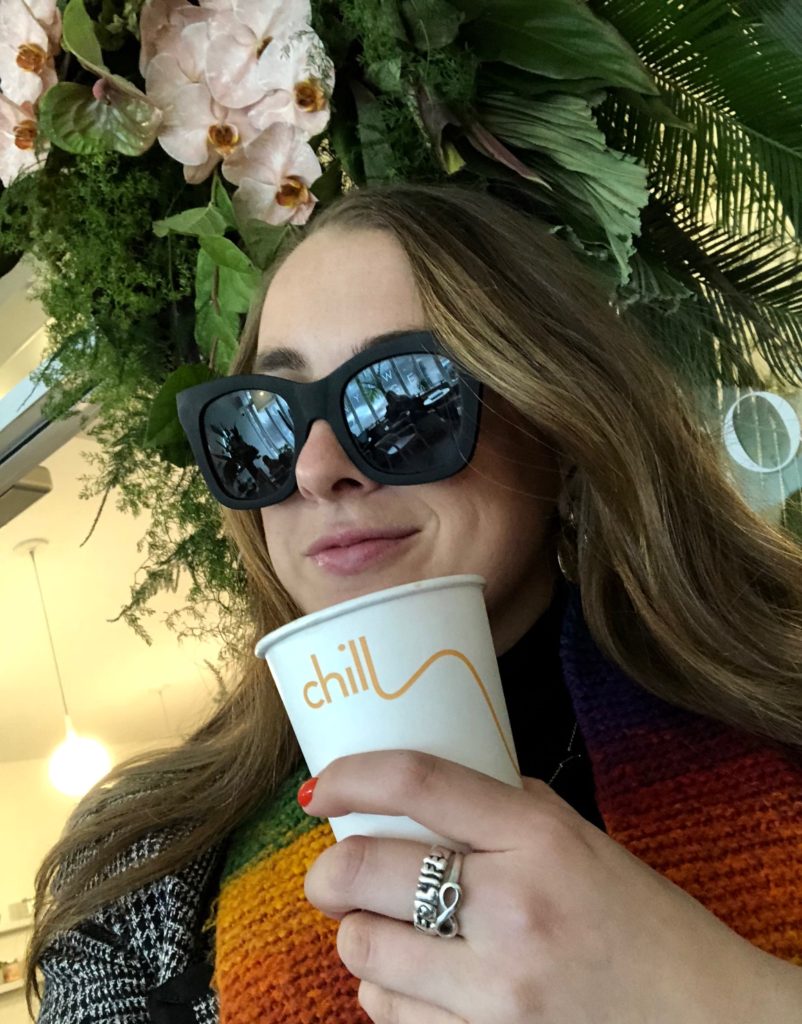 I headed downtown to meet my friend, Ana Linares of ANANEWYORK, who hosted a fabulous brunch last September that I wrote about HERE. At lunch, she introduced me to her friend Ana Fritsch of LUCKY PENNY BLOG. That is one of my favorite things about Ana Linares; she is always seeking to create connections amongst the women she knows. Although Ana Fritsch was a new friend, she was kind enough to lend me her bag for the outfit shots below. My GAY LARIAT from Adornia is one of my favorite statement makers to wear out & about at NYFW. Although these Levi's are vintage, THIS PAIR from Everlane would create a similar effect.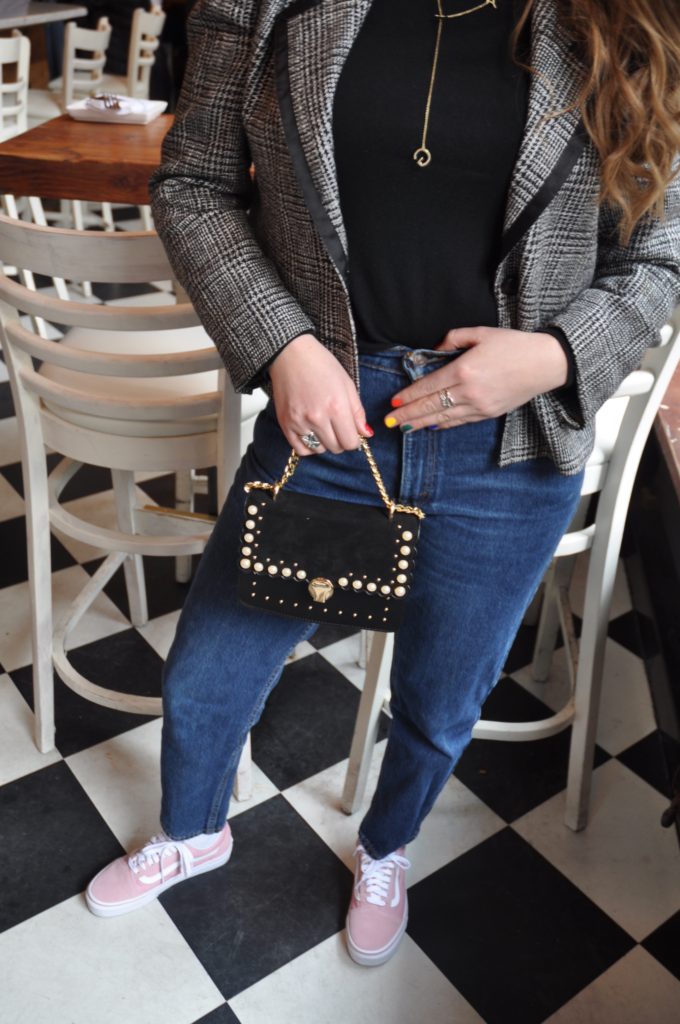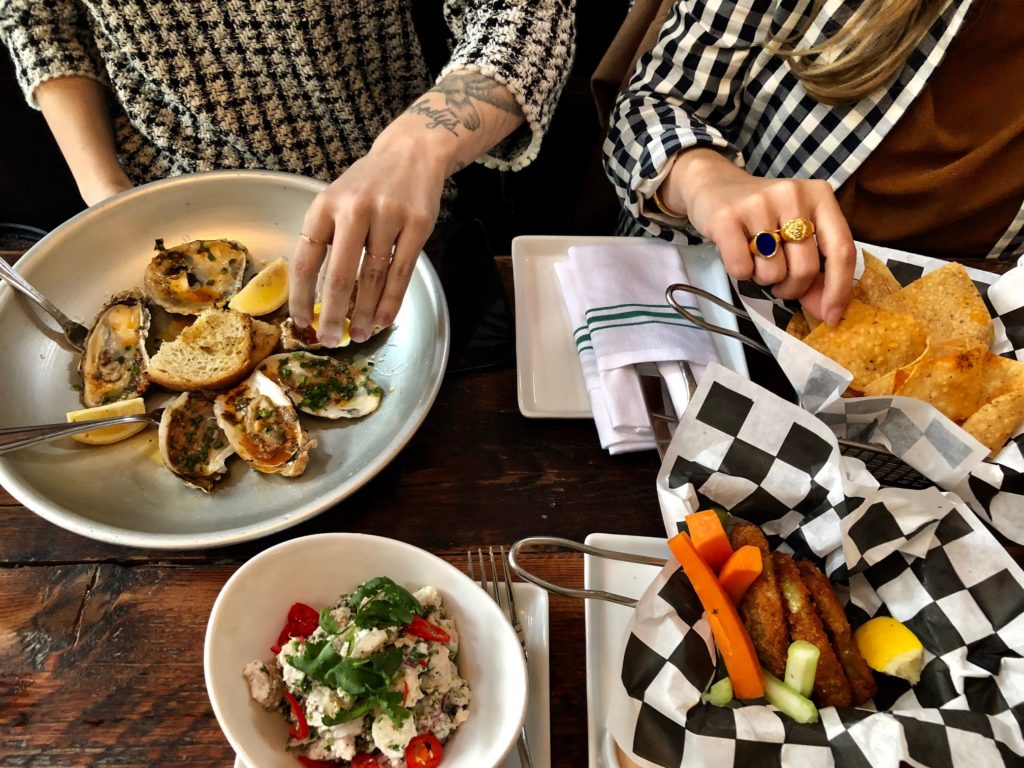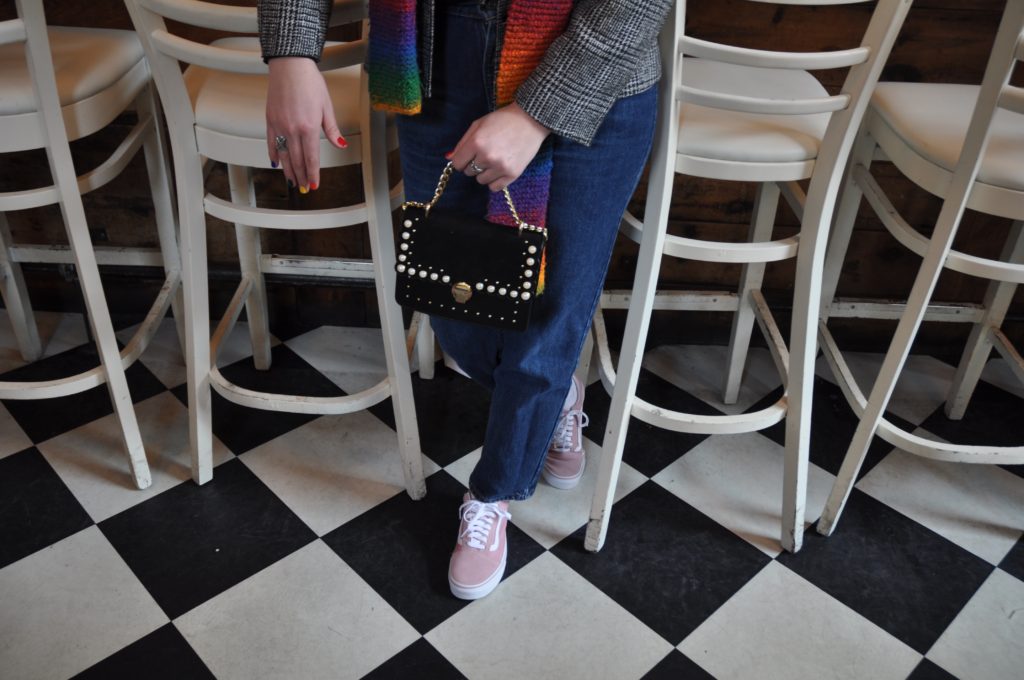 NECKLACE | VINTAGE BLAZER (SIMILAR) | SUNGLASSES | VINTAGE JEANS (SIMILAR)
I swapped my vintage Dior blazer for my purple winter coat & whisked uptown to SHERRI HILL. This year, a few of my favorite looks were a shocking pink gown, a sequin pant suit, & the jeweled mini dresses. In addition to the clothes on the runway, I especially loved this night for three reasons. First, I sat behind two gals I have really enjoyed getting to know in the industry – AUDREE KATE & KELSEY STIEGMAN. Second, DJ MIA MORETTI kept the runway models strutting to the beat with crowd favorites, such as Dua Lipa. I literally listen to her songs every day. Third, I had the honor of meeting one of the most influential Muslim models in the world – HALIMA ADEN. She was incredibly kind, and I am so happy I made an effort to introduce myself after the show. Women like HALIMA make me proud to be an American.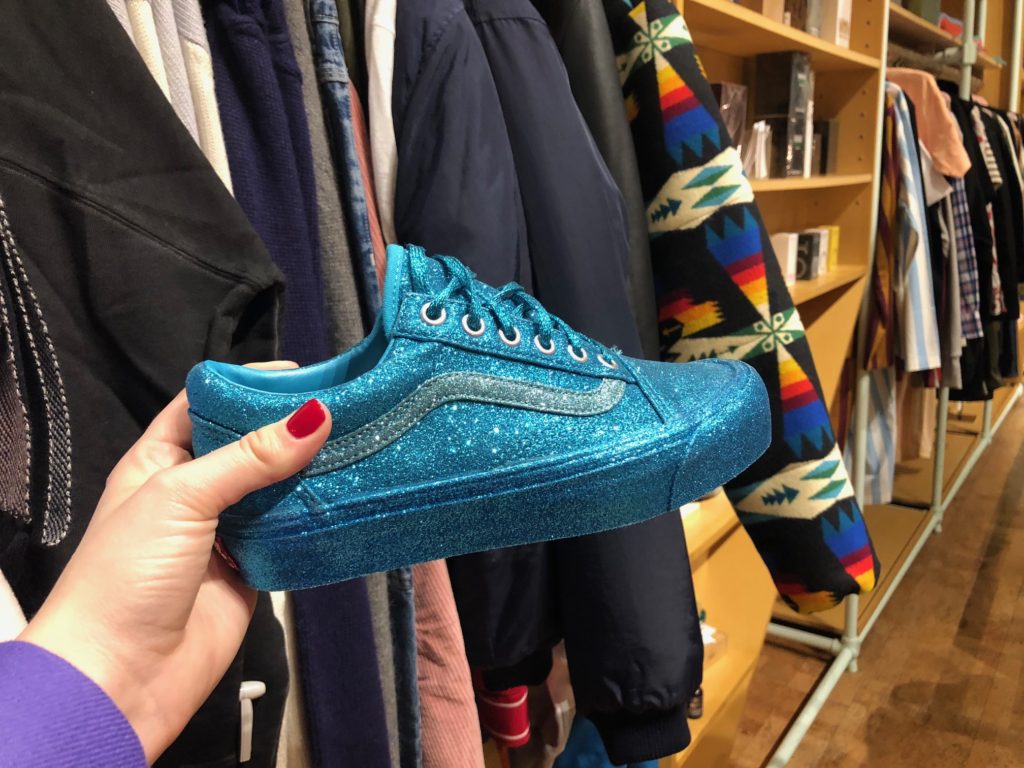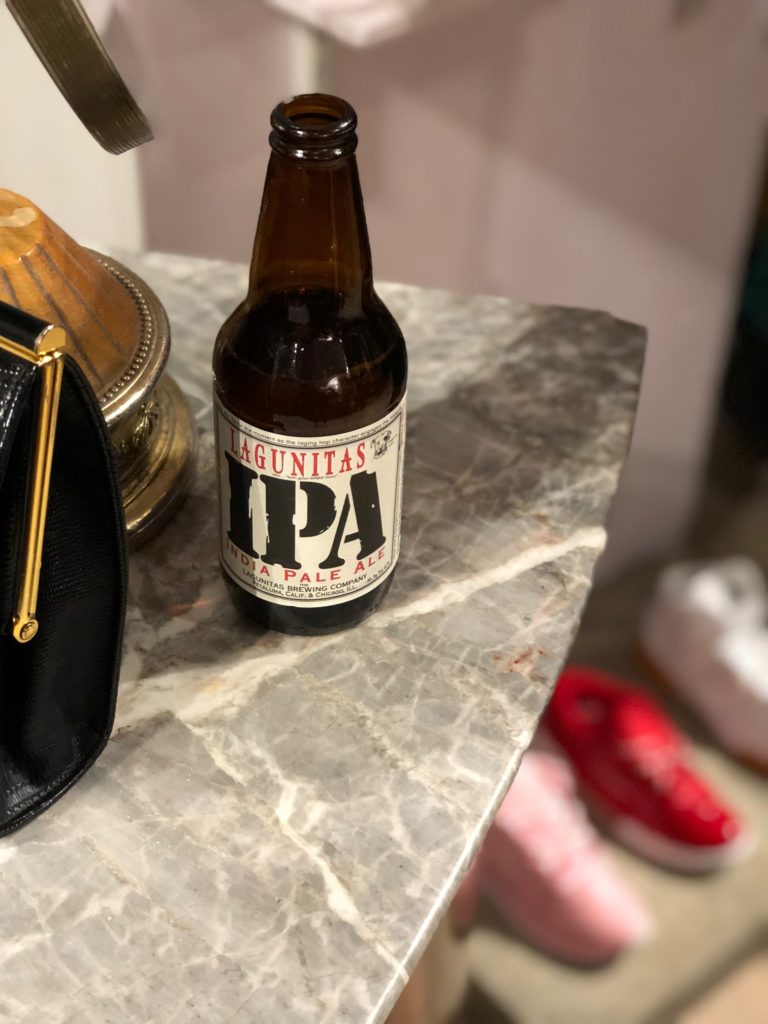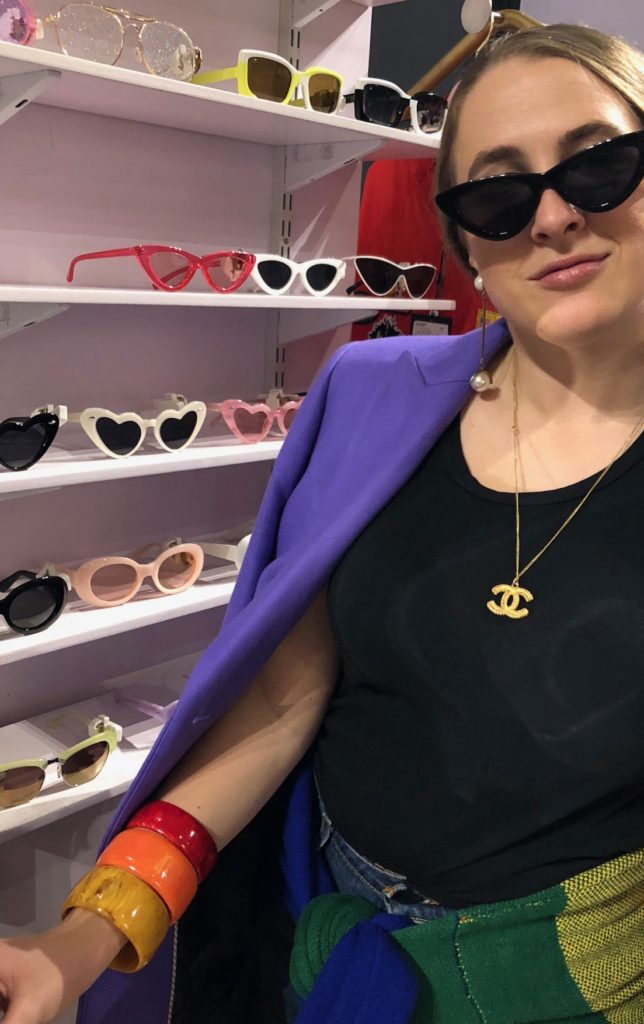 SUNGLASSES (SIMILAR) | VINTAGE JEANS (SIMILAR) | SWEATER (SIMILAR)
Steph met me on my way out of Gotham Hall, as we headed to our final event of the night. OPENING CEREMONY hosted a bubbly party featuring three emerging designers – SUSAN ALEXANDRA, PARIS 99, & NIKI TAKESH – whose work was being celebrated. Steph & I drank IPAs while I tried on all of the sunglass options. If you are thinking my face looks oddly cropped, it is because I cropped out the security tag! LOL. I hadn't really considered myself a small sunglass wearer, but the options at OPENING CEREMONY are making me reconsider. I love following SUSAN'S brightly colorful world on Instagram. The fact that she brought her mom to this party solidified how happy I am to follow her & watch her business grow. Her beaded bags are one of the hottest accessories for the spring & summer. 
SATURDAY, FEBRUARY 10TH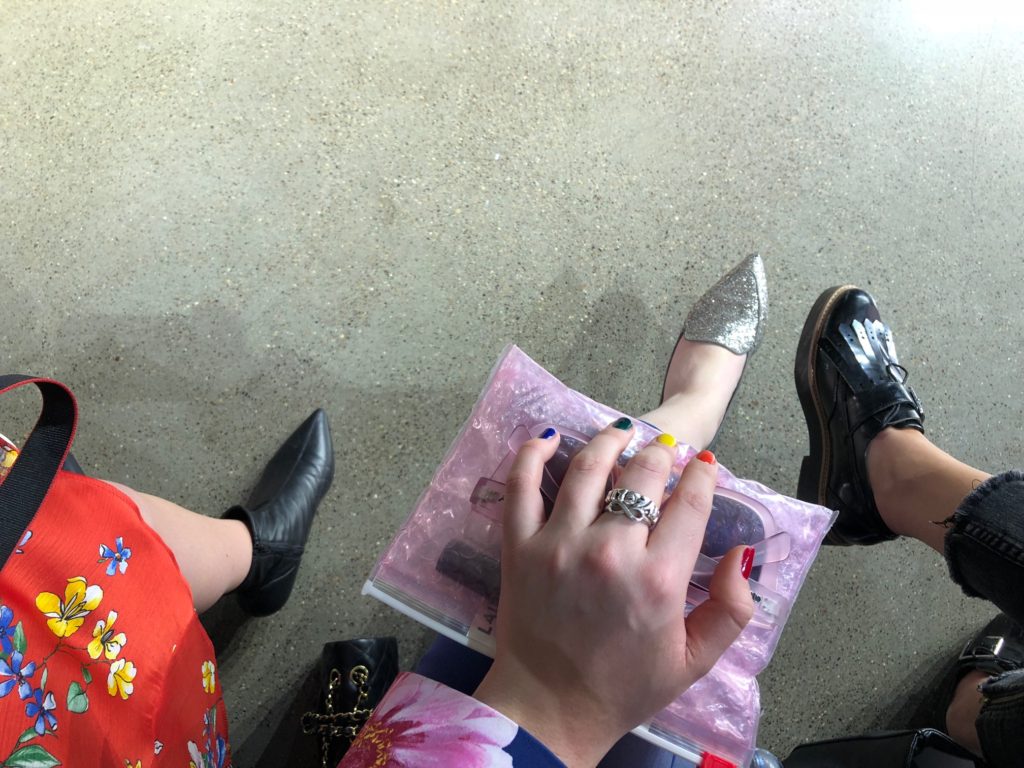 Saturday began early!
I went in for another hair appointment with the TRESEMME team before my first show. This was my favorite hairstyle of the entire week. As I knew rain would be sweeping in later in the day, I went for a relaxed fishtail braid. KONI BENNETT made magic with my curly locks. The pictures I took below were taken hours apart, so you know that her work was solid even in the pouring rain. One more quick note on KONI – she is not only a talented hair stylist; she also owns her own salon! I love chatting with her each season & learning about how she manages a multi-faceted career.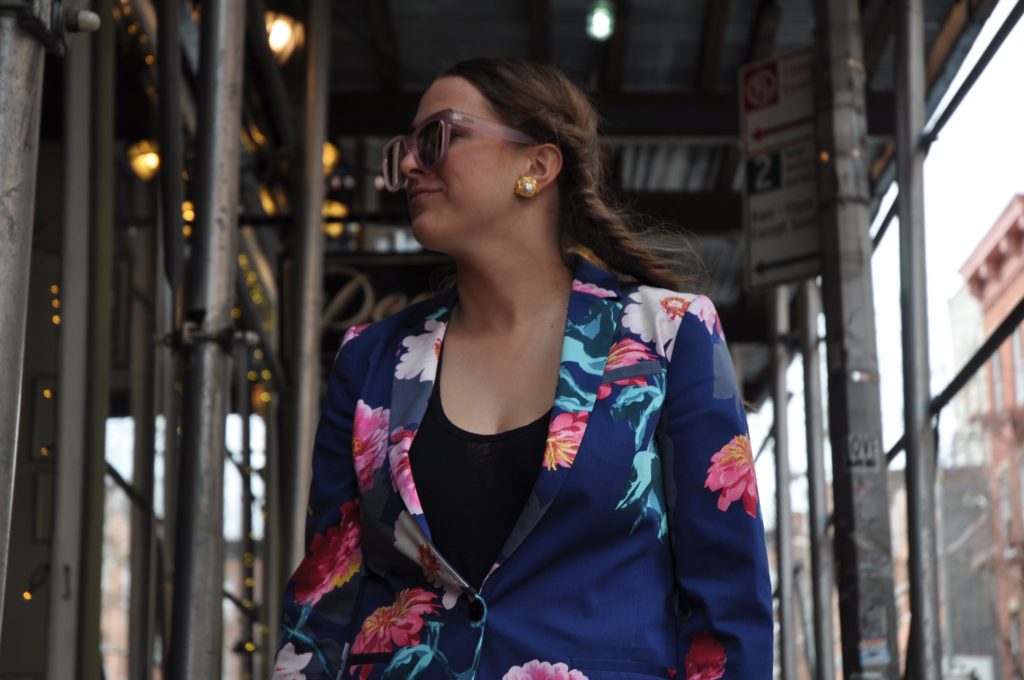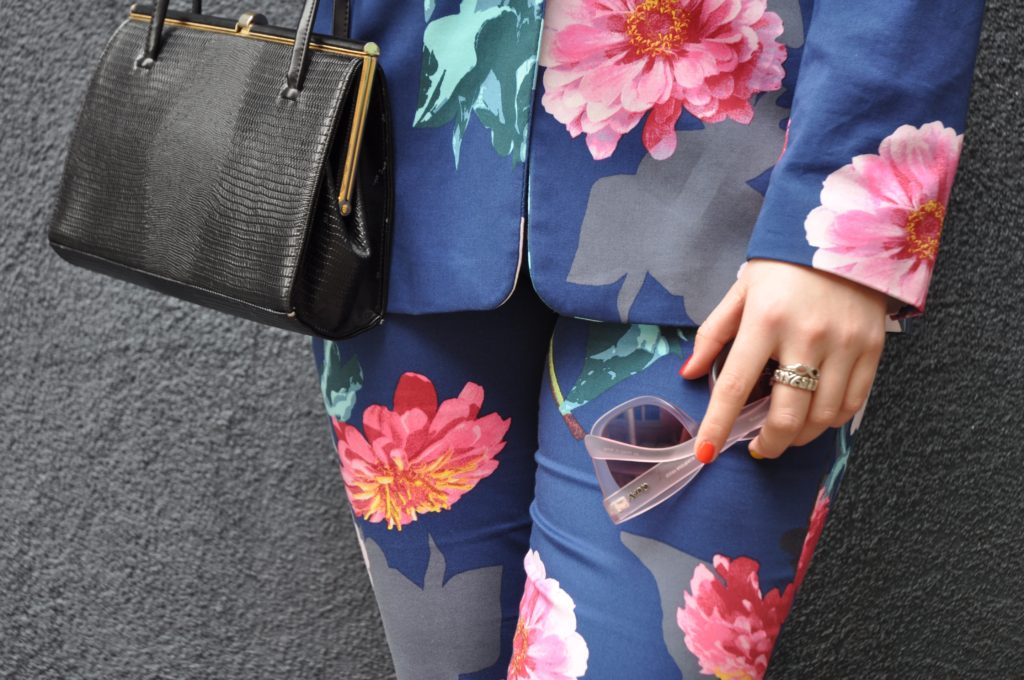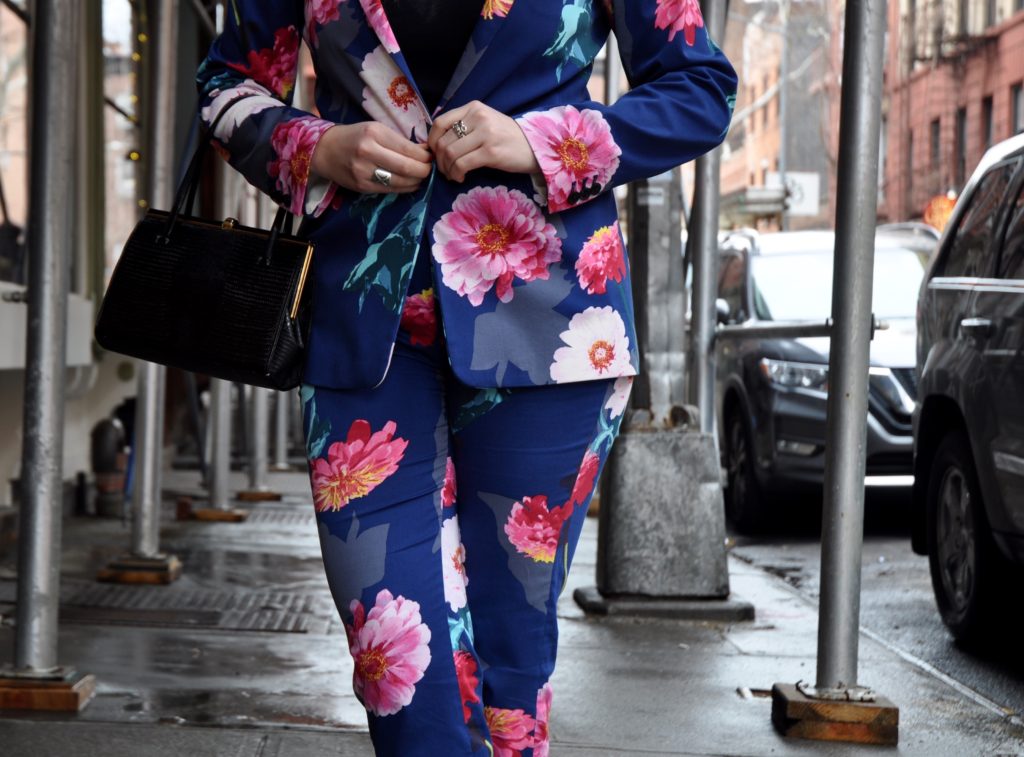 BANANA REPUBLIC SUIT (SIMILAR) | SUNGLASSES | VINTAGE EARRINGS (SIMILAR)
My first show of the day was DAN LIU. The designer debuted his looks with a vintage-inspired spy theme. I appreciated the long coats paired with over-the-knee boots, the oversized sunglasses adding an air of mystery, & the scarves tied chicly atop the models' hair. The outfit I wore is one I often bring out at NYFW because it combines so many things I love -a strong suits, flowers, & rainbow colors. My suit is from a few years back, but I think THIS JACKET is such a fab alternative paired with your favorite denim.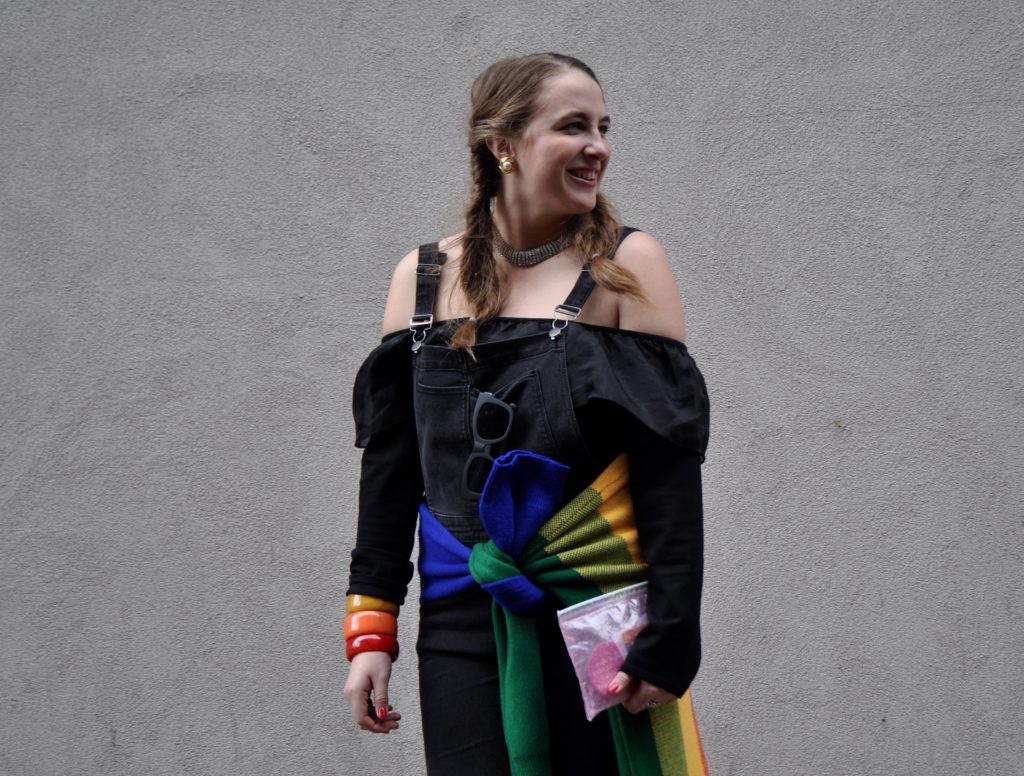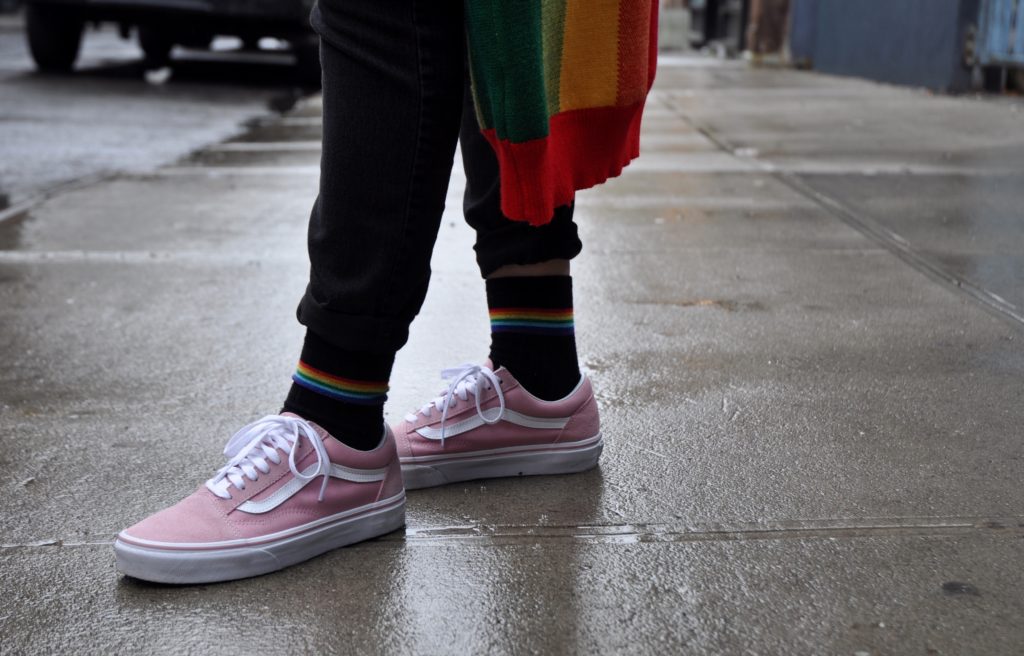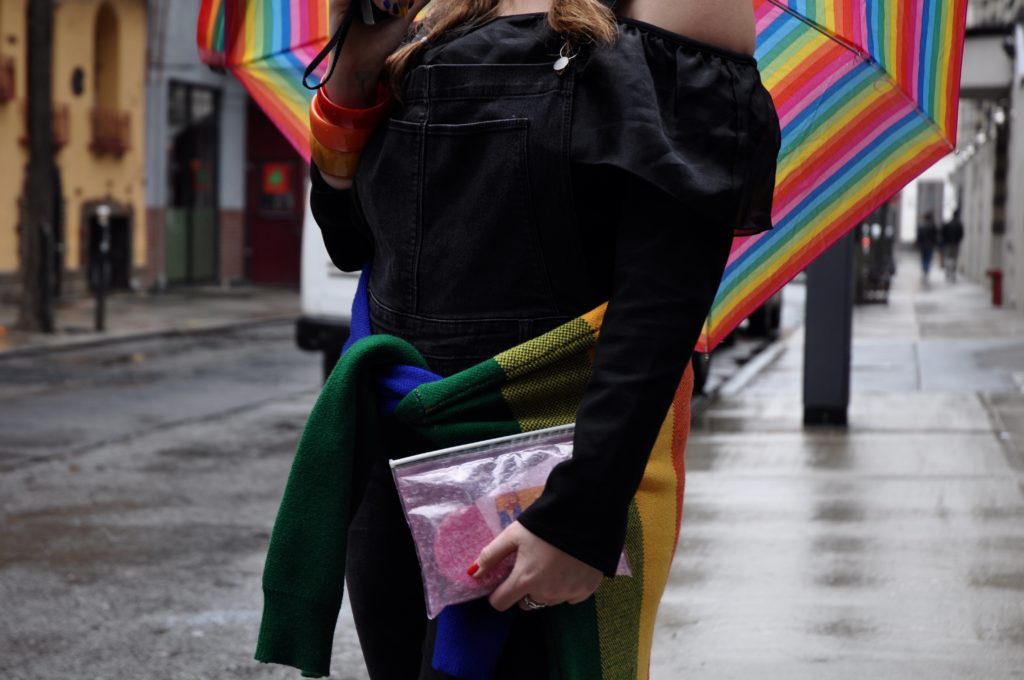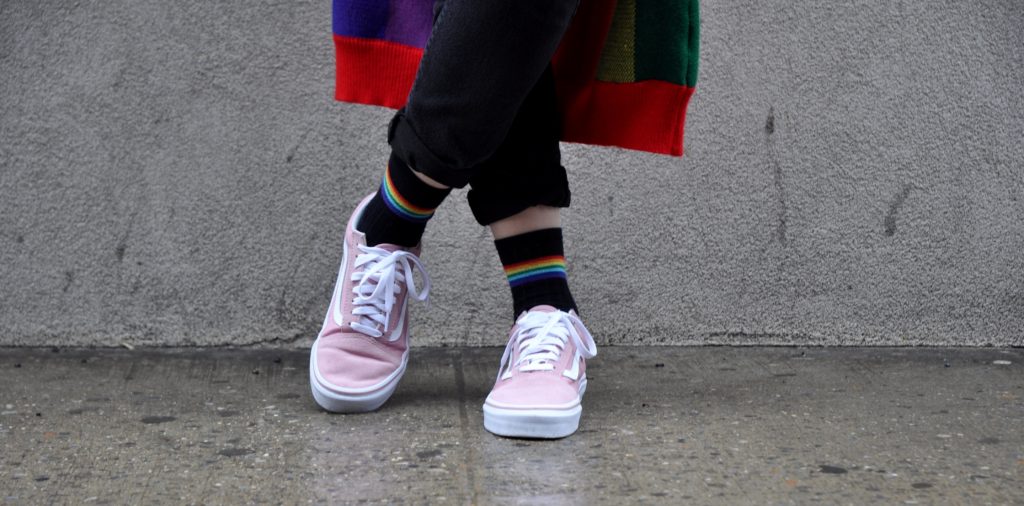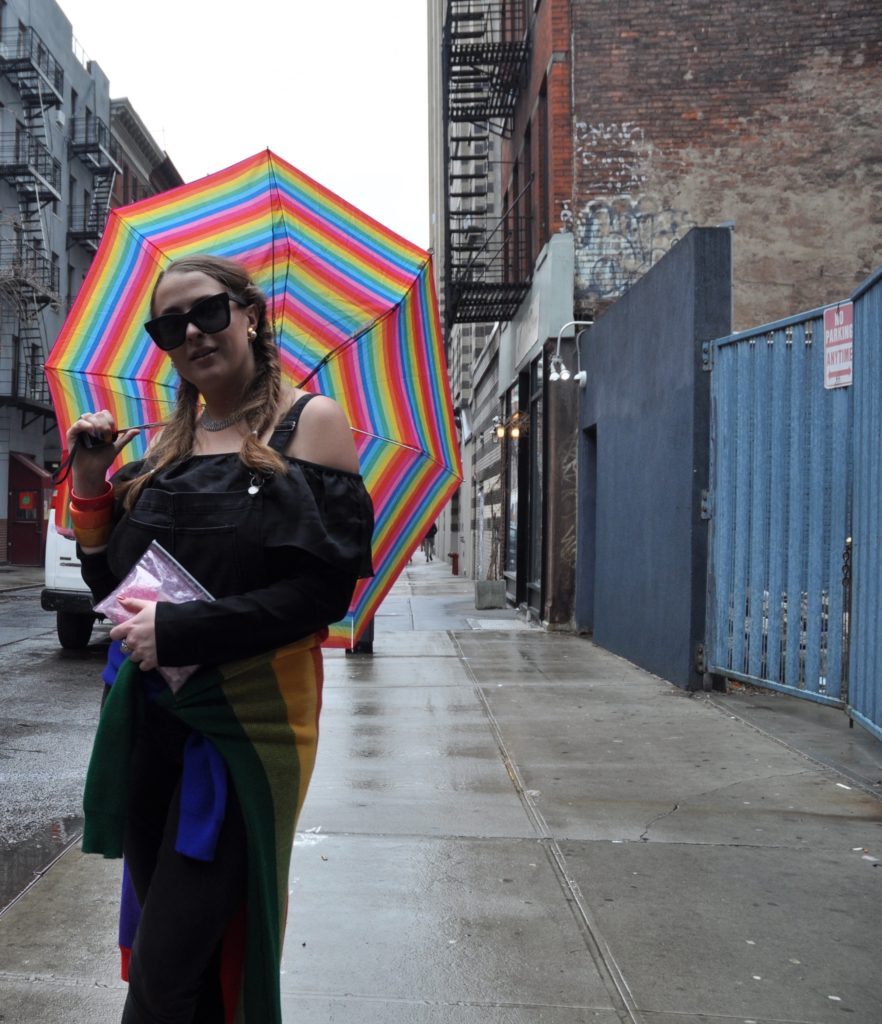 OVERALLS (SIMILAR) | UMBRELLA (SIMILAR) | SUNGLASSES | TOP (SIMILAR) | SWEATER (SIMILAR)
I switched my suit for a pair of black overalls that I love to steal from Steph before the TAORARY WANG show. If I had done more research before the show, I would have worn my suit for this show! TAORARY WANG was a new to me designer, but I was thrilled to learn that her brand is focused on creating stylish clothes for professional women. Throughout the show, I loved how she incorporated non-traditional elements into suiting, such as flared pants, pops of color with bright turtlenecks, big belts, deconstructed jackets & stark white sneakers.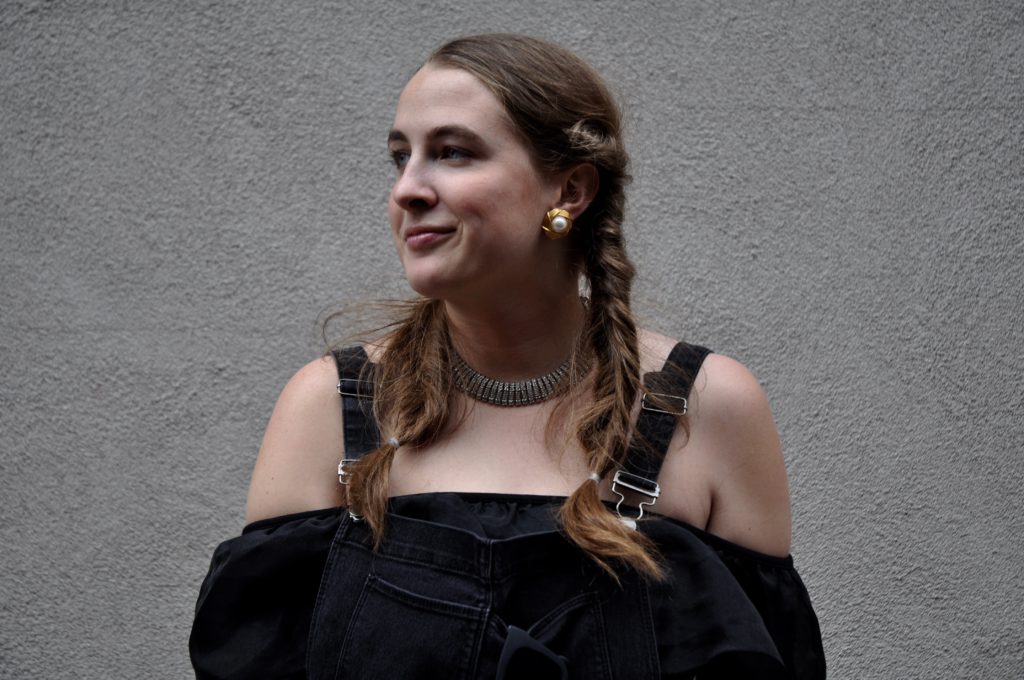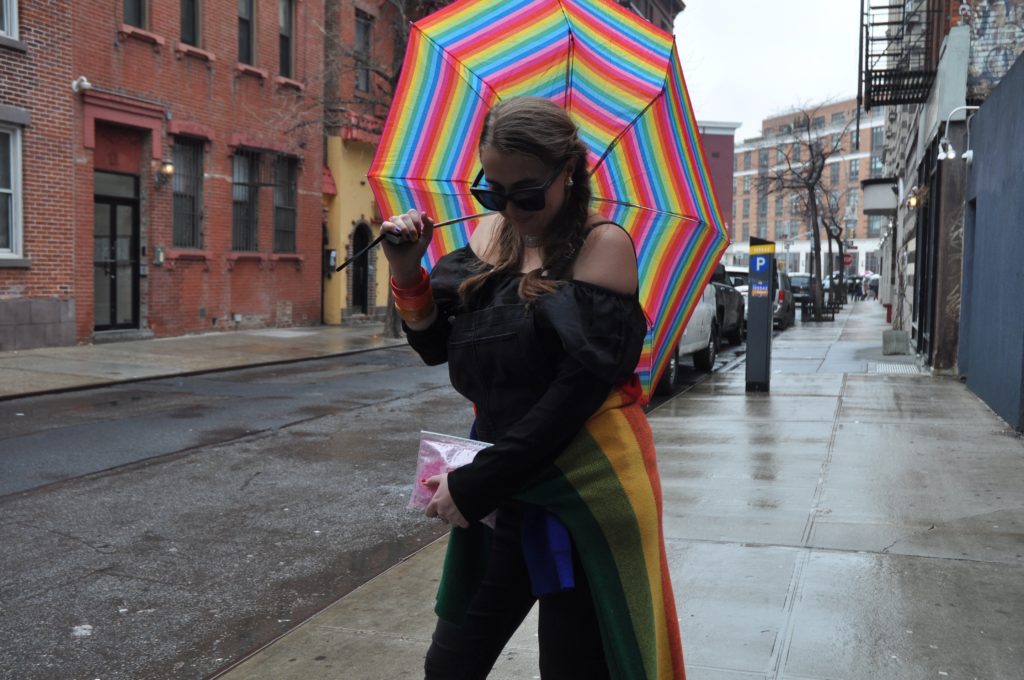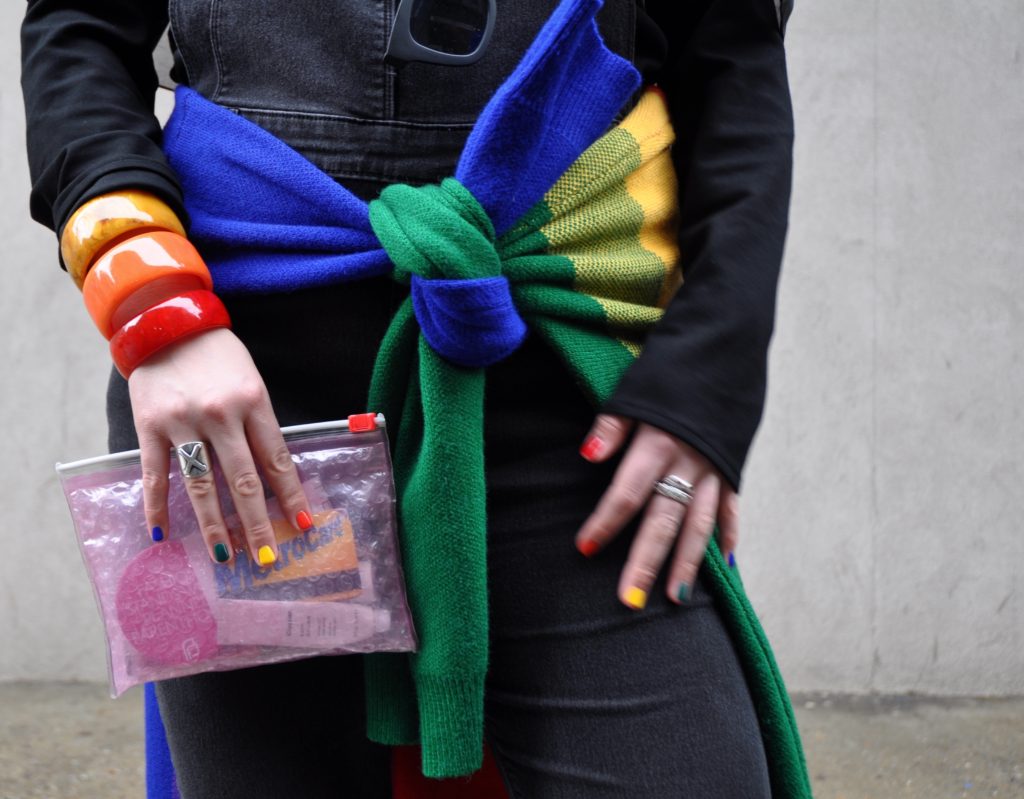 CHRISTIAN COWAN was my final show on Saturday & my favorite show of the entire week. The prominent checkerboard patterns, the cheeky "New York Loves Me" motif, & the unexpected elements, such as the giant bow adorning the silver chrome dress, made me feel like I was in a fashion disco ball. Phones snapped furiously as the furry jacket with a light up neon heart passed. I especially loved a fiery red sequin trench coat that looked like Dorothy's red slippers translated into a whole outfit. The sequin party hats were a fabulous addition, as they looked kitschy yet elegant. I could picture them on the guests at the apartment party scene in "Breakfast at Tiffany's". As the lights came on at the end, I felt an intense desire to buy balloons & bottles of champagne. It was a celebratory atmosphere that truly made me smile as I walked out of Spring Studios. The best moments of NYFW are the ones that make you feel. 
Xx,
Erin