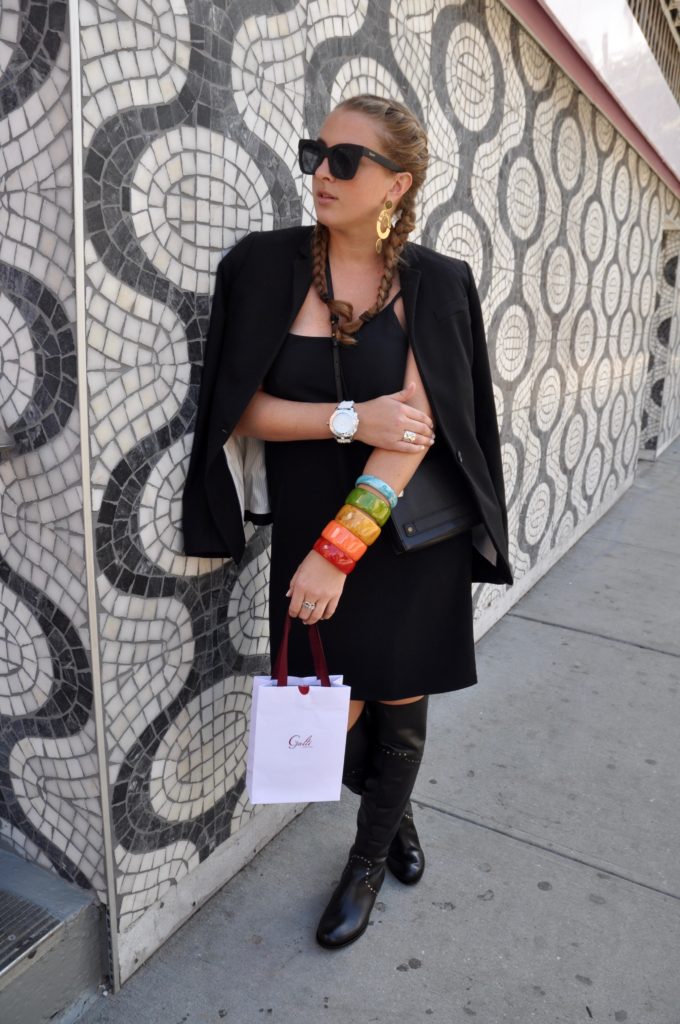 FRIDAY
OUFTIT: EVERLANE SLIP DRESS | EARRINGS | J.CREW BLAZER | AEROSOLES BOOTS | SUNGLASSES (IN PINK TOO) | Vintage Bangles (SIMILAR) | PURSE | HEART STICKER
For my second day of NYFW activities, I woke up very early to shoot a look with Steph. Then, Steph Lancet, my friend & frequent hairstylist, did a quick braid look. We grabbed breakfast after she finished at a little coffee shop near my apartment. As I had a busy day ahead, I decided to wear my AEROSOLES BOOTS that were generously gifted by their team. I can attest to the fact that they were a stylish yet comfortable way to make a statement, especially with the studded details.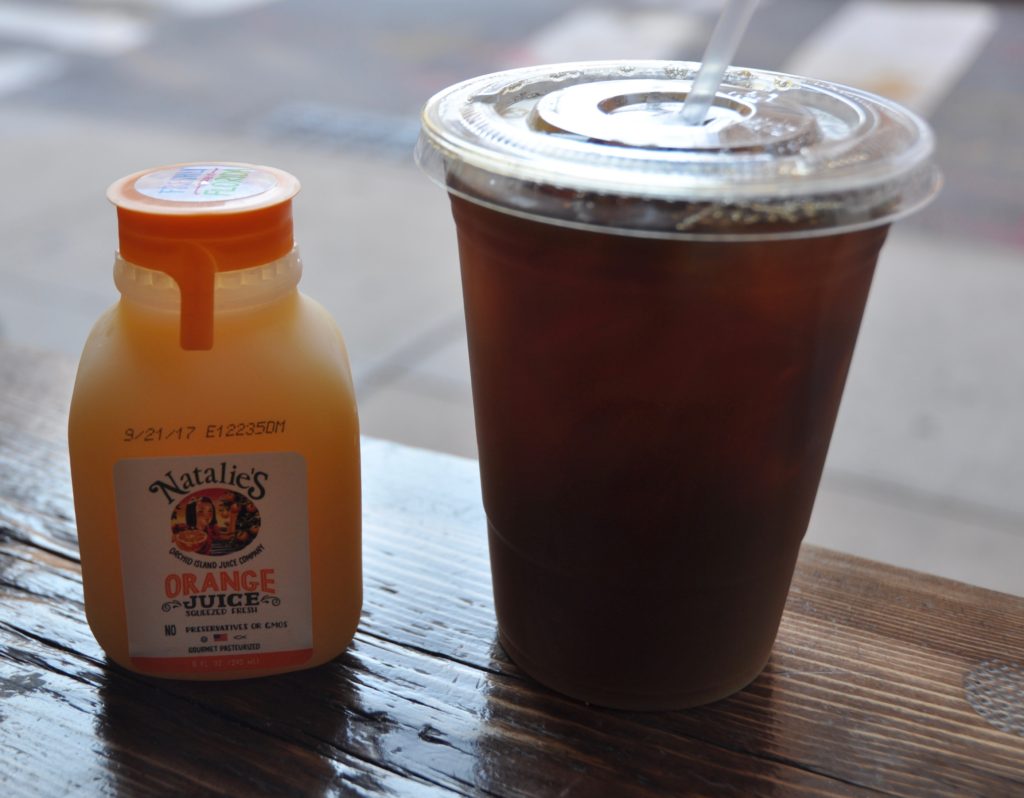 I left with plenty of time for the GALTISCOPIO PARIS show & met a few friendly women in line, including ANDREA YOUNG & Courtney of SOMEWEAR SOUTHWEST. Unfortunately, despite waiting for a signifcant period of time, the show was at capacity. Rather than walk away without any new content, I chatted with the security guards, who let me in once the show finished. I was permitted by their team to take a few pictures backstage, and I was grateful to witness even the tail end of the runway magic. As luck would have it, I ended up meeting the designer, EMME WONG, & the GALTISCOPIO PARIS team outside. They were seeking a few influencers to feature on their Instagram. We did an impromptu photo shoot, and I was thrilled to see THE PHOTO OF EMME & I on their account last week. We finished snapping, and I asked EMME what her inspiration was for this collection. The watches, such as those she & I are wearing in the photo below, continue to be the centerpiece of her brand. She repeated the phrase I had witnessed on the clothes backstage, "It's time to shine."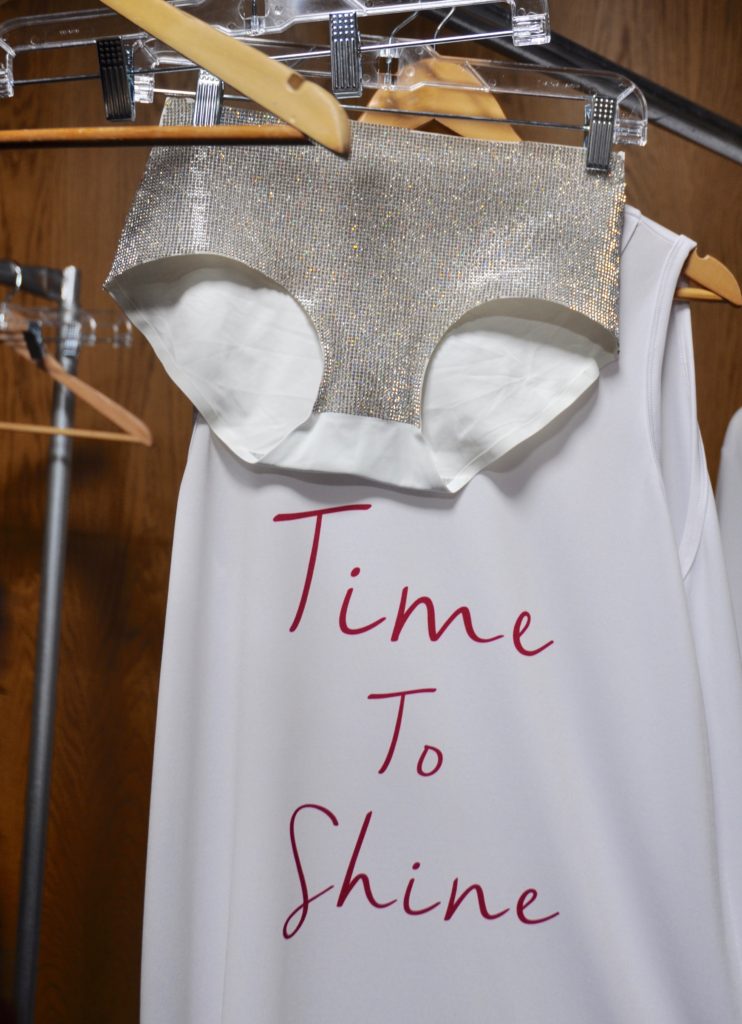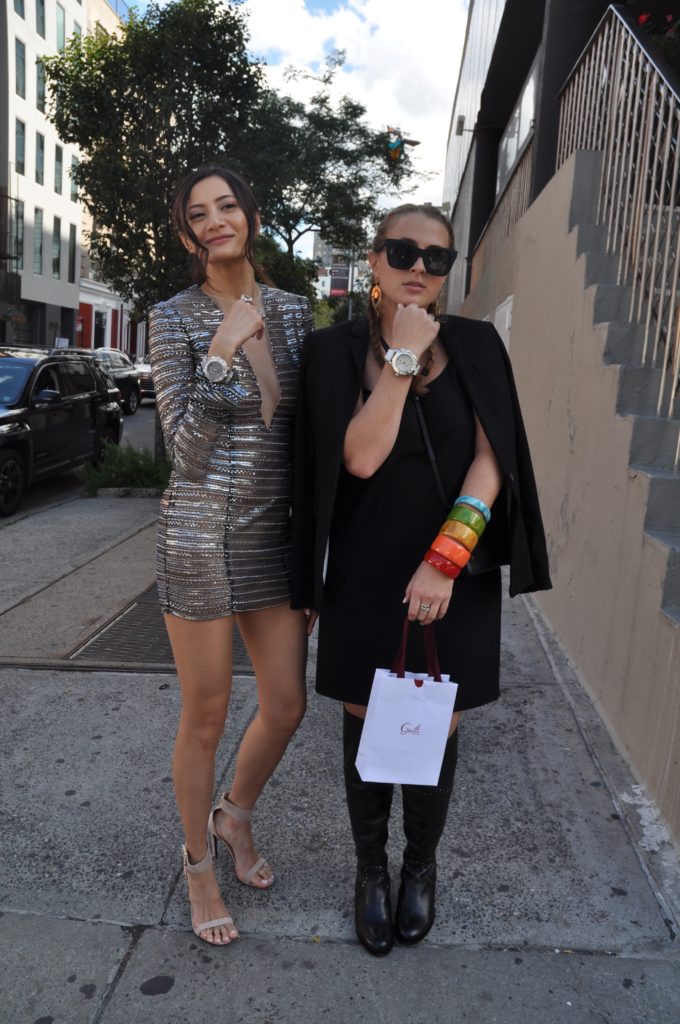 One of the most serendipitous moments was running into my friend, LAKSHMI. She is a fashion illustrator based in the D.C. area, and I wasn't even sure if she was attending shows. We quickly hugged & exclaimed at running into each other by chance. I hopped into a car with her & GIULIA to try my luck at getting into the next presentation they were headed to. Despite not being on the list, I was invite inside for the ROMEO HUNTE x TIMBERLAND presentation. These brands picked a unique venue to showcase their presentation – inside the USS INTREPID! I liked the red set best of all, but I also liked the neutral stripes and unconventional denim incorporated into the collection.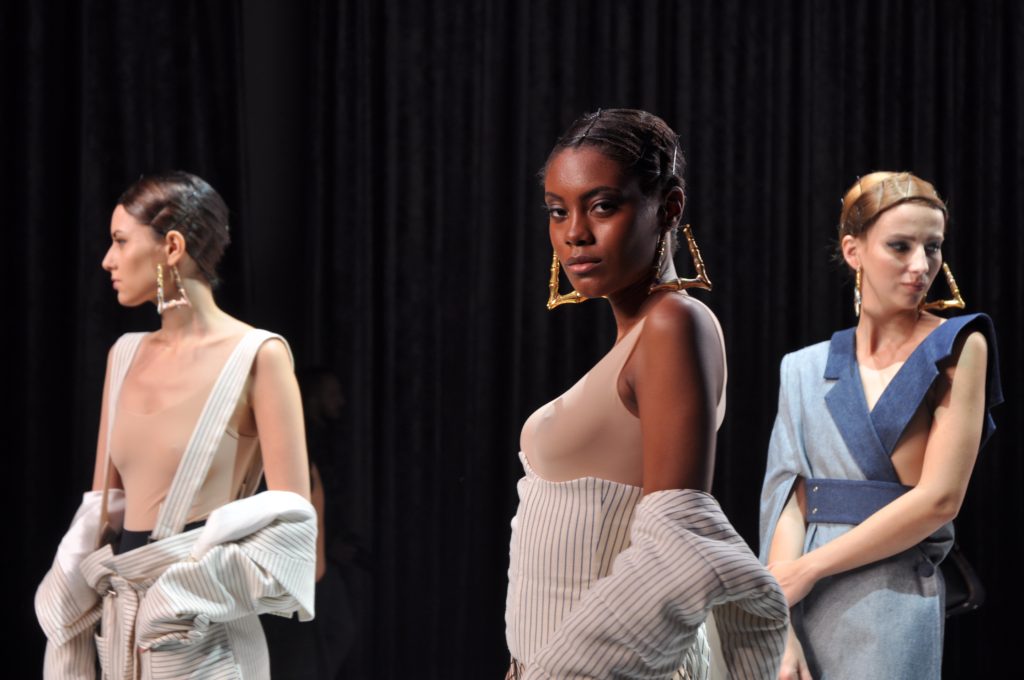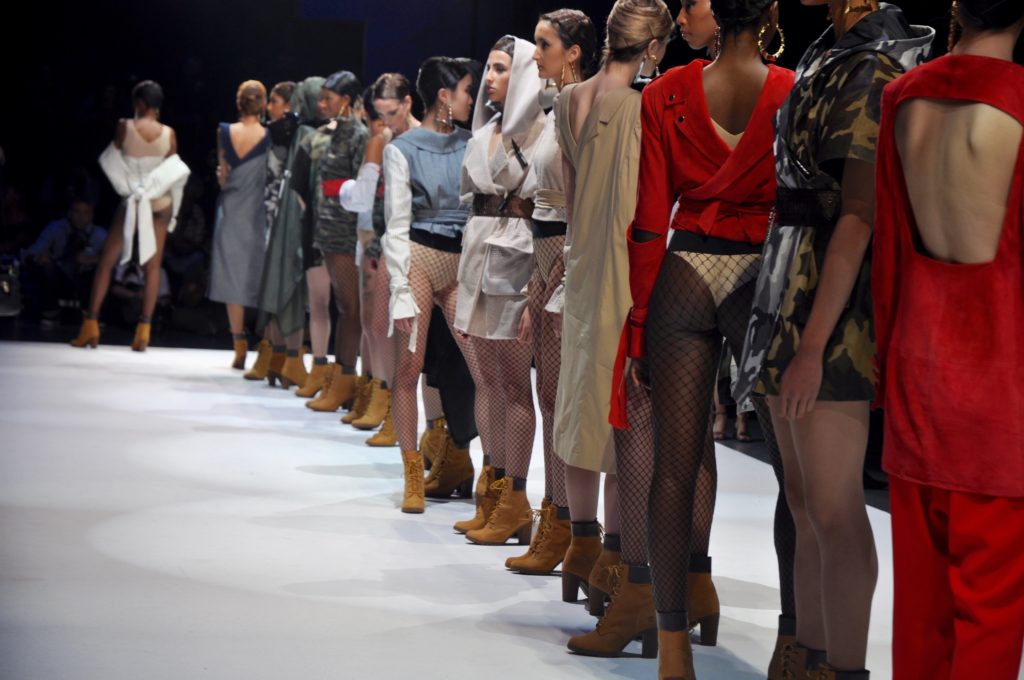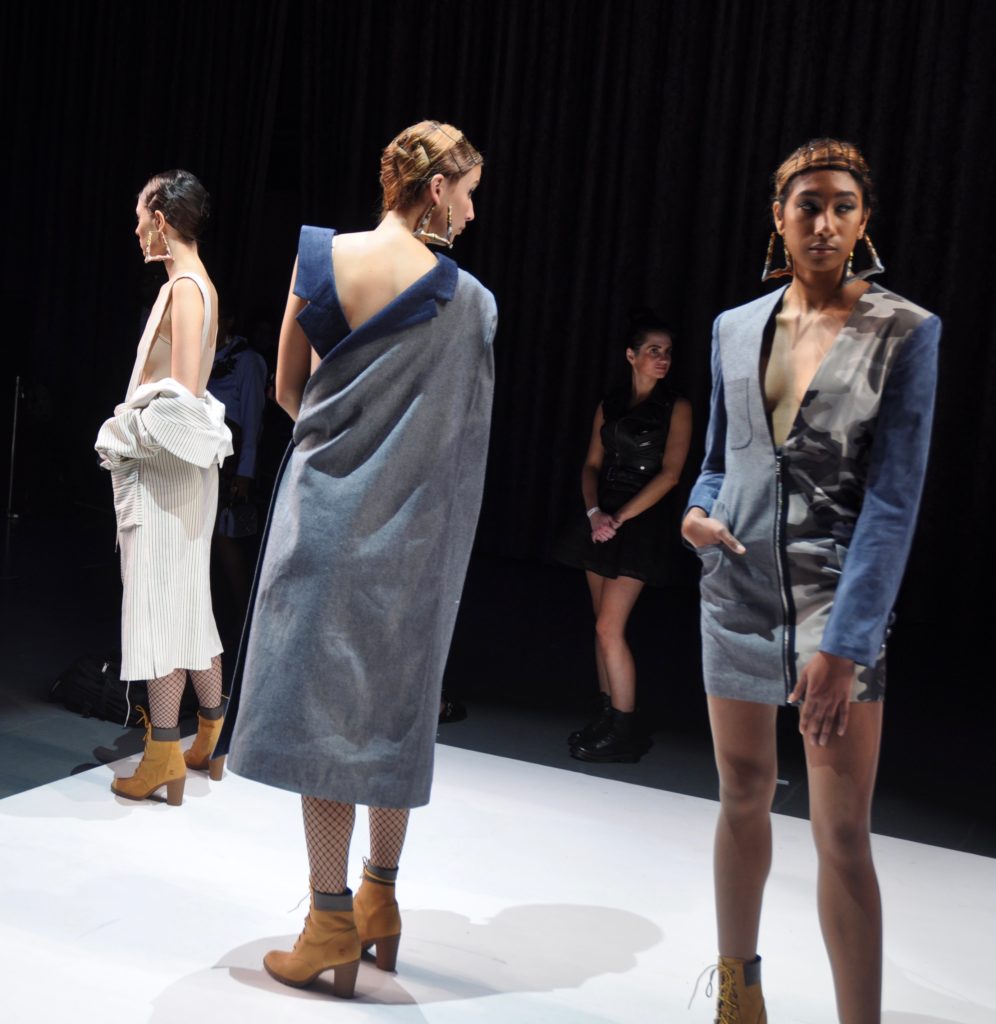 VAISHALI S was my last show of the day. I sat front row, and I had to restrain myself from yelling when I saw a face I  personally knew walking! CLEO looked ethereal in her white dress. Overall, my favorite look was the deep turquoise coat pictured below. The model is wearing the coat over a shift dress, but I could easily picture myself wearing that over dark jeans with basic flats. The hair & make-up combination – low buns & basic makeup with lots of highlighter to catch the light – was simple but elegant. I am interested in watching VAISHALI S grow, especially as this female designer continues to incorporate traditional Indian hand woven textiles into modern garments.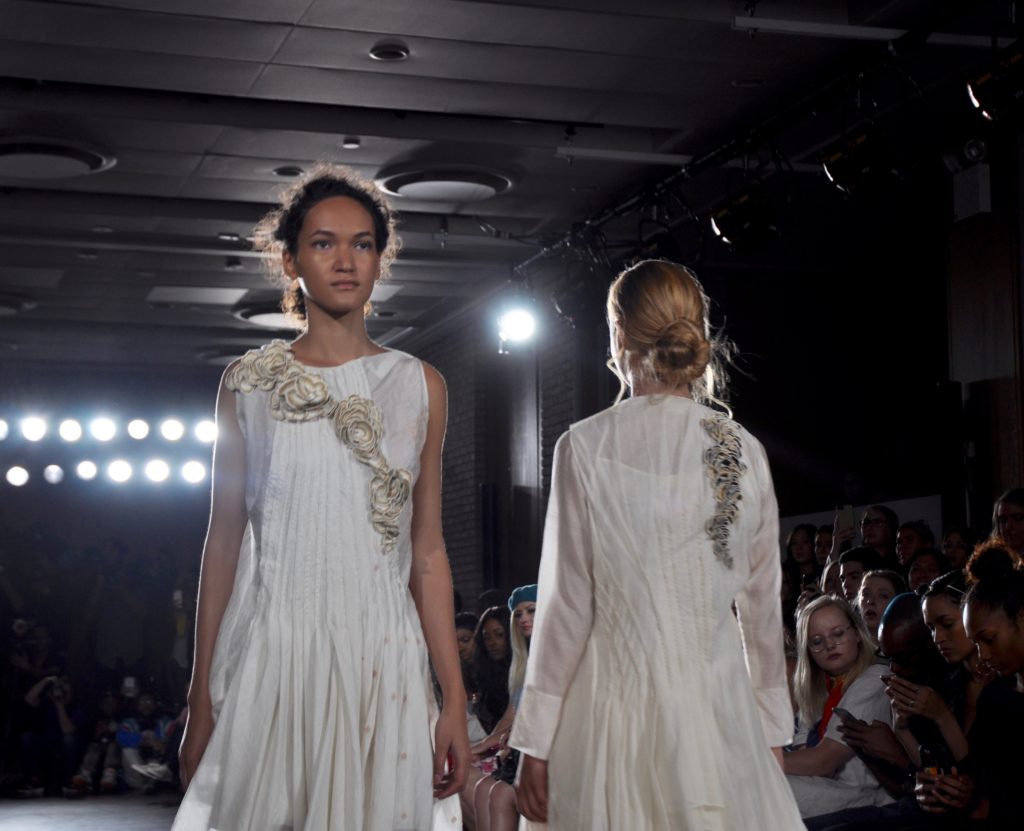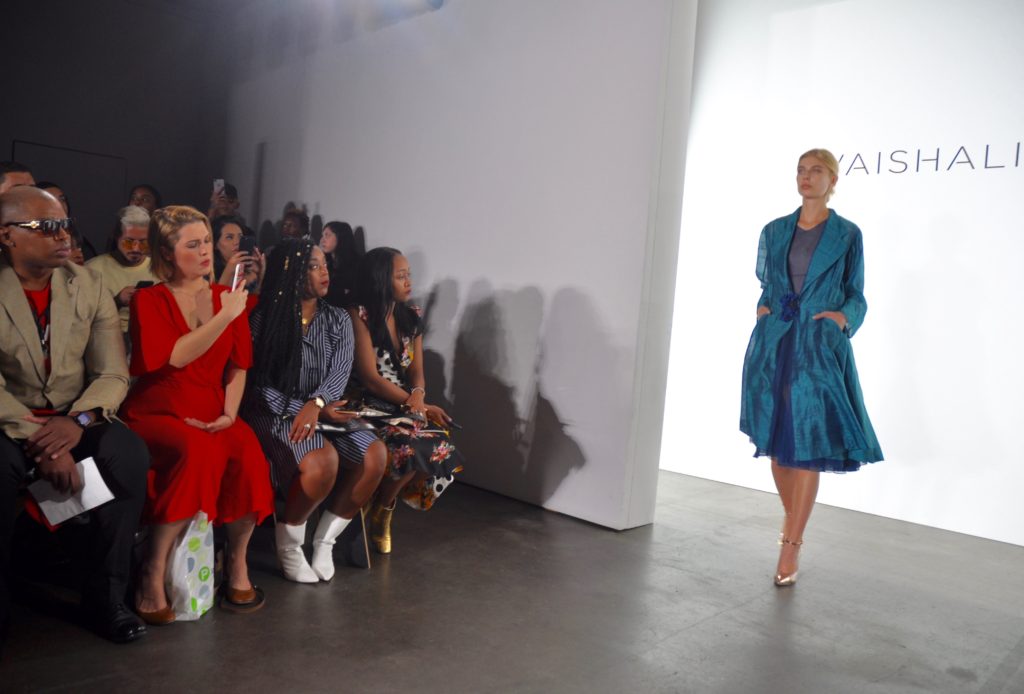 SATURDAY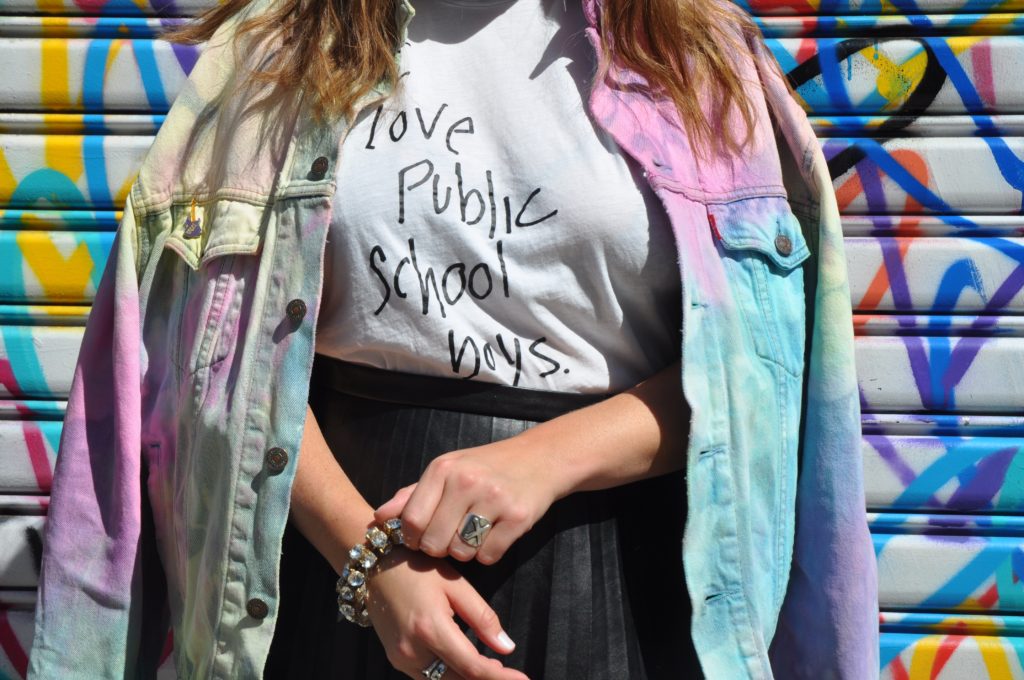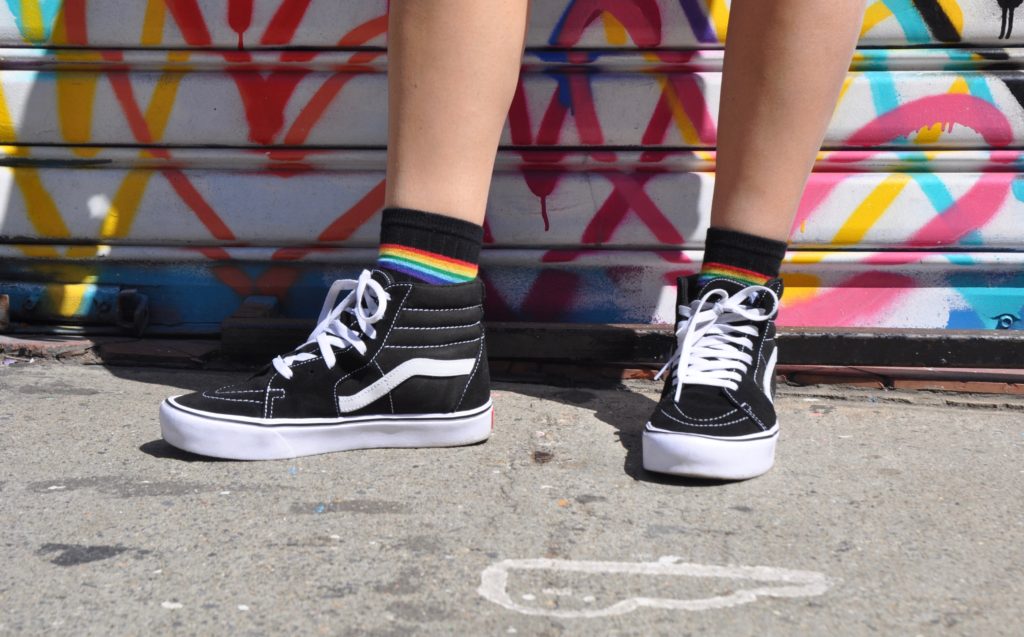 SKIRT| PSNY Tank (SIMILAR) | Jacket (SIMILAR | SIMILAR) | VANS | EARRINGS | SUNGLASSES (IN PINK TOO) |
As I mentioned in PART 1 OF MY NYFW RECAP, it is such a surreal experience to meet in person those you've known only through social media. On Saturday morning, I found myself at most beautiful spots in New York City, MAMAN SOHO. The lovely & talented Ana Linares of ANANEWYORK gathered myself, JILLIAN ATTAWAY, Nancy of TOASTNCANDY, KIMBERLY LEWIS, & THE TRAVEL WOMEN together. Almost all of them I had stumbled across on Instagram before, and it was a pleasure getting to know all of these different women in a small setting. A perk to dining with fellow bloggers & content creators – they never mind snapping a few photos before you start your meal! While ANA ordered the blueberry French toast, I chose the prosciutto, egg, & avocado. A special shout-out to ANA for coordinating this brunch! Also, although it was only a quick hello, I did meet another one of my favorite bloggers – Julia Engel of GAL MEETS GLAM. She was super sweet, and I was grateful to chat with her & her husband, Thomas, upon entering MAMAN SOHO.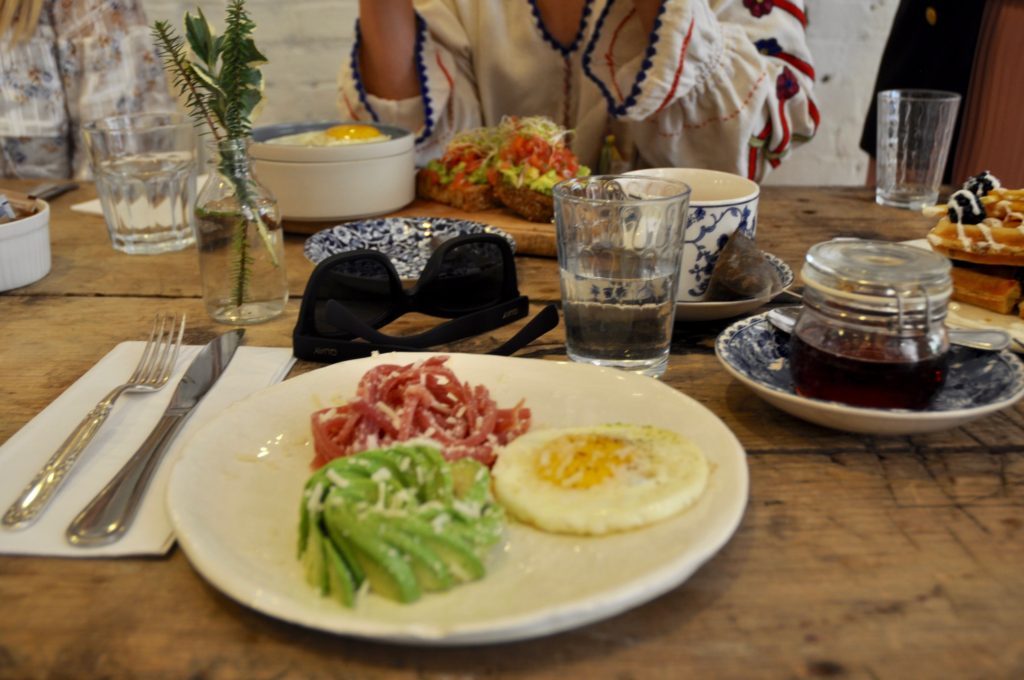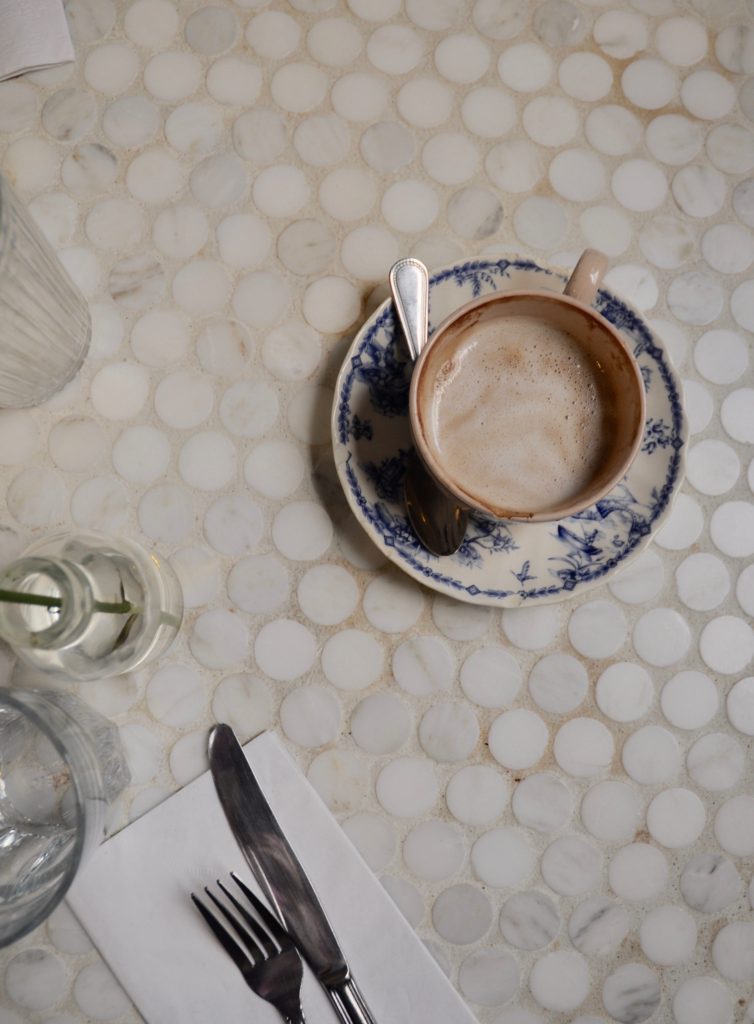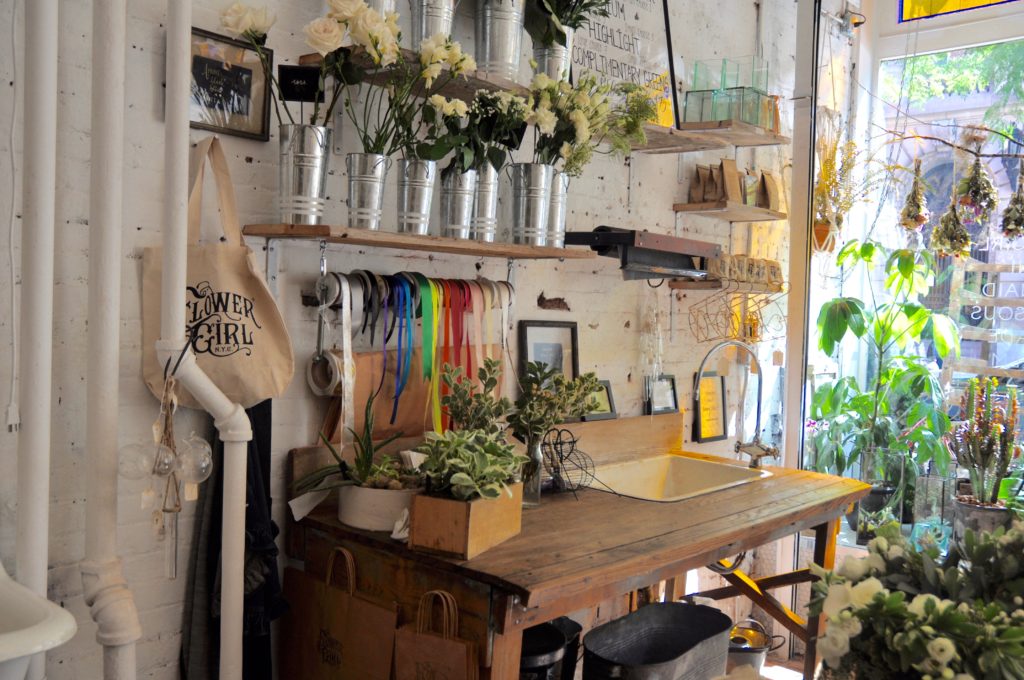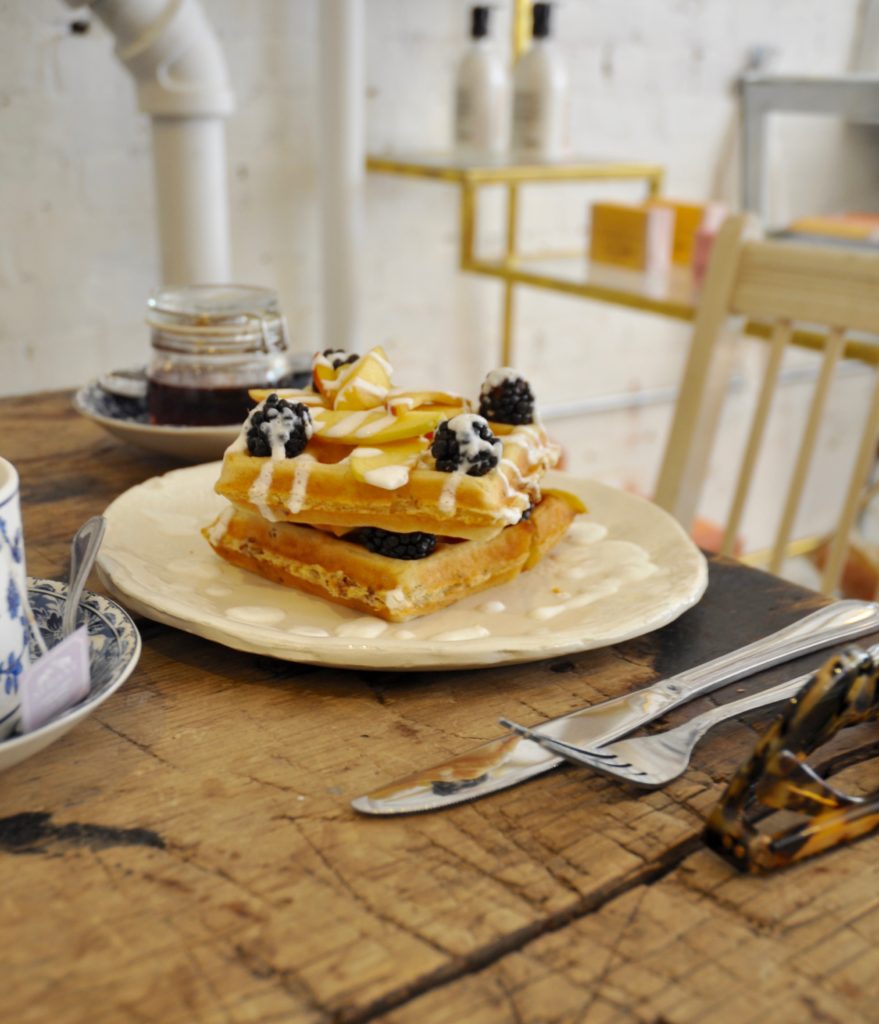 When I began seriously planning my NYFW schedule, my next event was non-negotiable. After saying farewell to the gals at brunch, I headed over to the Buddy Warren Gallery with Steph & Ryan to support two Muslim brands. LOUELLA co-hosted a pop-up with BYZAYD in this bright space on the Lower East Side. I had met IBTIHAJ MUHAMMAD – the first American Muslim woman to compete in the Olympics while wearing in a hijab – last NYFW. In addition to her role as an athlete, she is also the creator of LOUELLA. When I saw on her Instagram that she would be hosting a pop-up during NYFW, I made certain I would attend. IBTIHAJ continues to be a powerful figure for Muslim women & all American women in these times of political turmoil. I am inspired by her example. Especially as our country's leaders make it more difficult for our Muslim brothers & sisters to live peacefully in the United States, it is critical to show your support in person & online whenever you can. I cannot wait to share the purchase I made on the blog soon!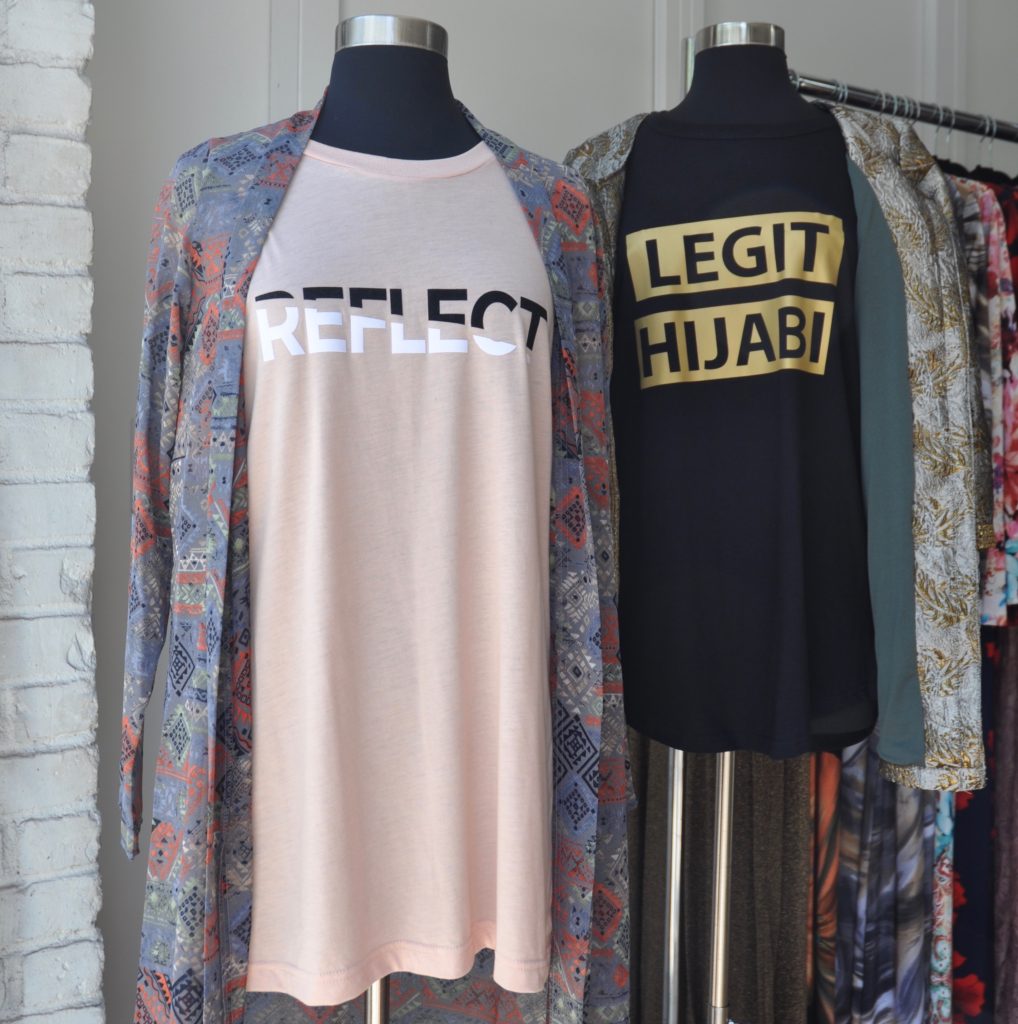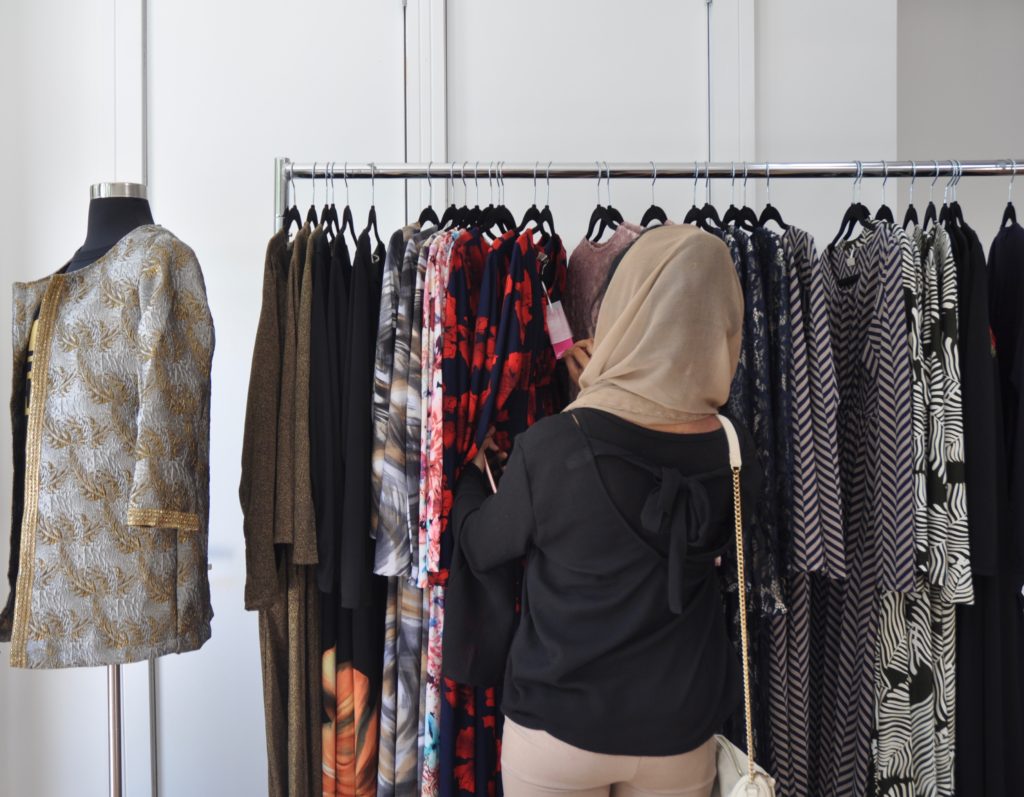 Before heading off to my birthday celebrations, I stopped by REBECCA MINKOFF Soho for their post-runway celebration. This is my favorite boutique in the whole city. However, as the line was down the block, I had to pass on stopping by. Sending love to #RMNYC for always making your store a beautiful space for powerful women. Ryan, Steph, & I snapped these photos quickly before we officially ended our NYFW work for that day. As if I would not use the wall of rainbow hearts as the backdrop for my last shoot…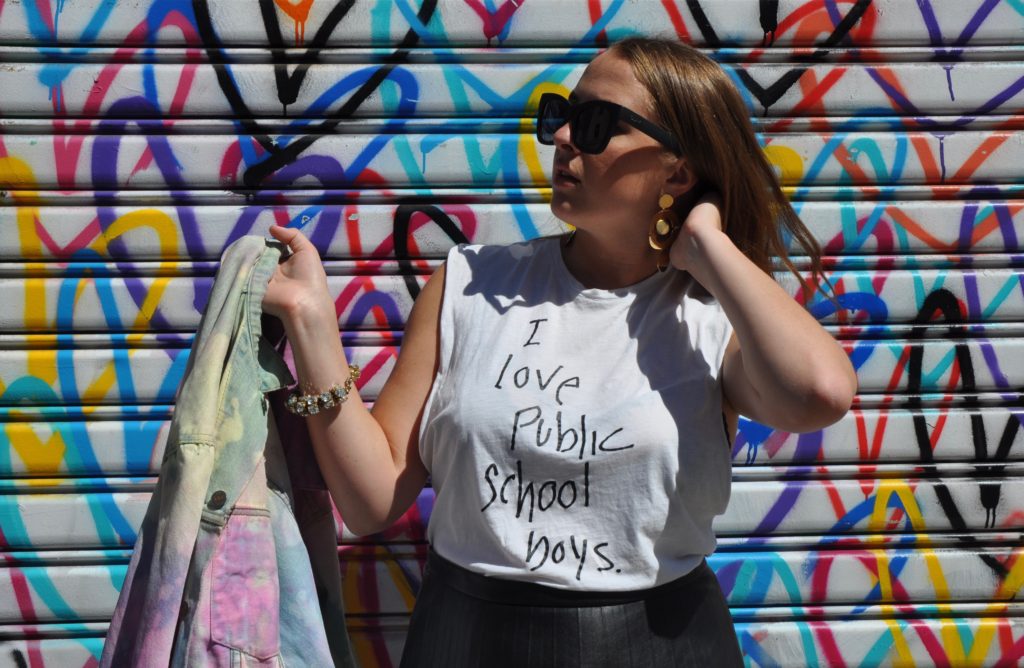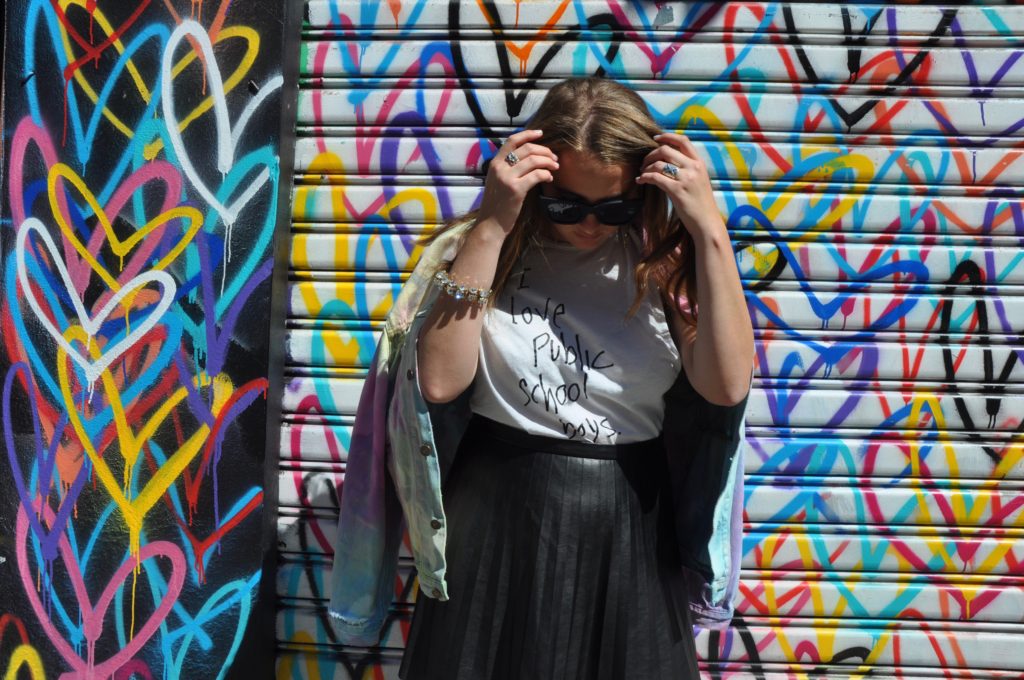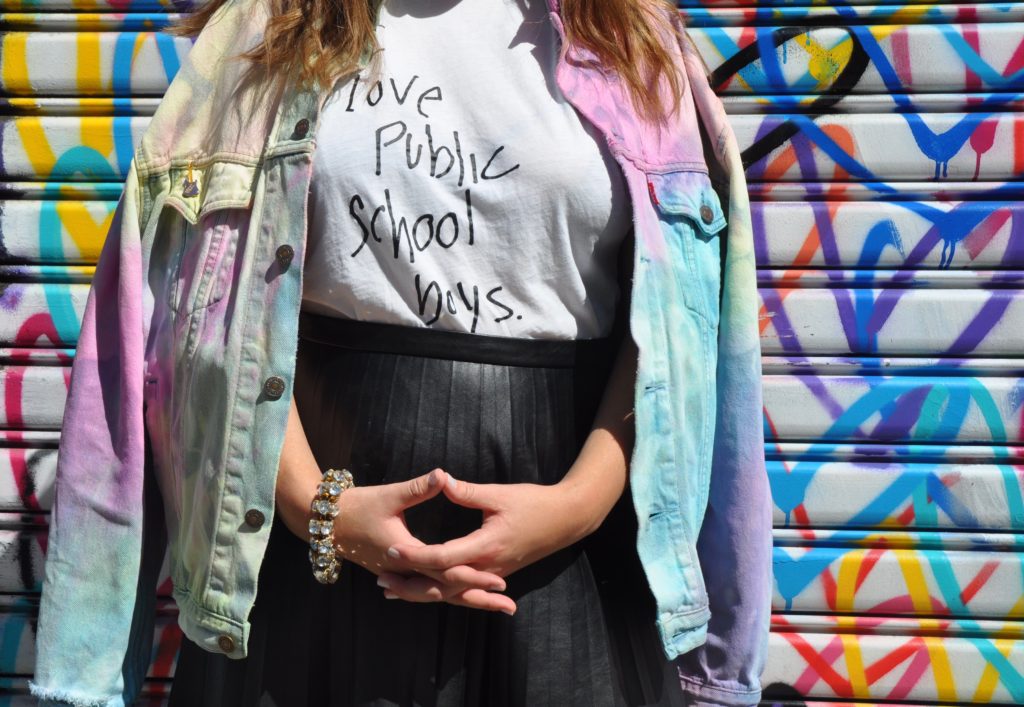 A quick shout-out to Steph & Ryan for journeying around the city with me on this day & for snapping photos often. Your love & support means everything.