SUNDAY
After concluding my birthday celebrations with friends & family in the very early hours of Sunday morning, I was a little groggy en route to DAN LIU, my first show of the day on Sunday. Unfortunately, for the second time during NYFW, the show was at capacity. I was disappointed, but chatting with COURTNEY definitely eased that in the moment. I watched the show from inside the venue on a large screen TV. The models had elaborate accessories, such as peacock feathers, on their garments, but I was struck at honestly how simple the garments were. There was one white floor-length dress with a slight collar that would look perfect any time of year.
I headed home to eat breakfast with Ryan, Marguerite, & Steph. By mid-afternoon, I made my way back to Skylight Clarkson for LEANNE MARSHALL. Once again, the show was at capacity. I was (in a NYFW sense) heartbroken in that moment, as I have attended the LEANNE MARSHALL show all three previous seasons. Her garments are beautiful, often involving rainbow elements, interesting models, & a general sense of happiness that rings throughout the week. Again, I stood & watched on the large television screens. One of the redeeming moments of the entire experience was witnessing my fellow would-be attendees cheering & clapping when particularly beautiful dresses walked down the runway. My three favorites were THIS YELLOW DRESS, THIS PINK DRESS, & THIS ORANGE DRESS.
I met Steph outside after the show wrapped to shoot two outfits. We snapped some strong photos & tried to take advantage of the day as best we could. Disappointment is a part of NYFW, as it is part of life. It is an emotion I struggle with, but I can look back on that day as a reminder that good things can still happen, even on days when things don't go perfectly. I am giving a sneak peek of my outfit below & I will be sharing even more photos on the blog soon in a later post!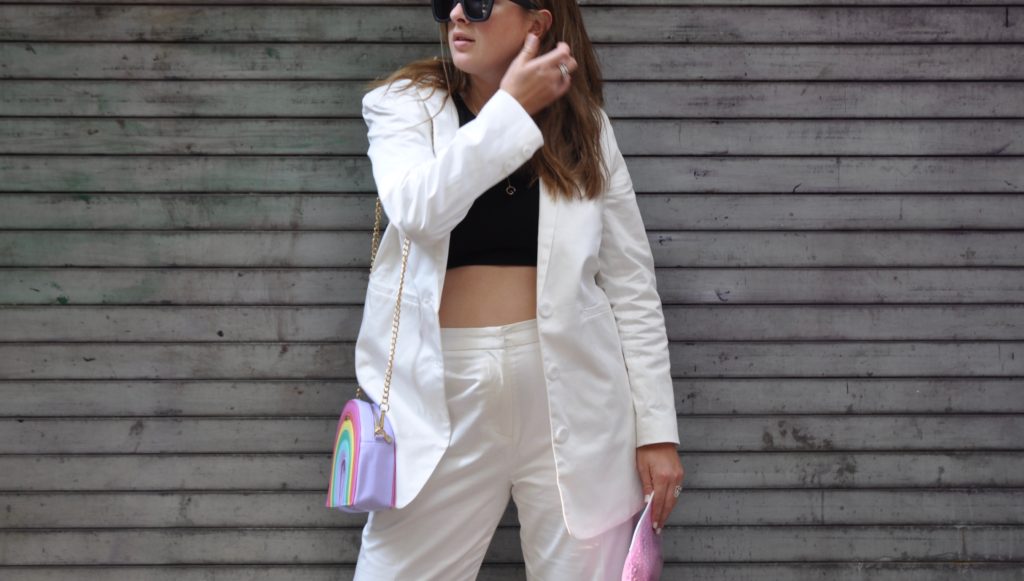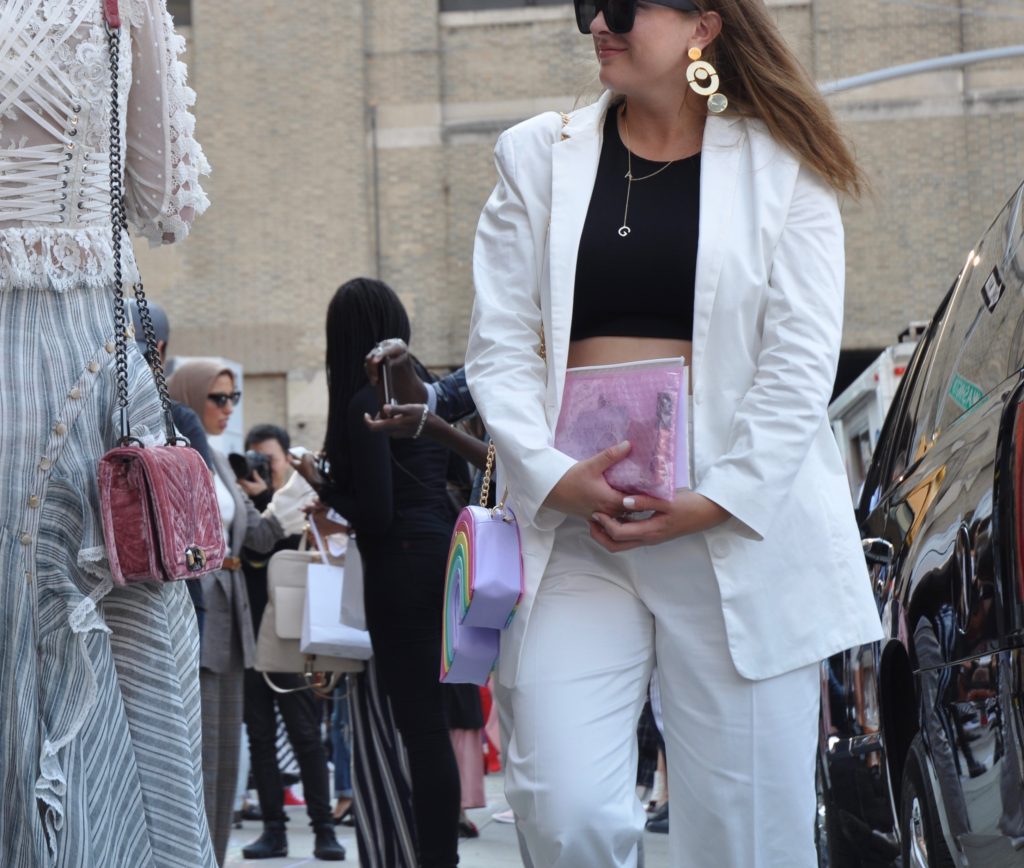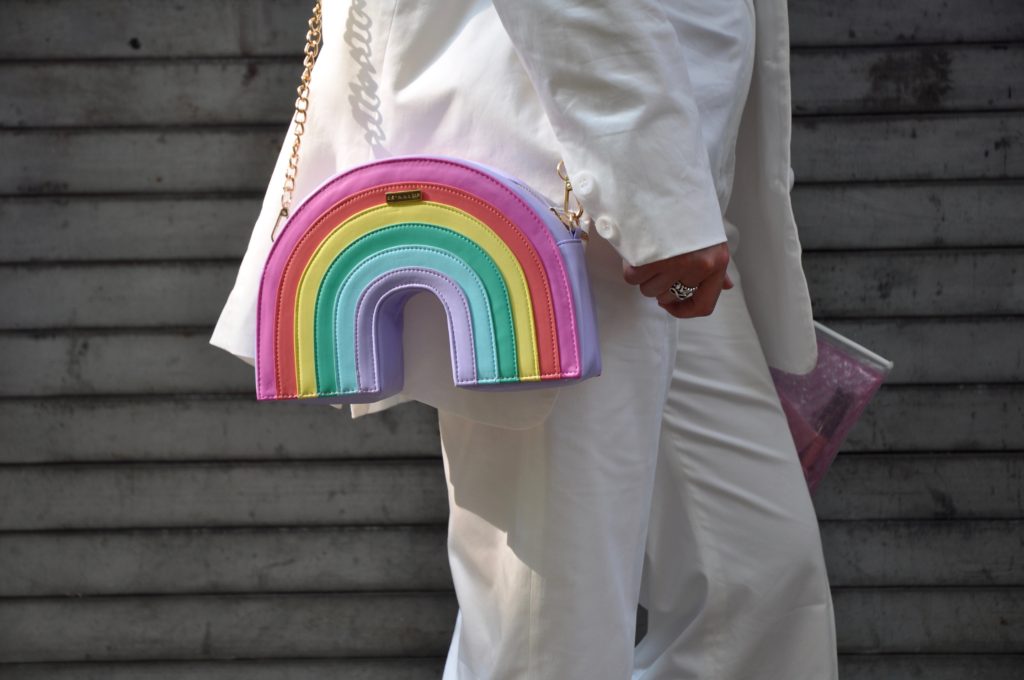 SHOP THIS LOOK
MONDAY
A few disappointments on Sunday were my motivation to take advantage of any & all opportunities on Monday. My hair appointment with the TRESEMME team started my day out right. This is my fourth fashion week being treated by their team, and it continues to be such a lovely experience. MY STYLIST gave me exactly what I was looking for – sleek & defined curls.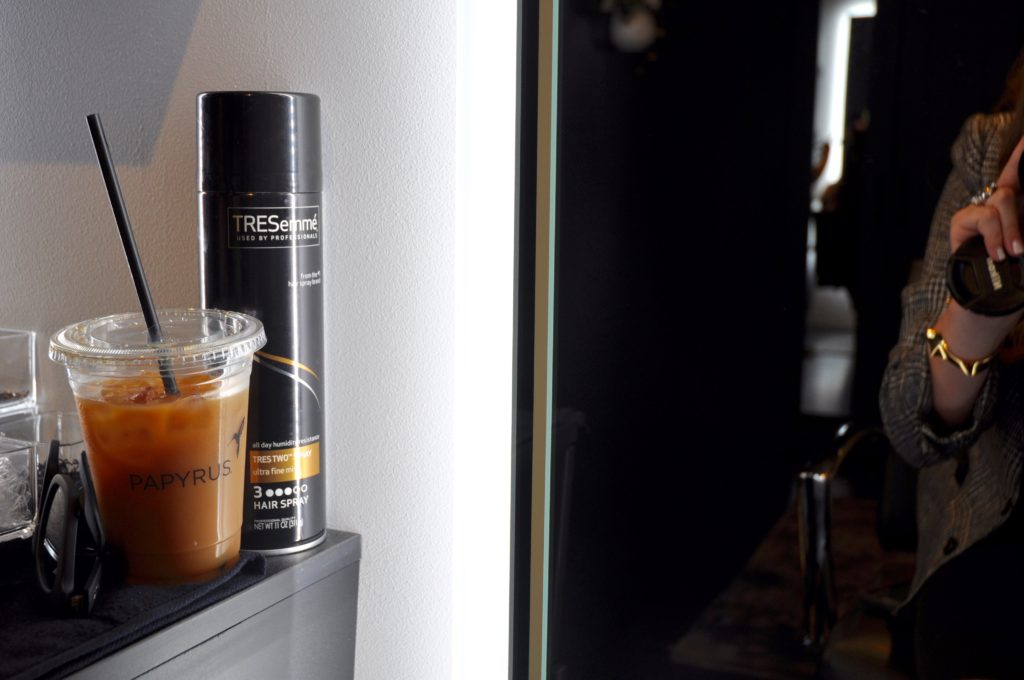 I had a seat for the JOHN PAUL ATAKER show, and I was able to move up to the front row right before the show started. I was sitting right across from Paula Abdul, who sweetly interacted with all of her fellow attendees & snapped photos left, right, & center. The show was beautiful. While all of the models walked with strength, their garments looked ethereal. I loved the sheer overlays, the gold accents, & the structural elements that all came together harmoniously. The show buzzed with the excitement of a great show & the celebrities in the audience. I was able to quickly snap a selfie with Victoria Justice after the show.
One of the most major moments of all of NYFW was witnessing the one & only KARLIE KLOSS pass down the runway. I did not know that she would even be walking the show, and I had to sustain a gasp. Check MY INSTAGRAM for my slow-motion video of the fabulous dress she closed the show in. She is my all-time favorite model, as she exhibits poise & power in all of her interactions. She is a huge advocate for women & girls in STEM, in addition to maintaining her prestige in the fashion world. She launched KODE WITH KLOSSY, a summer program for girls ages 13-18 to learn basic coding skills. She leads by example, and it was truly a privileged moment to witness her fearless walk on the runway.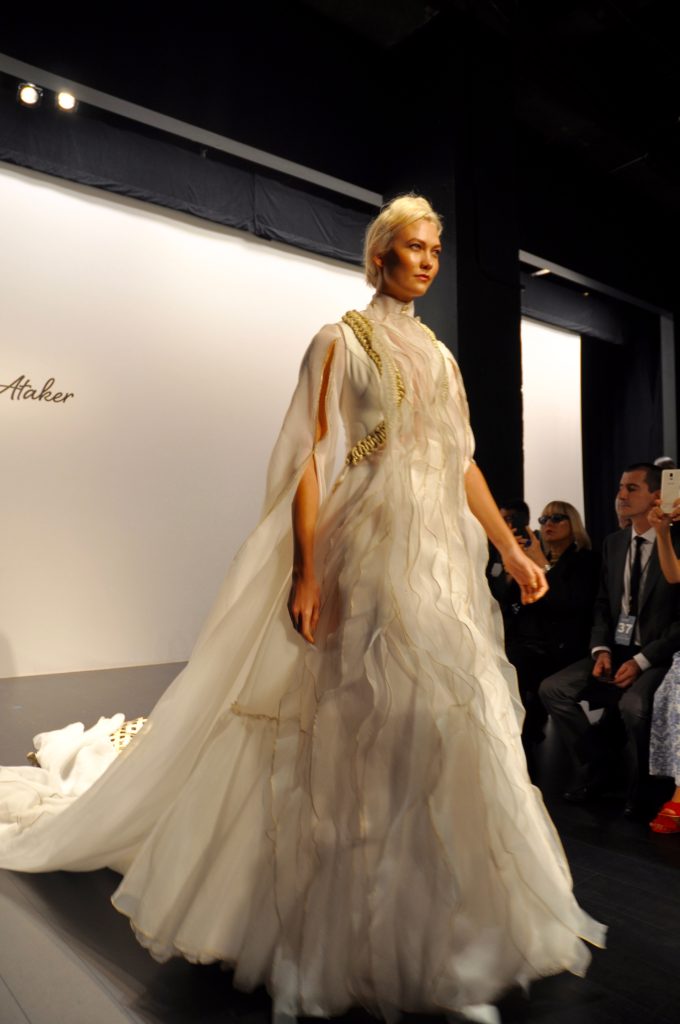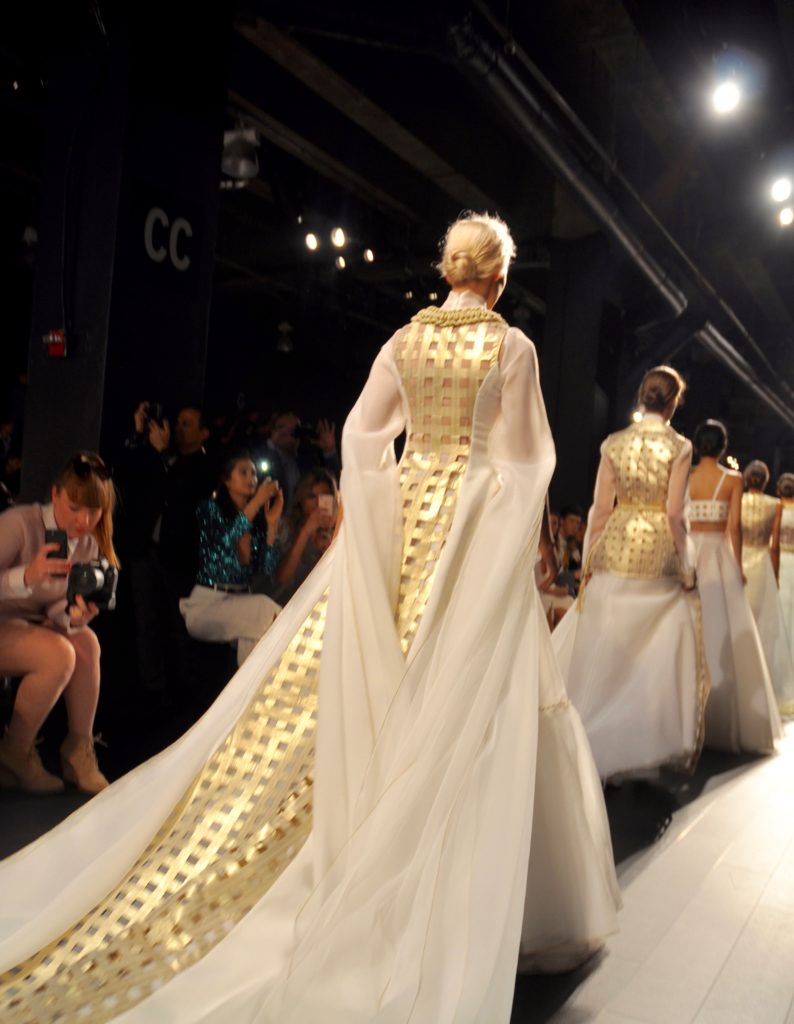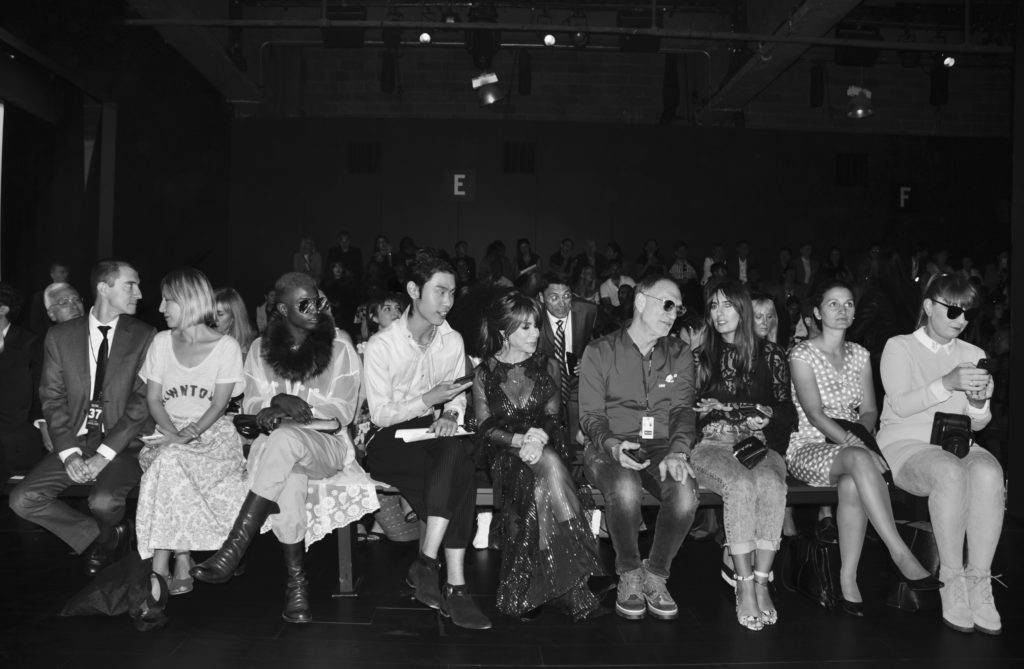 Post-show I made two friends with Ella & Lizzie, as we declared that KARLIE looked like a combination of Daenerys Targaryen & Cersei Lannister in the show. We chatted over coffee about our favorite looks. I love stopping by the PAPYRUS cafe within the Skylight Clarkson building. Not only do they gift you free PAPYRUS cards, but they also provide anyone & everyone with complimentary coffee, tea, cold brew, & lattes. It is such a simple gesture that always resonates during the craziness of NYFW. Once I had my cold brew, I headed up to charge my phone & peruse the latest styles in the REEBOK lounge. There was a super cool pair of millenial pink sneakers that I liked, and I chatted with a couple bloggers, PR gals, & stylists in the lounge.  Once I had networked till my voice was hoarse, I headed out to finally have a sit-down chat with CAROLINE VAZZANA, a New York City based fashion editor & stylist who is known for her bright outfits & quirky accessories. We had a quick lunch at a local cafe. I will be sharing a mini interview with CAROLINE in the coming month – stay tuned!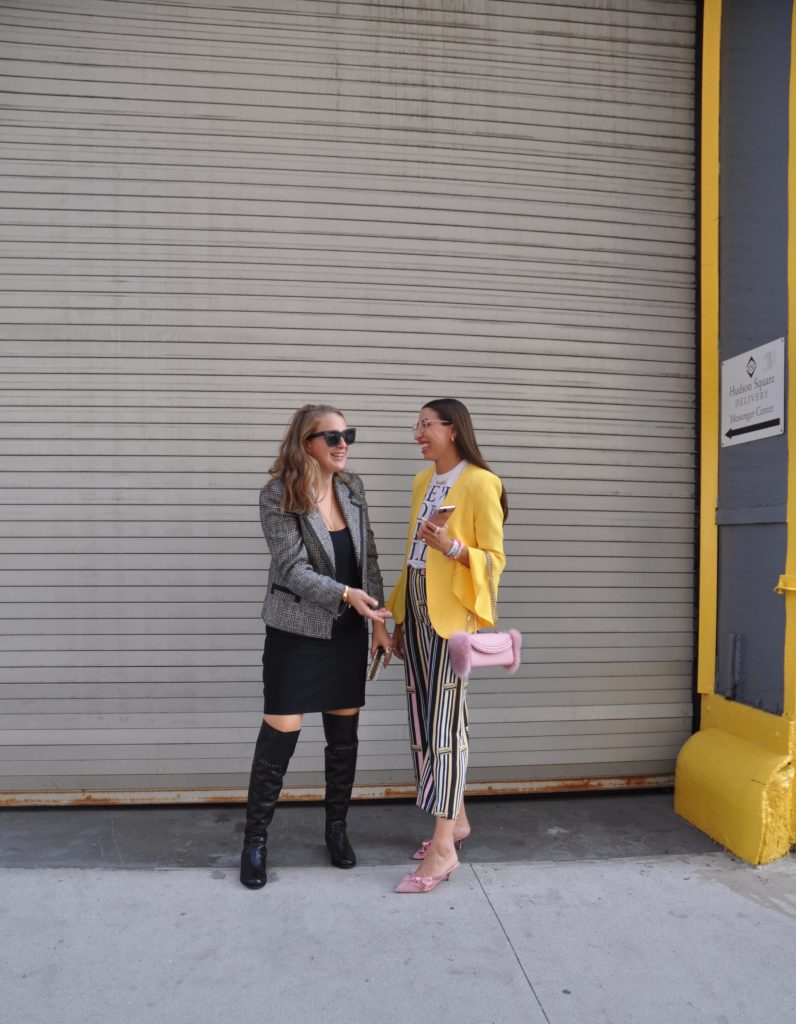 I ended the day watching Harry Potter in bed – my favorite way to unwind after a crazy week. Some things never change.
TUESDAY
My week ended with one final show at Gotham Hall. SHERRI HILL was the first fashion show I ever attended, and it was as a proxy. It is an honor to have been invited for the last two seasons by their team. CORINNE FOXX, daughter of Jamie Foxx, walked the show & HER OUTFIT was one of my top looks. The silver two piece set had just the right amount of sparkle. The pastel rainbow gown with crystals encrusted on the bodice was another favorite. Finally, I loved the red flapper style dress that is a perfect option for the coming parties in the winter.
As always, I am grateful to attend New York Fashion Week. It is an institution that I dreamed about coming to when I was younger. Although this was my fourth NYFW, the magic is pervasive. Thank you to the amazing brands, the diligent PR teams, & the brilliant designers who invited me to these events this year. I am truly thankful.
Thank you to all of you for reading Part 3 of my NYFW recap! Did you catch PART 1 & PART 2? Hope you enjoyed the BTS look into this week.