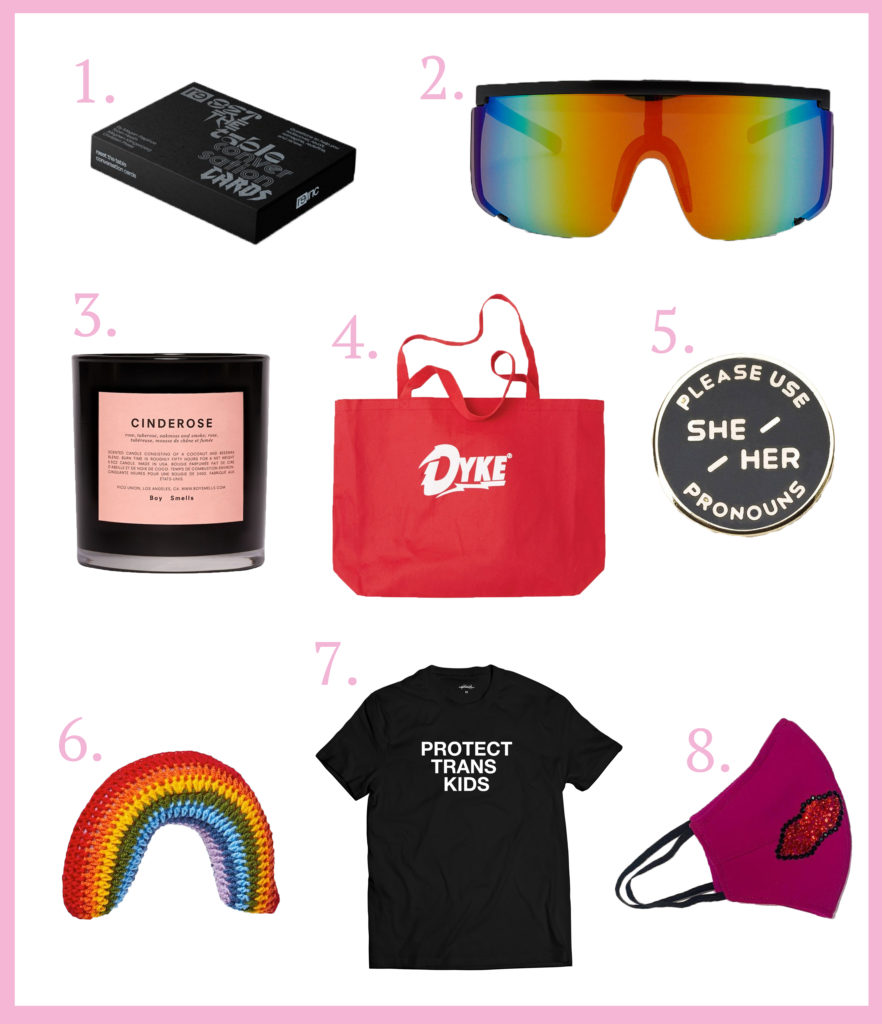 Today is my first day sharing holiday gift guides! As I was listening to one of my favorite podcasts, BAD ON PAPER, I heard a summary of exactly why this activity is making me feel even happier than usual. Becca said, that gift giving "is a way to bring joy in 2020" especially if you are separated from loved ones.
Before I dive into suggestions, I want to affirm that this year has been challenging. Money could be tight for different reasons. No matter your situation – do not feel pressured to buy during this period if you cannot afford to do so. I offer these ideas with love. All of the items in this guide are from queer-owned brands.
#1 RESET THE TABLE CONVERSATION CARDS
Started by four members of the US Women's National Soccer Team, I am constantly inspired by the innovation of RE-INC. In this deck of cards, there are forty questions "to spark exploration, collaboration, and reflection with others". This winter will likely involve time at home in small groups & this gift should be a thought-provoking addition.
#2 MIRRORED WRAP-AROUND SUNGLASSES
This pair from ONE DNA is affordable with a retro vibe.
BOY SMELLS was founded by two real-life partners, Matthew & David. This ashy floral scent from their collection sounds lovely! It has a burn time of up to fifty hours.
Without exaggeration, DYKELAND is one of my favorite brands ever. The founder, Kristina, kindly gifted me several items from her line at the start of the summer. After Steph saw me wear my QUEER MASK & BIG DYKE ENERGY CUTOFF round the clock, she bought me this bright red tote & DYKE SWEATSHIRT for my birthday. I carry it everywhere & toss it in the laundry every other week.
#5 PRONOUNS PIN
I shared the SHE/HER pin from WILDFANG above, but there are also HE/HIM & THEY/THEM options available.
Such a sweet baby gift idea from OTHERWILD!
Trans Awareness Week just passed, so I wanted to start off with this pick from THE PHLUID PROJECT. Trans right are human rights. I love that this item showcases a powerful message of support for trans youth.
My brother, Sean, gave me a pink CHRISTIAN SIRIANO mask earlier in quarantine. I reach for it often & I love that this version has a quirky rhinestone decal on it.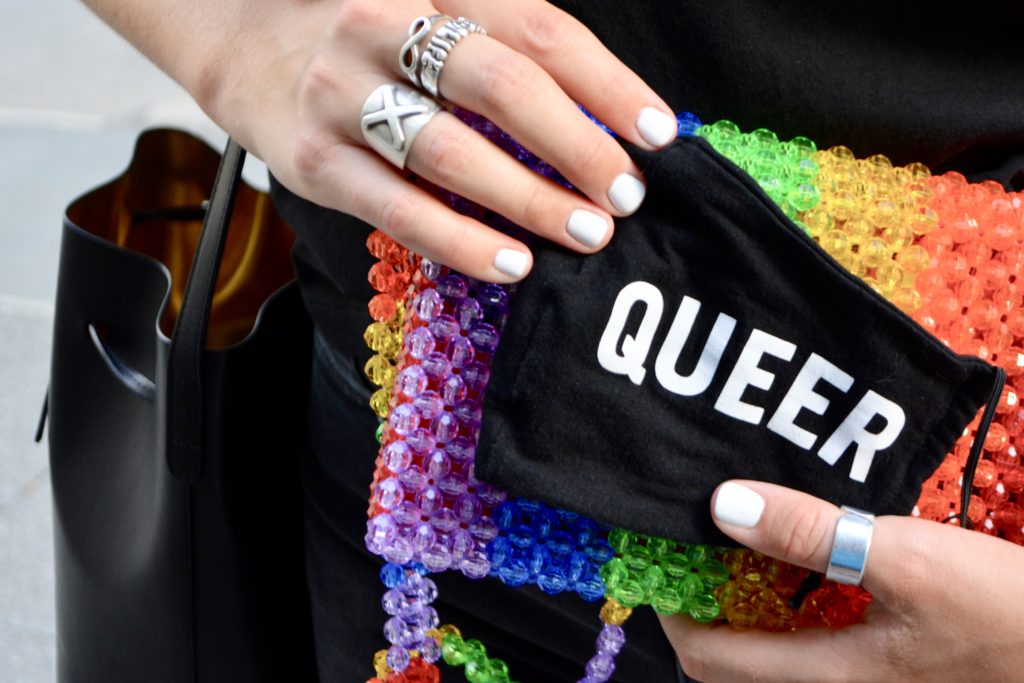 While I have your attention about queer-owned businesses, I would like to share the LESBIAN BAR PROJECT. Their goal is to help keep the fifteen remaining lesbian bars in the United States open for business after this pandemic. If you can donate even a small amount, it will go a long way in supporting these beacons of community for queer women like myself.
Any suggestions to add – feel free to drop a comment below! Stay tuned for more gift guides & holiday picks launching throughout the week. Hope your holiday week is off to a happy start.
Xx,
Erin