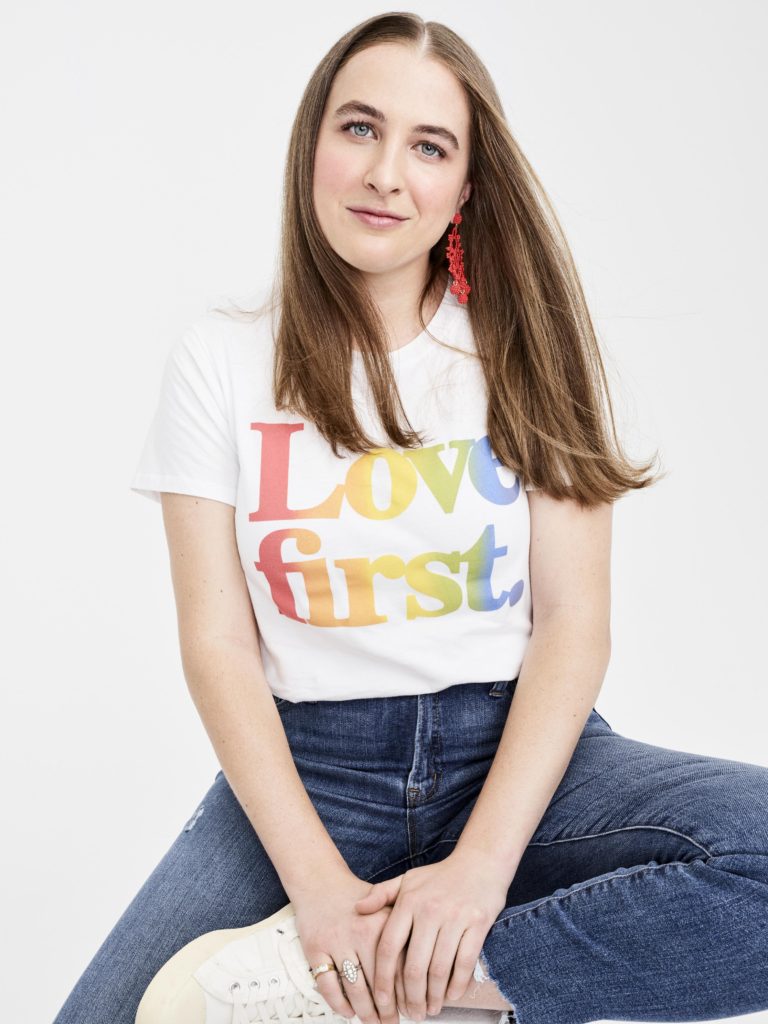 At the start of 2018, I posted that the year ahead would be a YEAR OF MORE. At the start of 2019, I didn't feel up to making resolutions. Starting my twenty-seventh year this month, I feel invigorated. MY BIG MOVE has a lot to do with my current outlook on life. This picture of me was from a real highlight of the last year – the J.CREW LOVE FIRST campaign. When I look at this picture, I feel both proud of my journey & ready to keep moving forward.
Inspired by Gretchen Rubin & Liz Craft's PODCAST, I am once again choosing a one word theme for the year, as well as creating a list of goals to achieve. While this is usually a January ritual, I am pushing myself not to wait any longer for the next steps I want to take with my personal year ahead. My word for the year ahead is challenge. I am dedicating mental energy & physical effort to pushing myself to be more comfortable with what makes me nervous, unsure, & scared.
One of their recommendations for creating your own list is to include ambitious tasks, as well as a few joyful items that can easily be checked off. Chris Guillebeau, an author & blogger who has been a guest on their podcast, recommended dividing YOUR ANNUAL LIST into specific categories. Gretchen & Liz pick their number of goals to correspond with the year ahead – 18 for 2018, 19 for 2019, etc. I am partial to series of five, so I have picked five categories with five goals in each.
NEW YORK CITY

Attend a performance for the New York City Ballet, the Metropolitan Opera, or the New York City Philharmonic
Join another rec soccer league
Buy a pretzel from a vendor near Central Park

Pick a local organization to devote my time & resources to
Visit all five boroughs at least once

HEALTH & WELLNESS

Begin using an electric toothbrush
Learn how to cook three new meals
Devote time to meeting with a therapist in person who I can make semi-regular appointments with
Journal once a week
Make an appointment for a facial

LOVE & FAMILY

Book a special Christmas outing with Steph
Visit my Grandma specifically to write down more about our family's history
Create photo books of my niece & my nephew for their parents & my parents
Create an easy to use family calendar for shared dates during the holidays that are important for everyone to know
Plan a romantic getaway with Steph

BUSINESS & FINANCES

Improve the user experience on this blog by adding a mobile menu, updating the homepage, & creating a shopping page
Coordinate three major collaborations with brands I want to work with this year
Investigate options for legally formalizing my business
Pay off my current credit card bill, as well as pay back personal loans to loved ones
Learn more about investing in the stock market

TRAVEL & EXPERIENCES

Go roller skating
Read ten brand-new books
Organize a sleepover party for my younger cousins at my apartment
Take a dance class
Visit a state that I have never been to
In addition to creating stronger habits & accomplishing significant goals, I also wrote out a list of everyday actions which I think will have an impact on my day to day life.
DAILY INTENTIONS
Text, call, email a friend or family member
Walk 10,000 steps
Utilize time on the subway better – read, draft posts, and/or listen to podcasts
Remember daily birth control pill
Search for ways to incorporate more fruits & vegetables in to my diet
I am always more inclined to accomplish goals when I write them down. This was a motivating exercise & I will update this post as I go throughout the year with notes & tips from my journey.
What helps you stay on-track when setting goals for yourself?
Xx,
Erin