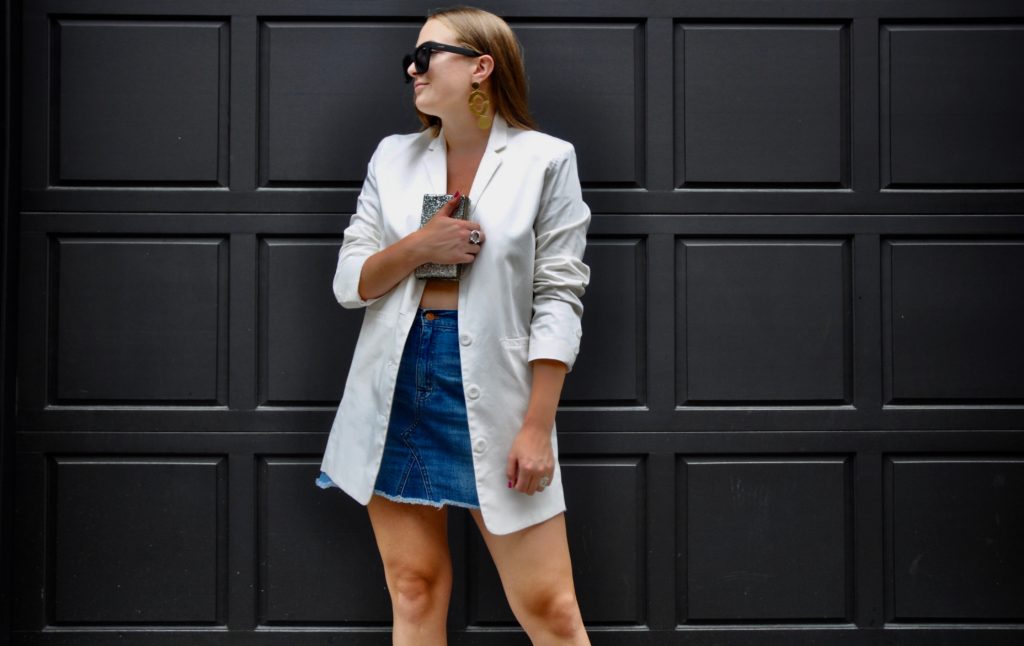 I wore this outfit on a surprise date night with Steph earlier this fall. She brought me to a wine bar where one of my all-time favorite bands was playing. I loved editing these pictures because it was a night where I felt her love very deeply. While I will advocate for all of the elements of this look, I will begin by encouraging you to check out J.Crew's current selection of earrings. MY EXACT PAIR is available in either Gold or Mixed Metal. As of right now, I do not often stray from pearl studs. When I do, it is usually to wear the ORBIT EARRINGS. Here are a couple shiny, gold pairs to consider for your upcoming holiday parties.
ORBIT EARRINGS | SHIELD EARRINGS (on sale) | TWISTED RIBBON HOOPS (on sale) | DOUBLE DROP HOOPS (on sale) | DISC DROP EARRINGS (on sale) | RIPPLED PEBBLE EARRINGS (on sale)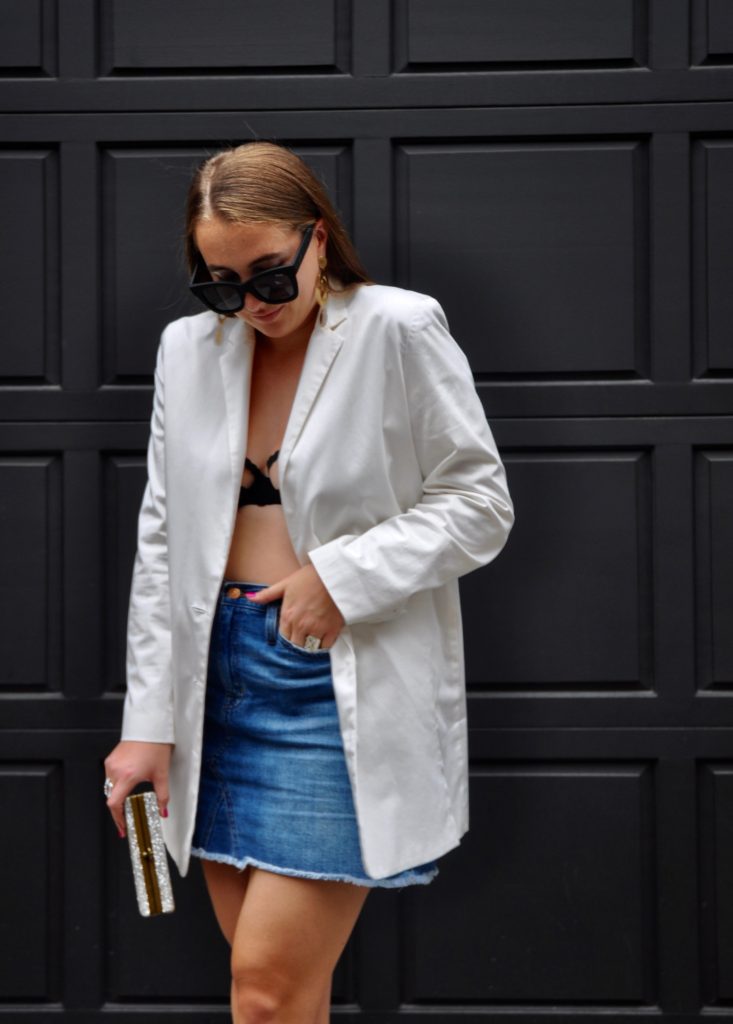 I appreciate the unexpected combination of a sleek blazer paired with a lace bra. Throw a BODYSUIT on if you prefer more coverage for yourself. This white oversized blazer is from WILDFANG a few seasons back. Considering my intense love of THE FIRST WIVE'S CLUB movie & their iconic white suits, it is not at all surprising that this is a favorite piece of mine. Check out the last time I wore the full suit at New York Fashion Week HERE. This ALEXIS ALTO BLAZER is a good alternative. Blazers are one of those items that I strongly believe are worth the investment.
HALSTON HERITAGE BLAZER (on sale) | ALEXIS ALTO BLAZER (on sale & available in all sizes) | THEORY BLAZER (on sale)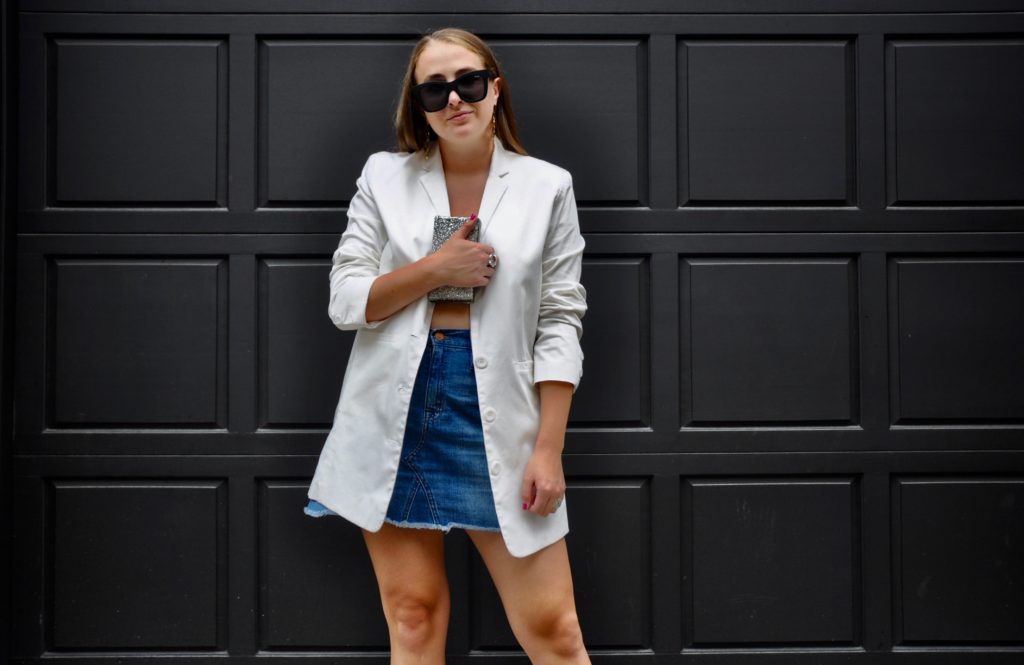 I cannot tell you how many times I have carried this J.Crew glitter clutch over the years. It is a simple accessory that elevates a look easily. Sparkle at all of your holiday gatherings with any of these options.
EDIE PARKER CLUTCH (splurge) | BOOHOO CLUTCH (under $25) | JIMMY CHOO CLUTCH (splurge)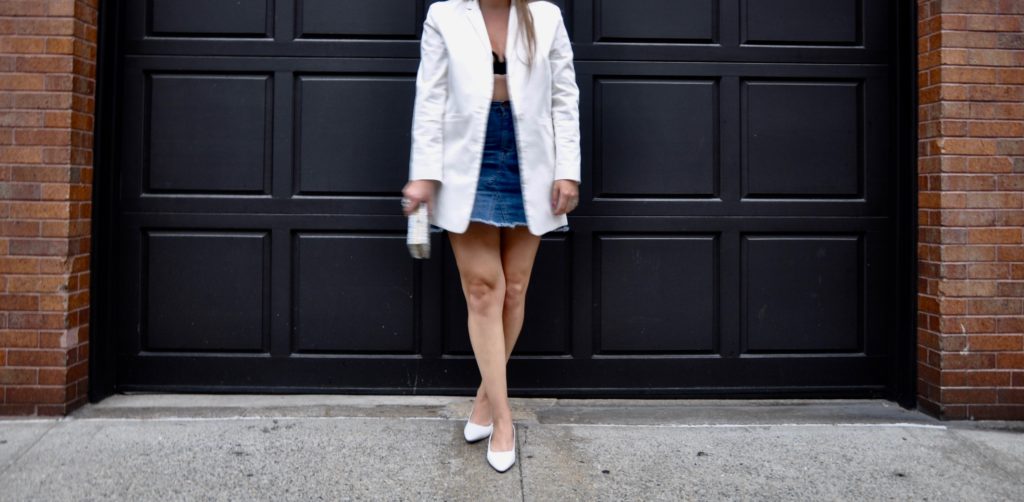 These white kitten heels are a current highlight in my wardrobe, especially as I am not adept at walking in high heels. Similar to my clutch above, they elevate a look. While I like how they look with this outfit, they could just as easily pair with jeans & a tee.
ALDO KITTEN HEEL (under $50!) | DOLCE VITA LEATHER KITTEN HEEL | TABITHA SIMMONS KITTEN HEEL (splurge)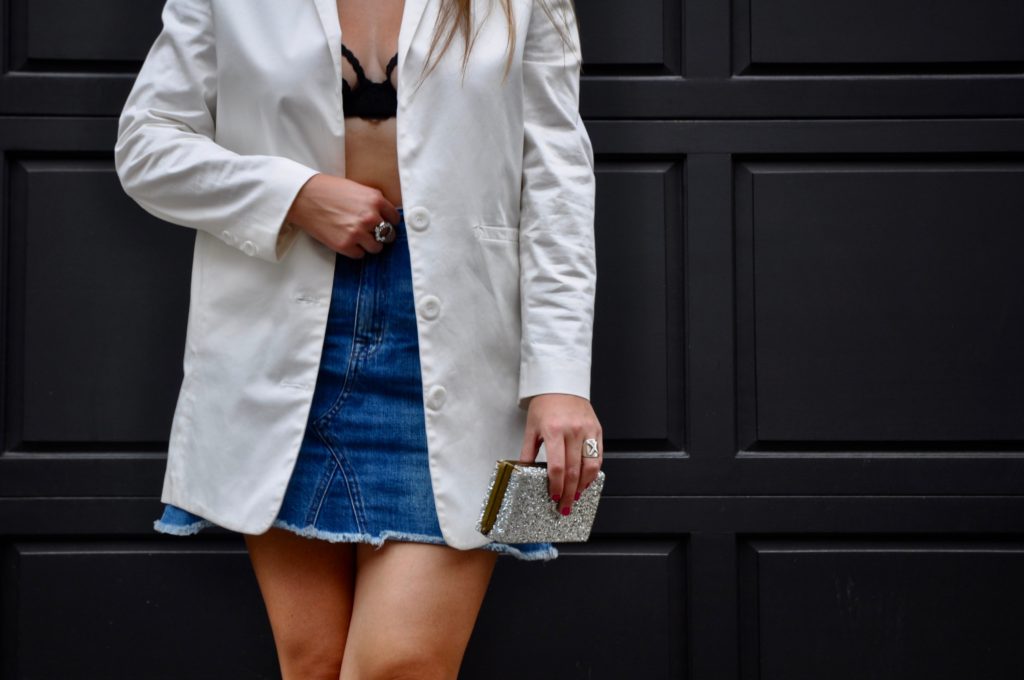 I rarely wore denim skirts as a teenager, but I am loving the youthful feel of this garment now. All of the skirts below are on sale!
DL1961 SKIRT (on sale) | PAIGE JEANS SKIRT (on sale) | FRAME DENIM SKIRT (on sale)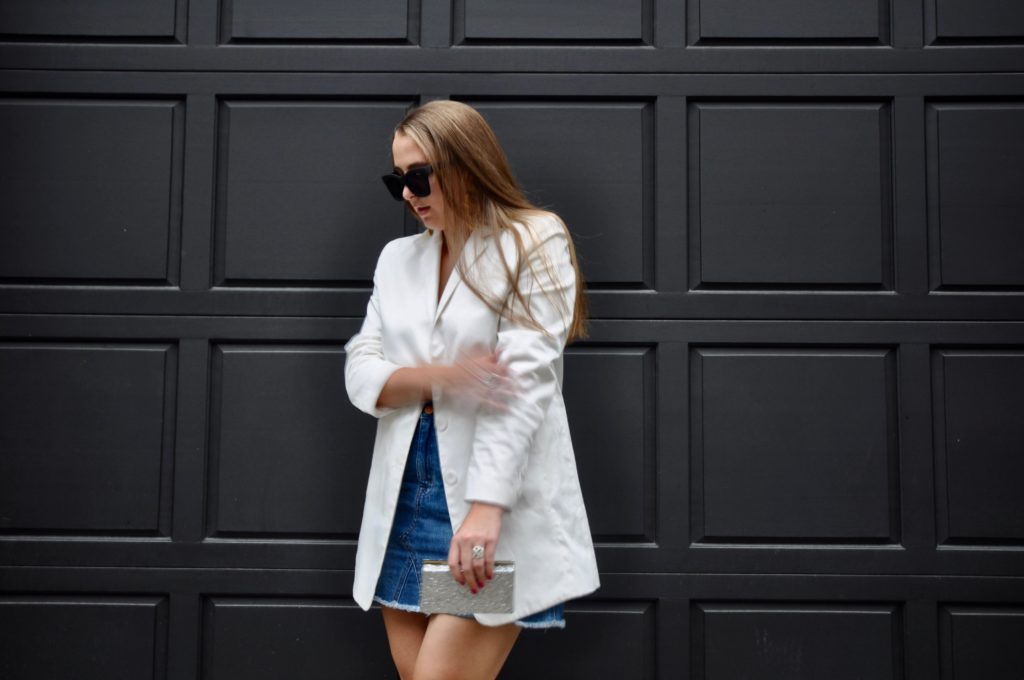 PARFAIT BRA (on sale & up to size G) | ANINE BING BRA | THISTLE & SPIRE BRA
Complete your look with a black lace bra & enjoy!
Xx,
Erin