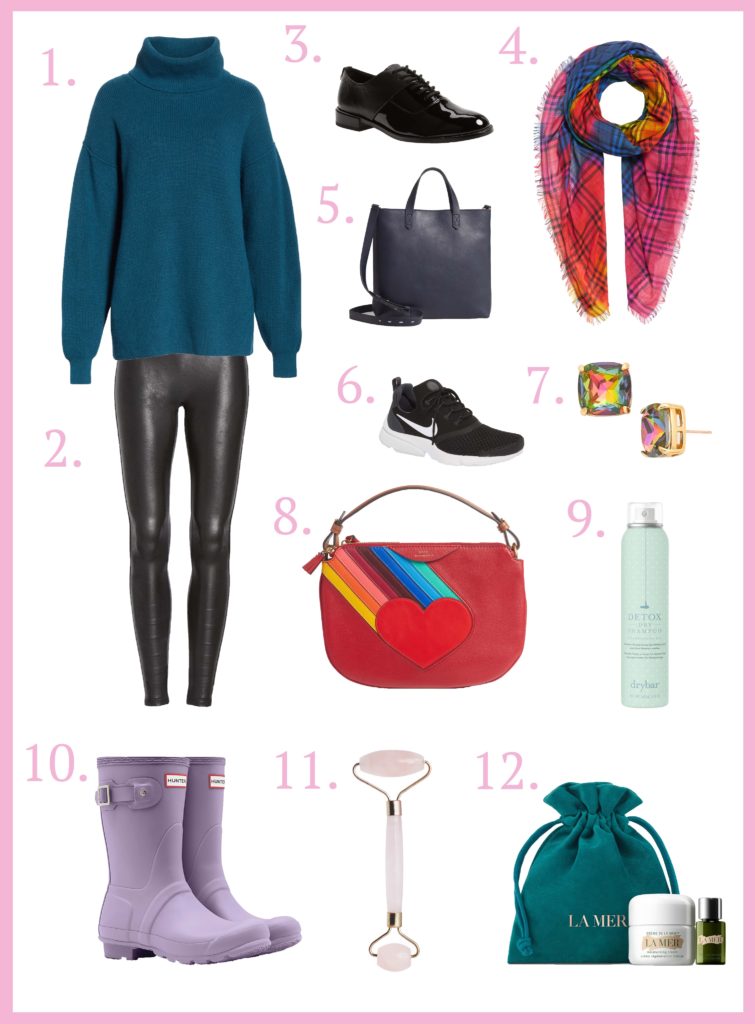 Happy Cyber Monday! I have more updates coming to MY CYBER WEEK ROUND-UP, but I wanted to specifically highlight Nordstrom to start the morning. I appreciate that this retailer offers a wide variety of brands, many of which are on promotion today.
ICYMI my earlier posts – check out my Holiday Picks from J.CREW plus GAP & OLD NAVY with updated promo codes for today.
At 40% off, you could buy multiple TUNICS in any of the six offered colors.
#2 SPANX FAUX LEATHER LEGGINGS
Throw these sleek LEGGINGS on with a comfy sweater or a sleek top. For today only, they are 20% off!
While I love a sparkly shoe during the holidays, grab a pair of OXFORDS for a more unique look. I like match a pair of shoes like these with either an oversized suit or a cocktail dress. At 30% off, these are a worthwhile purchase.
This collection from Burberry was one of my all-time favorites, especially given the bright rainbow theme. This TIE-DYE SCARF is an update to the vintage check pattern that we know & love. Plus, it is on major sale.
#5 MADEWELL SMALL TRANSPORT TOTE
This compact TOTE is almost never available on promotion; $30 off today only! I have the black version, which I last featured HERE. It is available in five different shades.
Another brand which is not often discounted – Nike. I am definitely scooping up these black SNEAKERS today. At 40% off, they are a bargain. My parents gave me a pair of similar Nike shoes last year; I wear them constantly.
Buy these iridescent EARRINGS & save almost $20! They are a solid gift option for sisters, friends, co-workers, etc.
#8 ANYA HINDMARCH RAINBOW LEATHER CROSSBODY
While I love the Anya Hindmarch stickers, this RAINBOW CROSSBODY is on my eternal wishlist. If you purchase today, you can literally save hundreds on the retail price.
I absolutely love the smell & texture of this DRY SHAMPOO. There is a gift with purchase for combined Drybar purchases over $50. FYI – while this item is not on sale, prepare to bundle it with other Nordstrom items. If you spend over $250 at Nordstrom today, you receive a $50 gift card to use in January. Hopefully, this is a helpful tip if your favorite products are not on sale, but you still want to gain a benefit from shopping today!
#10 HUNTER ORIGINAL SHORT RAIN BOOT
Hunter RAIN BOOTS are a valuable buy, especially when they are 35% off. I find the shorter pair to be more comfortable as my feet do not get as warm as when I wear the taller pair.
#11 HERBIVORE BOTANICALS ROSE QUARTZ FACIAL ROLLER
Purchase the gift of DIY pampering with this luxurious FACIAL ROLLER. This tool is a simple way to brighten up your vanity while also functionally reducing puffiness & minimizing wrinkles. While this is not on sale, there is a gift with purchase for combined Herbivore Botanicals purchases over $100.
If you wanted a taste of La Mer without the high-price tag, pick up this MINI SET. The compact sizes are ideal for traveling. While this is not on sale, there is a gift with purchase for combined La Mer purchases over $300.
WHAT STORES ARE YOU SHOPPING TODAY? LET ME KNOW IN THE COMMENTS!
Xx,
Erin