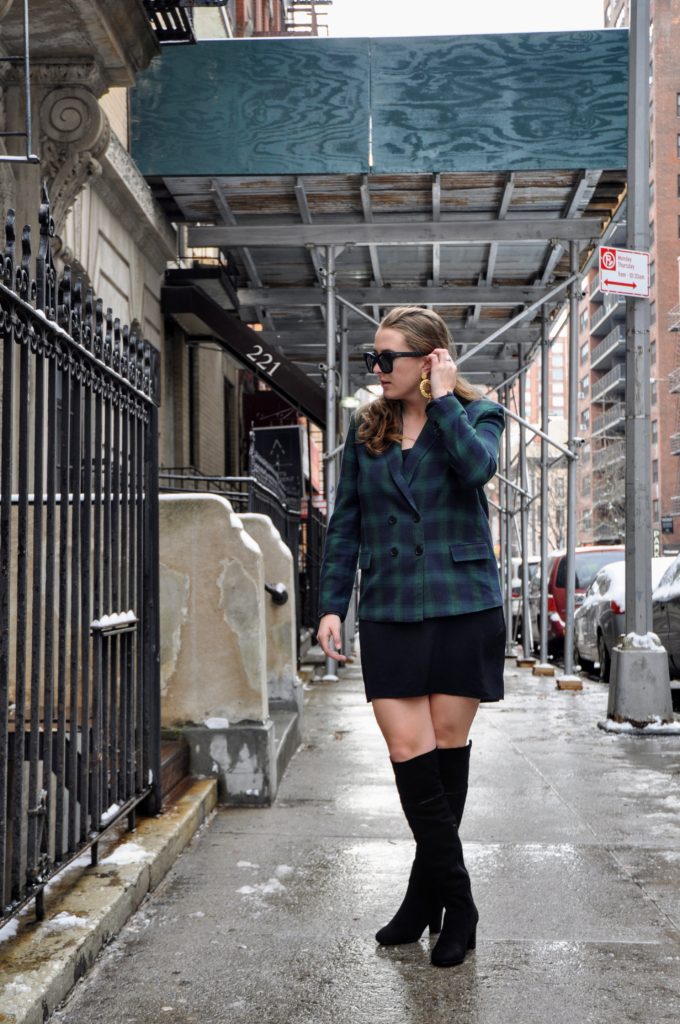 Hope your weekend has been full of turkey & love & wine! My family celebrated the holiday on Thursday (of course) & we celebrated my cousin's Sweet 19 yesterday. Since our big celebrations are over, I am going to spend time shopping during the next few days. As I mentioned HERE, the goal of creating these specific Holiday Picks round-ups is to share gift ideas, as well as significant deals on items for yourself. I will be adding to this specific post throughout the weekend & into Cyber Monday, in order to highlight as many relevant retailers as I can. I will also be creating a few Gift Guides too; stay tuned!
NORDSTROM 
MY ENTIRE GUIDE for Nordstrom went live this morning! Check it out while items are still in stock.
GLOSSIER 
Grab all of the pink pouch magic while you can. Glossier NEVER goes on sale. They literally do a sale once a year & it ends tonight at midnight. I am planning to buy another PERFECTING SKIN TINT – one of my make-up staples. My mom bought a CLOUD PAINT DUO for my sister & I to share last Christmas. I have heard a lot of positive reviews for SOLUTION, so I am also going to buy that tonight. If you want to get the best bang for your buck, buy a package like the PHASE 1 SET. It is already discounted by bundling items together, so if you use the site-wide discount on top of that, it is really worthwhile.
LIP GLOSS | PERFECTING SKIN TINT | CLOUD PAINT DUO

PHASE 1 SET | SOLUTION | PRIMING MOISTURIZER RICH
MADEWELL 
I guarantee this JUMPSUIT will be one of the best purchases for winter. Check out the last time I featured a Madwell jumpsuit HERE at the Veuve Clicquot Polo Classic. One of my co-workers has these GLITTER HOOP EARRINGS. I asked her if I could try them on & I can confirm that they are super light. If you are looking for a simpler pair, pick up the CHUNKY SMALL HOOPS.
 CHUNKY SMALL HOOPS | GLITTER MULES | GLITTER HOOP EARRINGS
BELTED WRAP COAT | SLIM COVERALL JUMPSUIT | BALLOON-SLEEVE SWEATER
BAUBLEBAR 
CODE: CYBER35 FOR 35% OFF EVERYTHING SITE-WIDE. VALID TILL 11/28.
I really like the ring selection that BaubleBar has. A rainbow RING is a perfect accessory anytime of year. Gift the STACKING SET to your friend or family member with more minimal style.
ALIDIA RING | LYDIA VELVET CHOKER | STACKING RING SET
J.CREW 
I devoted an entire post to my top holiday picks from J.Crew. Click through MY ENTIRE GUIDE for detailed recommendations & promo details. From pajamas to jewelry to tops, there is something for everybody on your list – including you!
WILDFANG 
Wildfang is one of the brands I feature most frequently on EAC. I am thrilled to purchase gifts & items for myself, such as the plaid blazer I am wearing in the photo above, during this sale. While the promo is listed at 30% off, some items, such as the statement-making WILD FEMINIST TEE is being offered for 50% off. Bonus – free shipping on orders over $50!

WILD FEMINIST TEE | EMPOWER DOUBLE-BREASTED BLAZER | I REALLY CARE BOMBER 
DVF
DVF is one of my favorite stores to visit in New York City. I appreciate both the bright, bold pieces, such as this PINK COAT, as well as the basics, such as the iconic DVF WRAP DRESS.
PINK POCKET TRENCH | OVERSIZED STRIPE COAT | COLLARED BLAZER
CHAINLINK WRAP DRESS | FITTED LACE DRESS | RUFFLE WRAP DRESS
TORY BURCH 
Every season, I check out Tory Burch online for classics with a twist. One of my favorite pieces currently available is this jeweled MINI BAG. It would pair with any of the other items I featured below perfectly, or it could add a bit of dazzle to a simple jeans & tee outfit.
FLARE SLEEVE SWEATERDRESS | TURN-LOCK MINI BAG | CASHMERE SWEATER
GREER MINI BAG | COLETTE COAT | BROOKE BOOTIE
GAP & OLD NAVY 
I devoted an entire post to my top holiday picks from Gap & Old Navy. Click through MY ENTIRE GUIDE for detailed recommendations & promo details. There are extra discounts on top of the regular promo both in-stores & online.
I hope this round-up crossed a few people off your list & saved you money in the process!
Xx,
Erin