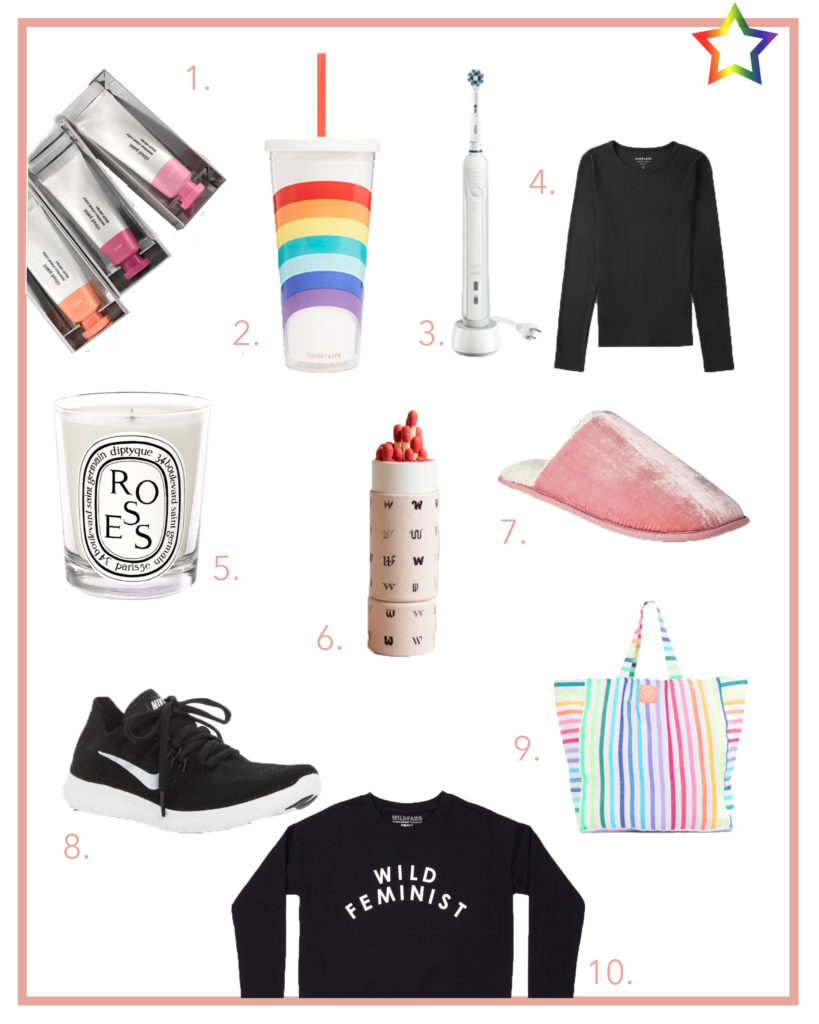 This is my official Christmas list for 2017. So, Santa/Mom/Dad – if you are reading this, here are the items that I really do want this year. While I'm addressing you directly, thank you for always making Christmas a special time in our home.
FYI – More gift guides are coming throughout the week, so be sure to check back.
#1 CLOUD PAINT by Glossier is one of the few products I have not yet tried. It is a liquid blush that you can easily blend with your fingers.
#2 In an effort to use less paper cups, this RAINBOW TUMBLER would be a welcome addition to my desk at work.
#3 I have decided it is time to upgrade to an ELECTRIC TOOTHBRUSH, as I slowly creep my way into actual adulthood.
#4 The PIMA LONG SLEEVE SHIRT from Everlane is the missing piece in my wardrobe. I often wish I had a high-quality black long sleeve to pair under jackets & vests.
#5 I am on a candle kick, and this MINI DIPTYQUE CANDLE is rose-scented & Instagram-ready.
#6 The MATCHES are from the badass magic makers at The Wing. Therefore, I will be lighting the candle above with these – whilst making plans to smash the patriarchy.
#7 How cozy are these VELVET SLIPPERS from The Gap? My mom bought me a pair a few years ago & I love how soft they are even now.
#8 NIKE FLYKNITS are sleek & chic, and I have not had a new pair of sneakers since college.
#9 Since I first saw this RAINBOW TOTE BAG on Cupcakes & Cashmere, I knew I had to have it. It is the ideal item for a tropical vacation. When my family goes to Florida in January for our girls trip, this will be my carry-on that does double duty as my beach bag.
#10 After receiving the Wildfang bomber jacket version last year from my parents, the WILD FEMINIST CREWNECK is top of my list for this year.
Scroll through the products below to shop! 
GRAPHIC: Ryan Cleary DiFalco