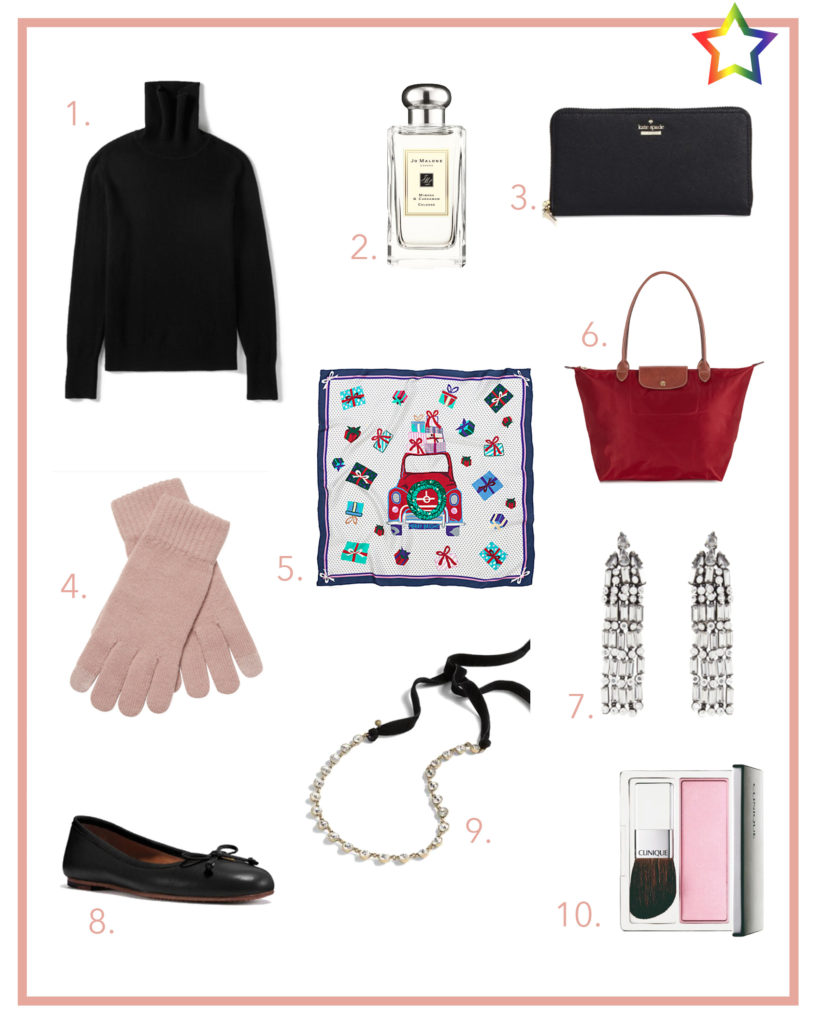 After the previous GRADUATE GIFT GUIDE, I am following the alliterative theme with this Glam Grandma Guide! This guide is not just for grandmothers but for any woman that you love, that you admire, and/or that has influenced you – grandmothers, mothers, aunts, etc.
#1 BLACK CASHMERE TURTLENECKS are the epitome of winter dressing. This piece from Everlane is extremely affordable & highly rated.
#2 A bottle of JO MALONE PERFUME is a chic item for the beauty counter.
#3 Kate Spade has a wide array of gifts, but their ZIP-AROUND WALLETS are lovely for moms, as they are big enough to fit all of her credit cards, her cash, & all of the cards from her loyalty programs.
#4 These UGG GLOVES are under $40, come in a variety of colors, & have touch sensitive technology, so your aunt can still check Facebook during your yearly pilgrimage to the Rockefeller Center Christmas Tree.
#5 I love when my grandmother wears a silk scarf, & this TALBOTS SCARF is extra festive when going home for the holidays.
#6 Pick a durable LONGCHAMP BAG for any women who likes to be on the move with all of her personal items close by. These bags can fit it all & are especially good for traveling.
#7 In addition to being a lovely addition to any women's jewelry box, these STONE TASSEL EARRINGS from BCBG are currently under $50 & being offered for an additional 40% off at check-out.
#8 COACH BALLET FLATS are a practical gift that look smart with almost every outfit. We have wrapped up several pairs for my mom over the years.
#9 Last year, I gave my mother, all of my aunts, & my grandmother a simple necklace from J.Crew. Unless they were lying, they all loved it! This season's CRYSTAL NECKLACE has an elevated velvet tie.
#10 My mother always has a CLINIQUE BLUSH in her bag.
Continue checking people off your list with these gift recommendations – MY PINK CHRISTMAS GUIDE, MY BEAUTY PICKS GUIDE, MY PERSONAL CHRISTMAS LIST, MY GIFTS FOR HOME, & PRESENTS FOR YOUR SISTER/BFF/COUSIN, & MY GRADUATE GIFT GUIDE. I truly hope these guides are helpful. Xx
Scroll through the products below to shop! 
Graphic: Ryan Cleary DiFalco