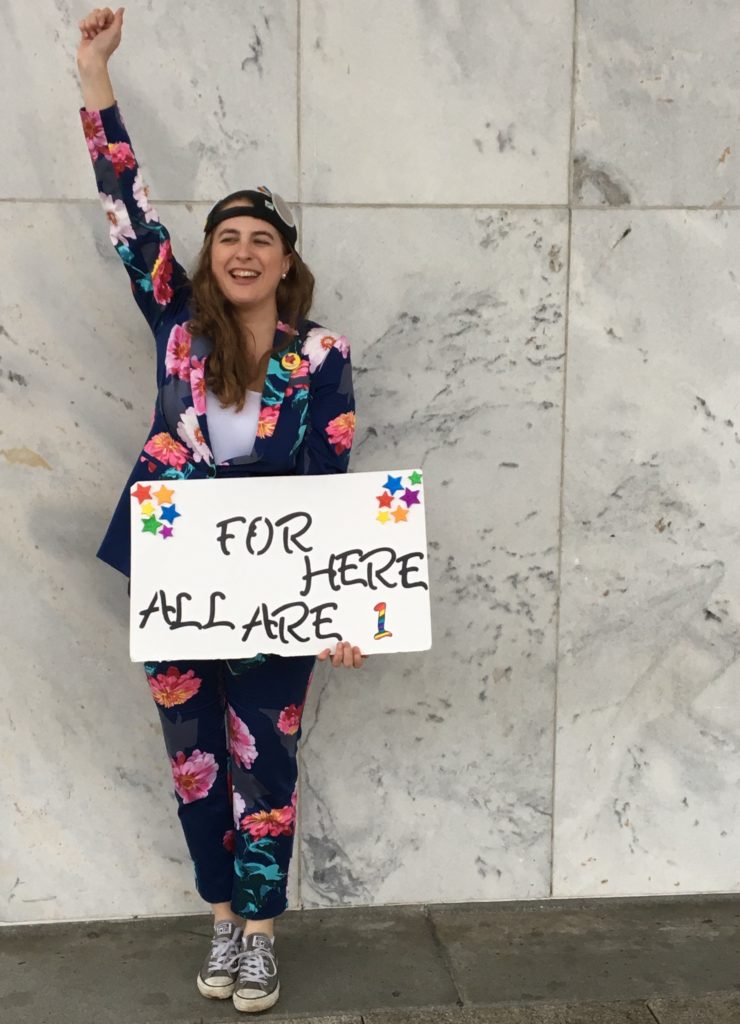 On November 9, 2016, I cried in my office. I cried on the subway. I cried in my room.
On January 21, 2017, I marched on the capital.
THE DECISION TO MARCH 
Like many people, I experienced the five stages of grief in between these two events. Hillary Clinton was a hero, a role model, and, in my opinion, the only rational choice for our country's highest office. For the rest of my life, I recognize that a part of me will mourn the loss of my champion. It wasn't just her rainbow of pantsuits, her history of female empowerment, or her backbone that strengthened despite years of critics attempting to tear her down. It was her genuine kindness that captured my heart & my soul. The privilege of MEETING HER still brings tears to my eyes.
The final step (after denial, anger, bargaining, & depression) is supposed to be acceptance. But, like many people, I decided that I would not merely accept the outcomes of this election. I would turn to loving resistance, in order to reject the hatred, vitriol, and division that the Trump campaign introduced at the national level to our country.
I decided to attend THE WOMEN'S MARCH. My mother, my sister, & my girlfriend piled into our car to drive towards Washington, D.C. on Friday evening. I was nervous. Unfortunately, there is always the risk that an event of this magnitude, even with the most peaceful intentions, can turn violent for various reasons. From the second we arrived at the Metro that took us into D.C., my fears were allayed.
JANUARY 21, 2017
There were long lines of people simply getting into the Metro in Baltimore. Although we were all anxious to actually get to D.C., the groups were fired up but patient. Everyone waited their turn. I could feel my smile getting bigger & bigger, as I saw the feminist outfits, the witty signs, & the plethora of pink pussy hats. When we got off the train and headed toward the main stage, the air was electric. Literally. I could feel the pulse of the crowd in my own body.
I have never witnessed a more diverse group of people gathering together for a single cause. By the time we were settled, we could barely move an inch because we were surrounded on all sides by other marchers. A Native American woman sang a HAUNTINGLY BEAUTIFUL SONG to begin the program. (I am looking for her name, and I will update the post when I find it.) It brought solemnity & significance to those organized as her powerful voice reverberated through the city.
AMERICA FERRERA delivered the first official speech, and she started the day with a hell of a spark. She fiercely exclaimed, "The president is not America. His cabinet is not America. Congress is not America. We are America." Over & over again, the crowd cheered while she spoke. We lifted our fists in the air to show solidarity with this child of immigrants as she reminded us all of the noble words the Statue of Liberty bears. We sat humbled at those, like America, who build bridges despite being threatened by walls.
Later in the day, I was honored to witness a speech by the iconic civil rights activist, ANGELA DAVIS. She spoke with the certain wisdom of an individual who has witnessed the course of the moral universe & will bend it towards justice herself rather than waiting for history to right its own course. She insisted, "The next 1,459 days of the Trump administration will be 1,459 days of resistance: Resistance on the ground, resistance in the classrooms, resistance on the job, resistance in our art and in our music."
As I looked out on the sea of people assembled, I realized how much we owed to those, like Angela, who came before us. We stood on the shoulders of giants – the feminists, the civil rights activists, the scientists, the artists, the optimists – who refused to accept that a determined person could not change the world.
LINDA SARSOUR, a Palestinian-American political activist & one of the March national co-chairs, made an important point about the necessity of intersectionality in our efforts.
"If you have come here today as your first time at a march, I welcome you. I ask you to stand and continue to keep your voices loud for black women, for Native women, for undocumented women, for LGBTQIA communities, for people with disabilities. If you want to know if you are going the right way, follow women of color, sisters and brothers. We know where we need to go, and we know where justice is."
Linda, who is already UNDER ATTACK, due to her unapologetically proud stance as a Muslim woman, was one of the most eloquent speakers. As she stood on that stage, she blew me away with the courage with which she declared, "I AM NOT AFRAID."
People were quick to make conversation throughout the March. We shared stories, our hometowns, words of comforts, and high-fives. It was a strong reminder that despite the pain each of us had been feeling for the last few months, we were not alone. I'll hold on to the fact that I have never seen more rainbows outside of a Pride event than I did while we marched. I'll remember the parents who pushed their two daughters in a stroller because they felt it was important for their children to begin their life as activists. I'll always have an image in my head of the woman in the same WILD FEMINIST JACKET that hangs in my closet, clutching her beautiful baby to chest while she cheered with the crowd. (WILDFANG women always find each other.) I'll reflect on the joy of the middle-aged woman accompanied only by her elderly father. His quiet but poised demeanor reminded me so much of my Pop Pop.
I often get called out for being a man-hater, even jokingly among my friends and my family. Rather, I reflect on the men in my life – my grandfather, my father, my brother, & my uncles. They set the standard for what a man should be – caring, kind, & empowering for women. I refuse to lower my standards for men because certain men refuse to raise them for themselves.
Originally, I thought to myself that January 21 was a once in a lifetime experience. As the unstoppable Gloria Steinem stated, the March was a "CONTAGIOUS FORCE OF ENERGY AND TRUE DEMOCRACY" such as she had never seen in her long lifetime. While this event was certainly unique, historical, and inspiring, I believe it is only beginning of the wave of activism that will unfurl in the near future. This will only happen, however, if we all make the decision to act.
REFLECTION INTO ACTION 
I looked to Susan B. Anthony for how best to list the ideas for maintaining momentum & creating change after the March.
ORGANIZE
We are stronger together.
The official organizers of the March will be sending 10 actions that ALL of the attendees & supporters can accomplish in the first 100 days of this presidency. Sign up HERE. The first task is simple; send a postcard to your senators about what matters most to you. I will be writing to my representatives about LGBTQ+ rights, women's rights, & immigrant rights.
One of the most inspiring Women's March speakers was a man. In addition to rallying the crowd in the moment, Michael Moore listed out concrete plans for the days that followed. For me, his most poignant call-to-action was to join organizations that need our support, such as Planned Parenthood & the ACLU. If you have the time, HIS ENTIRE SPEECH is worth the listen & contains additional steps we can all take.
I took this March as a personal sign that I can do more in my own life to create community. I will be developing a woman's action team in New York City in the coming months where the sole mission will be to empower the movement by empowering one another. There is an exponential force for change when women support one another.
AGITATE
If you also feel that you will be UNABLE TO STAY QUIET for the next four years, now – not tomorrow but now – is the time to agitate.
Call your state representatives. This is the number: 202-225-3121. I have saved it into my phone as THE CAPITOL (BECAUSE I AM A NASTY WOMAN). In the same amount of time it takes you to check Snapchat, Instagram, and Facebook on your coffee break, we can all utilize our voices for justice. Call as many times as you can.
One of the speakers at the March advocated for the idea of support groups. For example, every time there is a petition that needs to be signed, a senator that needs to be called, and/or an organization that needs immediate donations, each of us make a personal commitment to reach out to five people in our own support group that would answer the call to action. I would consider it a great personal victory if every person who reads this post determined the five people they would reach out to, in order to make a ripple effect of change when there are important issues, ones that effect real people, on the line. In my opinion, it is one thing to act ourselves, but true agitation – true disruption – will only happen when there is widespread support.
I did not watch the Inauguration, and in the first weekend of this presidency, a war on the truth – not the press but the truth – began. Did you read 1984? In the coming years, if we do not watch, it is easier for us to be manipulated. Watch the press conferences & the speeches, even if it makes you uncomfortable or angry or sad. In this case, watching is not a sign of support; it is a sign of resistance. When we the people watch this administration with our own two eyes, it is harder for them to force "alternative facts" upon us.
EDUCATE
When I mentioned agitate above,  I do not necessarily mean you have to be loud. Some of the most beneficial ways to act can involve quiet conversation or virtual conversation.
Have a discussion with a person who disagrees with you on major issues. It is difficult to not immediately jump to frustration, especially when their core beliefs are different from yours. However, from comments on Facebook to conversations in bathrooms, I have been pleasantly surprised by the willingness people have to listening, if I, in turn, offer them the same courtesy.
Never in my life have I been prouder to be a woman. Never have I been more aware of the privilege of my platform. I pledge to continue to use this blog & my corresponding social accounts, in order to share my beliefs of equality & empowerment with as large of an audience as I can. I encourage you to do the same.
Stay away from click bait & search for real news from reputable sources. Challenge the notion that reading something makes it true. We will be better-informed individuals if we critically think through the ideas we come across, including Facebook posts, tweets, and Instagram photos. If you have legitimate news worthy of being shared, include a call to action as to why people should read it. I look to subject matter experts in my own feeds when I am determining what content I will read.
STAY NASTY
Susan B. Anthony did not mention this fourth pillar. However, given our current political climate, I believe she would agree to this addition. During the campaign, Hillary Clinton was called a nasty woman as an insult. I've been reflecting a lot on the idea of being a nasty woman. At first, it still seemed like a negative description, despite being re-claimed by women around the country. Yet, I think most nasty women are not truly nasty people. I think they are women who deeply care about others, women who believe in justice, & women who expect a higher level of respect from this country & its policymakers. I think most nasty women are kind women at their core, who have so repeatedly faced disappointments during their path, that they become angry. If you identify as a nasty woman, stay nasty.
Support other women in-person & online when you witness them being brave, bold, or an all-around badass. Introduce women to professional contacts that will benefit their work. Share their stories with others. Watch films, read books, and buy products made my women or women-led brands. Invest in their companies or their movements, if you have the financial means to do so.
AS LINDA SAID, "When we fight for justice, we fight for all people, for all of our communities." If each of us fights only for our internal communities but not our whole human community, our progress will be stunted. I am challenging myself & others to understand a perspective that is not our own, in order to better advocates for those most marginalized groups in the United States.
Take care of yourself. Being nasty requires inner & outer strength. We can not all of us do everything all at once, but all of us can do something that contributes to this movement. If there are times when you cannot act for mental or physical reasons, rest & prepare for the next battle.
Many signs at the March exemplified the nasty woman spirit, but one in particular carried by an elderly women stated, "I cannot believe I am STILL protesting this shit." That resonates. In fifty years, I would like to believe we have made significant progress on these issues that, obviously, millions of other people care about. If you need any other reasons to #staynasty, listen to the SPOKEN WORD POETRY Ashley Judd performed at the March.
WHY I MARCH
The March itself is truly a symbol for the next four years. There will need to be preparation – respectful, intersectional, and poignant preparation. Our path will not be perfect, but we will be better because we made the decision to act. Most of all, women will be at the forefront of action in this country if – and only if – we make a determined effort to be part of the conversations. To me, the concept of the actual March has transformed into the determination to "march" every day for the next four years. The March was about showing up, using my voice, advocating for myself, advocating for the most marginalized, and NOT giving into fear.
Why will I continue to march?
I march for my great-grandparents who were immigrants.
I march for the immigrants and undocumented individuals in our country today because bridges not walls make this country great.
I march for myself & all of the members of the LGBTQIA+ community.
I march for Planned Parenthood because they care for, protect, and save the lives of women AND men with their health services.
I march for those with disabilities.
I march for victims of sexual assault who represent resilience in every single moment of living after such an unimaginable encounter.
I march for the world I want my children to inhabit.
I march for my family & my friends.
I march for Pantsuit Nation in a pantsuit.
I march for my Muslim brothers & sisters because I truly believe it is what Jesus would do.
I march for those who might not march for me.
I march for women because I will be damned if the future is female but the present is not.
Love,
Erin