UPDATED PROMO CODE: USE CODE 48HOURS FOR 48% OFF FULL-PRICE PURCHASES.
Thanksgiving week has arrived! In addition to prepping my outfits for the holiday, I am planning to strategically shop all of the Cyber Week promotions. The deals are starting earlier than ever & I appreciate being able to space out my shopping rather than rushing to do it all in the 24 hours of Cyber Monday. Yesterday, I put a poll on MY INSTAGRAM Story to determine if folks would appreciate a round-up of holiday picks from specific retailers during Cyber Week. My goal is to include gift ideas as well as items for yourself to wear both during the holidays & year-round. J.Crew was the most heavily requested, so I am kicking off the series with my picks from one of my favorite brands today! I had too many items that I asked Steph to create two collections of products.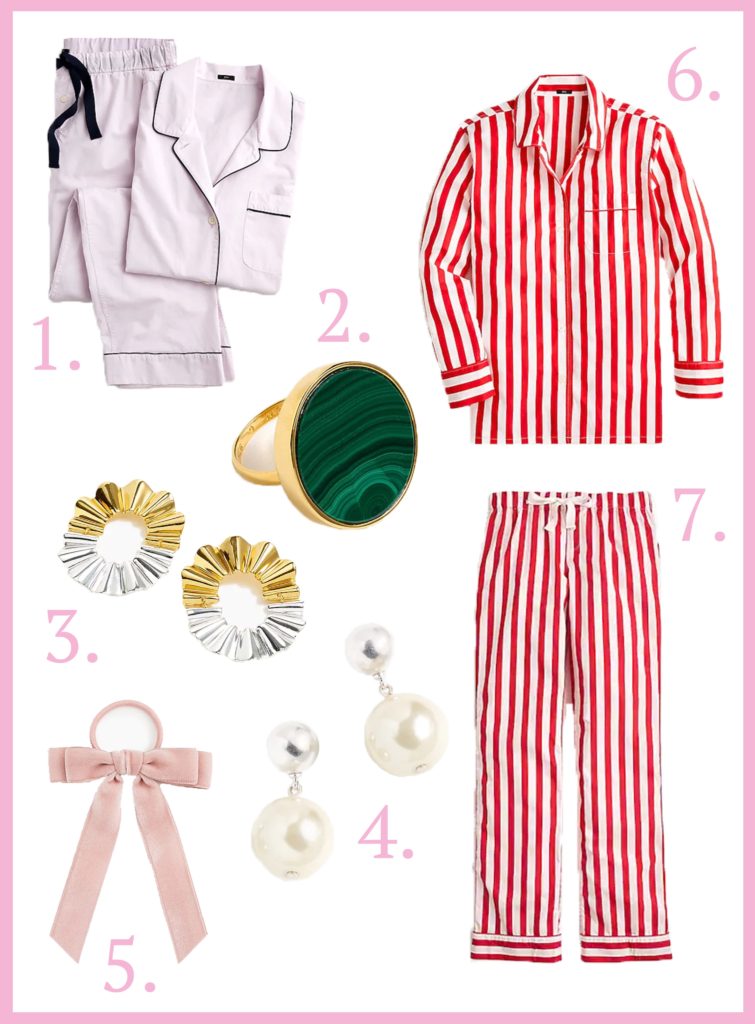 My sister, Kerry, gifted all of her bridesmaids a set of these soft PAJAMAS on her wedding day to wear during hair & make-up. They continue to be a favorite in my wardrobe. This long-sleeve pair is available in four neutral colors & up to size 3X.
One of my co-workers has this RING & it catches my eye every time she wears it. The green stone is a subtle way to incorporate holiday colors into your outfit. Buy one for yourself & one for a loved one.
#3 MIXED METAL CRINKLE EARRINGS
As I mentioned in THIS POST, J.Crew has a fabulous selection of statement earrings. These CRINKLE EARRINGS will look like mini presents on your ears. They do not even need wrapping paper; they shine outright as a gift for the holiday season.
I wear pearl studs almost every day. This pair of PEARLS is a simple but elegant updated version for Christmas events. Bonus – they are already on sale!
I guarantee this RIBBON will sell-out by the end of Cyber Week. It is such a sweet nod to childhood without being childish. I like the dark mauve (pictured above), but it is available in five additional colors. This is a perfect stocking stuffer.
I cannot handle how much I love these Christmas pajamas! The PJ TOP is available up to size 3X.
#7 CANDY CANE STRIPE PJ BOTTOM
If you do not want to commit to the full set, I would recommend grabbing the PJ BOTTOM & pairing with a solid color long-sleeve. These pants are also available up to size 3X.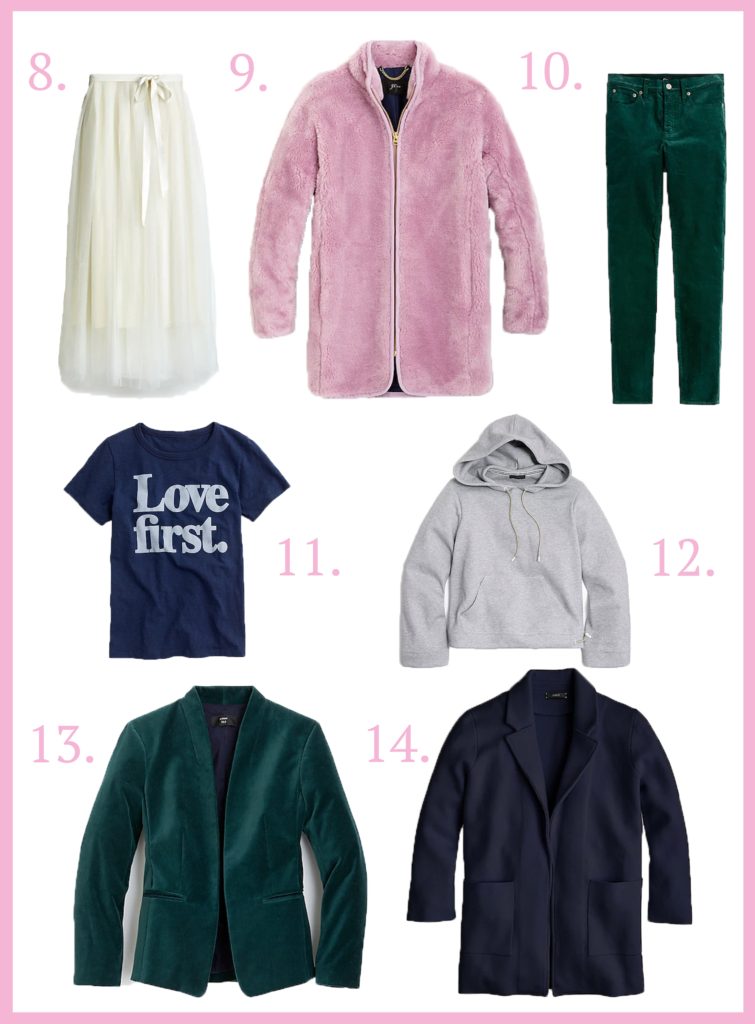 If you are looking to wear something unique this holiday season, this SKIRT should be one of the first items in your cart. Pair it with any of the TISSUE TURTLENECKS available in a rainbow array of colors & a sparkly shoe.
I want to wear a snuggly COAT like this all-winter long. It is available in five colors & up to size XXL. I personally appreciate either the smoky wisteria or black jackets best.
Up to size 32, the CORDUROY pants available on the site pair easily with leather jackets, sweaters, blazers, etc. I like that this pair is a little high waisted.
No further explanation needed – the SHIRT says it all. Gift this to someone who needs a little love this holiday season.
#12 CROPPED HOODIE
This grey SWEATSHIRT would pair well with any pair of leggings already in your closet. It is low-key but chic enough for your Saturday morning bagel run when you are hiding the hangover behind sunglasses.
#13 VELVET BLAZER
I love love love a BLAZER, especially a velvet one. It is available in three dark colors that could dress up basic denim or further elevate a sharp pair of pants.
#14 SWEATER BLAZER
I saved the best for last; the J.Crew SWEATER BLAZER is one of the top items that the brand has released over the last few years. As the name suggests, it combines the comfort of a sweater & the structure of a blazer. We keep buying them for my Mom; she has the navy, camel, & black version! Available up to size 3X, grab a classic color or a holiday shade. I love a winter white, so pair this sweater with WHITE TOOTHPICK JEANS.
Happy Shopping!
Xx,
Erin
PS – PLEASE TELL ME IF THIS HOLIDAY PICKS ROUND-UP WAS HELPFUL WITH BOTH PROMO INFORMATION & PRODUCT DETAIL. ANY SUGGESTIONS OR FEEDBACK – LET ME KNOW IN THE COMMENTS!