Hope your Black Friday is off to a good start! After rounding up my J.CREW HOLIDAY PICKS earlier this week, this post features products from Gap & Old Navy. These are two of my favorite stores, especially during the holidays, as both offer colorful, festive accessories plus basics that can be dressed up or down. My sister, Meghan, & I stopped into our local Gap store on Thanksgiving Eve to pick out our outfits. Check out both of the items we purchased below!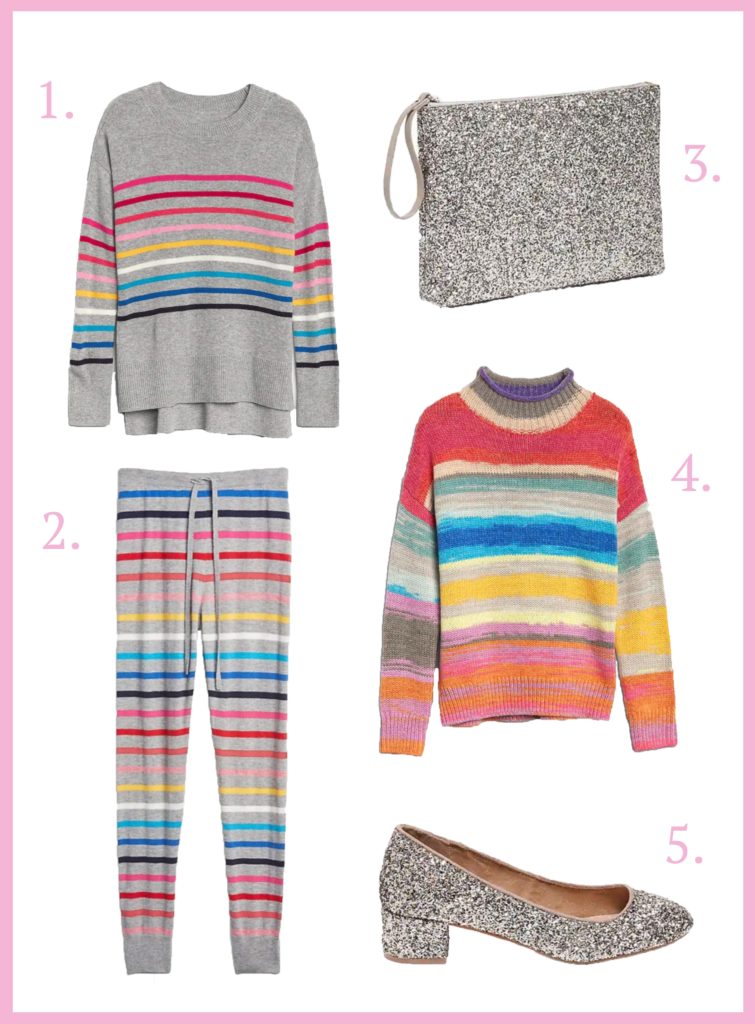 PROMO DETAILS: 
#1 CRAZY STRIPE CREWNECK SWEATER
Every year, Gap does a fun stripe pattern that I love. I purchased the crazy stripe sweater last year & I wore it at least a dozen times. This year's edition of the SWEATER is a simple way to inject color into your wardrobe that can be worn even after the holidays are over.
#2 CRAZY STRIPE SWEATER LEGGINGS
In addition to the sweater, I also purchased the leggings in last year's crazy stripe pattern. The LEGGINGS this year are as soft as the pair I already own. These are the kind of pajamas that make waking up harder; I never want to take them off!
Glitter clutches, as I mentioned HERE, are a perfect way to elevate a look. Purchase this weekend & you can snag it for $10. Holiday dressing can be easy if you have a few go-to accessories.
This TUNIC is an oversized  statement piece. Wear it with leggings for a casual look or dress it up with skinny jeans.
I appreciate a chunky heel, as I find them that much easier to walk in. For this weekend, these HEELS will be under $20. They are available in silver glitter or black glitter.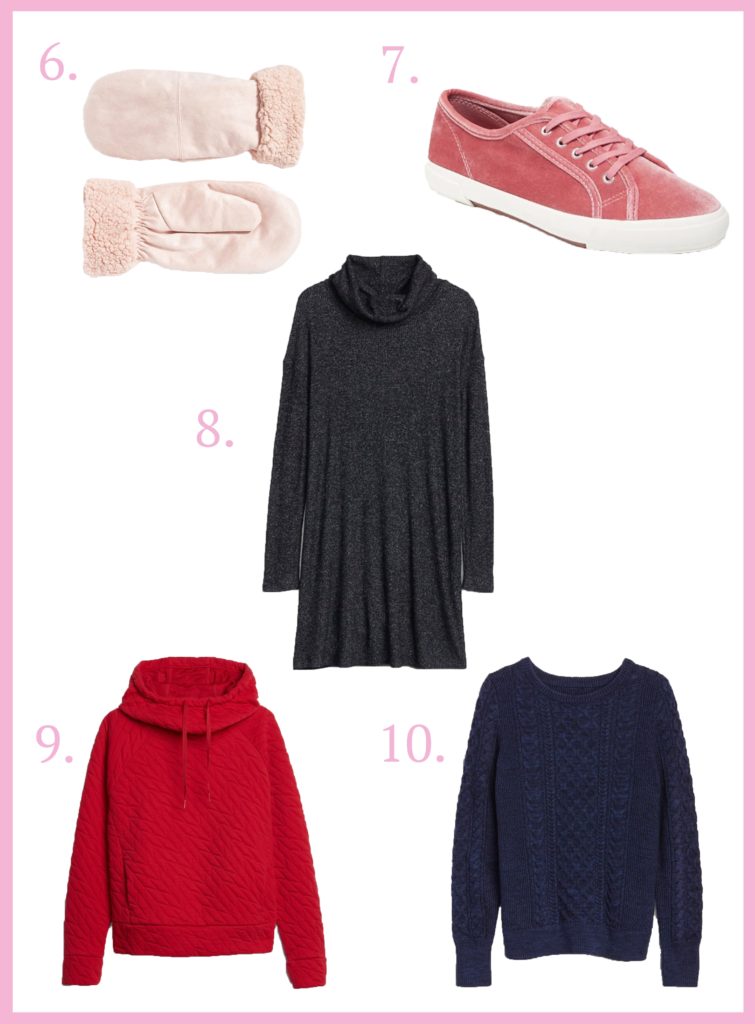 These MITTENS have a fleece lining & will be under $10 for this weekend. I like the True Pink color, but they are available in Light Gray as well.
I wear sneakers 2x – 3x a week. I absolutely love this VELVET PAIR from Old Navy, as you can wear these to any party this season.
My sister, Meghan, purchased this SWEATER DRESS for Thanksgiving. It is super flattering & available in four neutral colors. This dress is under $40 if you buy this weekend.
Steph & I were browsing through the Gap store & we both agreed this HOODIE was one of the softest items we had ever felt.
I scored this soft SWEATER for $20 in stores on Wednesday. Over the weekend, it is available online for under $30 (normally priced $60). I purchased the Modern Red. It is available in six other colors up to size XXL. I am predicting this will be one of my most well-worn items this season.
Good luck to all scoring deals this weekend!
Xx,
Erin