My office had a formal review of emergency protocol this week, including instructions for how to act if you encounter an active shooter. As the discussion took place on the second anniversary of THE PULSE MASSACRE, the exact relevance hit me hard. Tough moments, like that day, often get tucked away into the back of my heart. I am writing this post to process my own emotions & recollections, in addition to taking time to actually reflect on how the LGBTQ+ community evolves in the aftermath.
The above photo is from June 13, 2016 – one day after the shooting. The gentleman who took this picture overlaid the image with what we were looking at – the front of The Stonewall Inn, where the bold "STOP HATE" sign stood above the flowers laid humbly in respect for our brothers & sisters that were slain.
It feels surreal to look at it, as it feels like a long period of time that has passed in a few short moments. Before I continue, I must pause to recognize that this remembrance is about what happened at Pulse, but it is more so about the people at Pulse. There were forty-nine people shot to death in Orlando, Florida on that horrific night. Many were people of color. All were people who deserved to live a full, vibrant life.
These are their names:
Stanley Almodovar III, 23 years old
Amanda L. Alvear, 25 years old
Oscar A. Aracena Montero, 26 years old
Rodolfo Ayala Ayala, 33 years old
Antonio Davon Brown, 29 years old
Darryl Roman Burt II, 29 years old
Angel Candelario-Padro, 28 years old
Juan Chavez Martinez, 25 years old
Luis Daniel Conde, 39 years old
Cory James Connell, 21 years old
Tevin Eugene Crosby, 25 years old
Deonka Deidra Drayton, 32 years old
Simón Adrian Carrillo Fernández, 31 years old
Leroy Valentin Fernandez, 25 years old
Mercedez Marisol Flores, 26 years old
Peter Ommy Gonzalez Cruz, 22 years old
Juan Ramon Guerrero, 22 years old
Paul Terrell Henry, 41 years old
Frank Hernandez, 27 years old
Miguel Angel Honorato, 30 years old
Javier Jorge Reyes, 40 years old
Jason Benjamin Josaphat, 19 years old
Eddie Jamoldroy Justice, 30 years old
Anthony Luis Laureano Disla, 25 years old
Christopher Andrew Leinonen, 32 years old
Alejandro Barrios Martinez, 21 years old
Brenda Marquez McCool, 49 years old
Gilberto R. Silva Menendez, 25 years old
Kimberly Jean Morris, 37 years old
Akyra Monet Murray, 18 years old
Luis Omar Ocasio Capo, 20 years old
Geraldo A. Ortiz Jimenez, 25 years old
Eric Ivan Ortiz-Rivera, 36 years old
Joel Rayon Paniagua, 32 years old
Jean Carlos Mendez Perez, 35 years old
Enrique L. Rios, Jr., 25 years old
Jean Carlos Nieves Rodríguez, 27 years old
Xavier Emmanuel Serrano-Rosado, 35 years old
Christopher Joseph Sanfeliz, 24 years old
Yilmary Rodríguez Solivan, 24 years old
Edward Sotomayor Jr., 34 years old
Shane Evan Tomlinson, 33 years old
Martin Benitez Torres, 33 years old
Jonathan A. Camuy Vega, 24 years old
Juan Pablo Rivera Velázquez, 37 years old
Luis Sergio Vielma, 22 years old
Franky Jimmy DeJesus Velázquez, 50 years old
Luis Daniel Wilson-Leon, 37 years old
Jerald Arthur Wright, 31 years old
One of my favorite things to do in New York City is to dance with my loved ones at LGBTQ+ nightclubs & bars. It is a place you do not have to "come out" in. I crave the insanely high levels of enthusiasm, support, & glitter often found in rainbow flag clad bars. I do not want to insert myself into a tragedy that I was not a part of, but I do want to recognize that for myself & likely other queer people, this was an especially egregious incident. Being attacked in the safest of spaces is unimaginable; those spots are where you meet friends, where you take your first date, where you explore your identity.
This point in time resonates not just with the national tragedy of Pulse, but a personal loss in my family. As Steph & I left Stonewall, I received a call from my mom that MY BELOVED GRANDFATHER had passed away with his wife & seven children surrounding him. I have written before about how important my family is to me. One of the main reasons I am putting these thoughts together is at that time – it was too much. Trying to make sense of Pulse was impossible, as my family was my main priority. This is a bit of what I remember from the days following that night.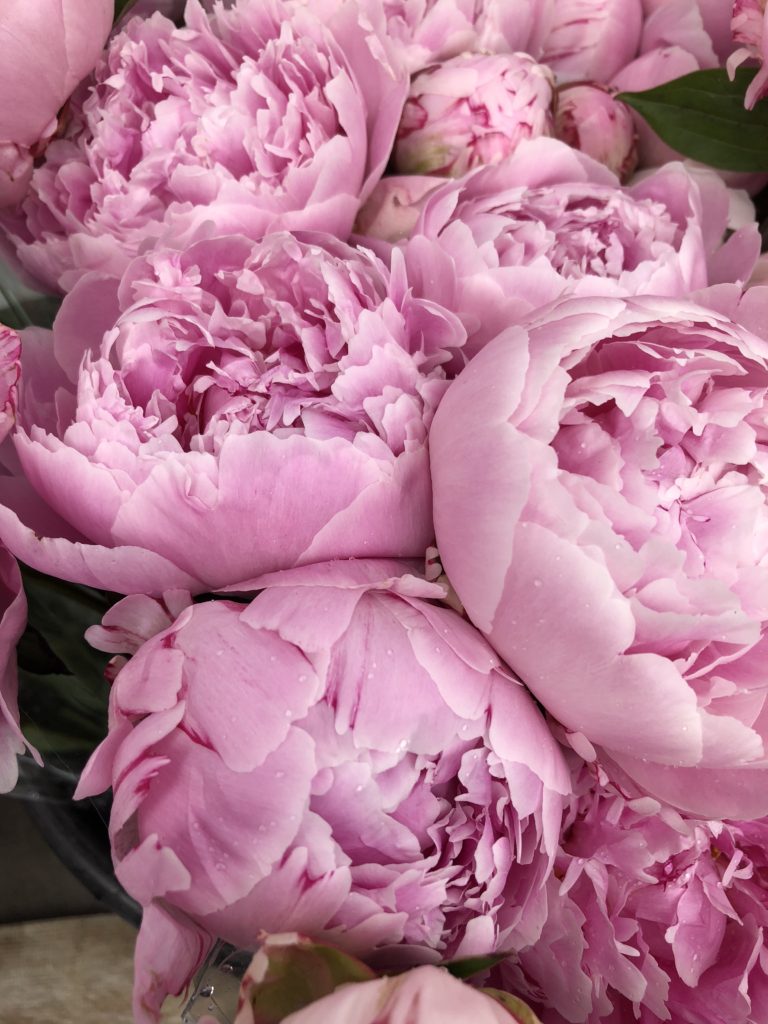 I remember as I walked to work wearing my "SUPPORT LOVE" t-shirt that someone had drawn hearts & rainbows with chalk in the street. I took it as a sign from God & I tried to think about the drawings as opposed to the constant news coverage.
I remember how closely I held onto Steph's hand that following sunny afternoon when we laid flowers on the ground for our community together. Flowers are a constant in my life – brightening spaces during celebrations & paying tribute during solemn moments.
I remember reading & re-reading THE HEARTBREAKING TEXT MESSAGE EXCHANGE between a young man at the club & his mother. Every time I think about this action, I know he did what I would have done. I would have desperately tried to reach out to my parents, who have always comforted me during tragedy & who have always fiercely protected me from danger.
I remember my thoughtful uncle, who pulled me aside specifically to ask me if I was ok, while my entire family was reeling from the loss of our Pop Pop.
I remember the friends who reached out to say in the most simple yet significant way, "You are loved."
There is no celebration of Pride Month without recognition of attacks, past & present, that have harmed our community. To LGBTQ+ folks & allies alike – I read this week that we can honor those at Pulse with acts of love & kindness. One of the main ways I will be acting with love in this coming year is continuing to advocate for common sense gun reform. I seek solace in our collective determination to love, a deep love that fights every day for what is right.
Xx,
Erin
Photo via Russ Rowland