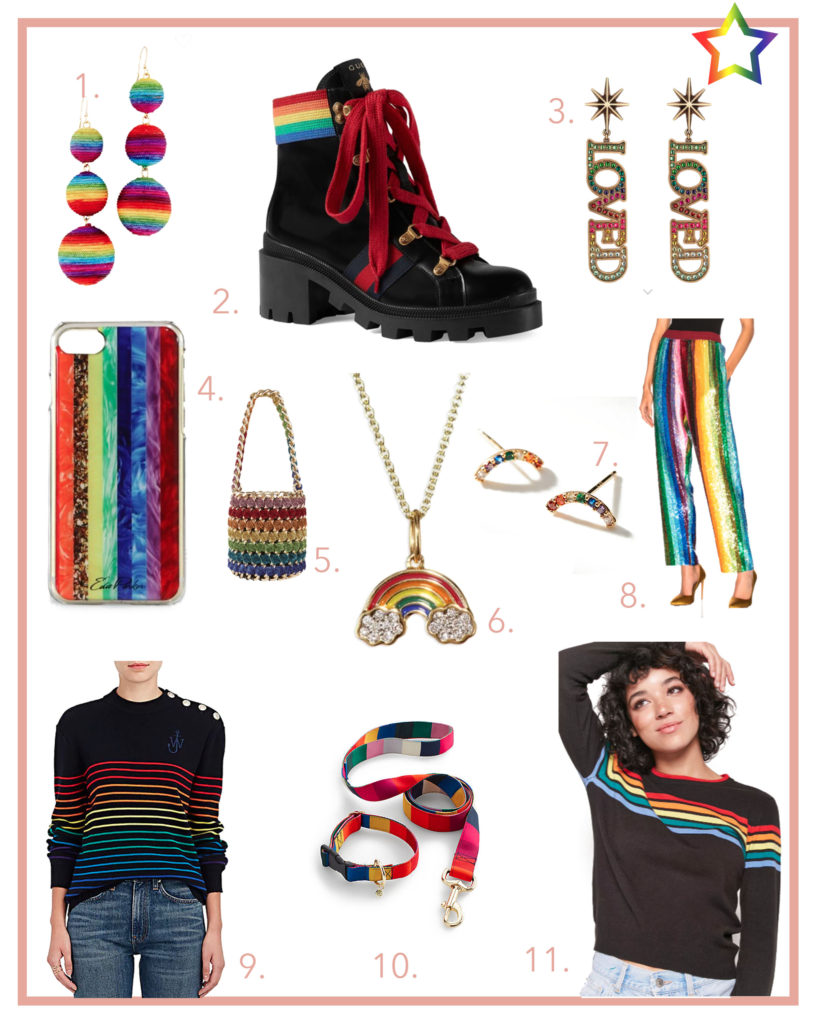 This was my final & (of course) my favorite gift guide to put together. In my BLOG BIO, I self-identify as rainbow-obsessed. Show your pride this season & into the New Year with any of these colorful items! Rainbows are my favorite accessory.
#1 – RAINBOW DROP EARRINGS at under $30 are a perfect last-minute gift.
#2 – These Gucci LACE-UP BOOTS are LITERALLY one of the best pairs of shoes I have ever seen. I love love love the rainbow stripes that hit the ankle.
#3 – While these are definitely a luxury purchase, the LOVED EARRINGS (also by Gucci) make such a glamorous statement.
#4 – Edie Parker makes chic clutches & her PHONE CASES are an affordable alternative, if you want to gift a taste of the brand.
#5 – I saw this PURSE on Instagram & I appreciate the mix of rainbow colors & the tougher gold chains.
#6 – This RAINBOW CHARM PENDANT has diamonds on the clouds. Swoon.
#7 – How sweet are these POST EARRINGS? Grab a pair at under $35.
#8 – A pair of SEQUIN PAJAMA PANTS by Ashish are an ideal gift for a luxurious New Year's Eve in or out.
#9 –  This J.W. Anderson RAINBOW STRIPE SWEATER is a splurge.
#10 – Pick up a sweet LEASH for your friend who loves dogs & rainbows equally.
#11 – Order this RAINBOW STRIPE SWEATER if you want to spend under $20 while capturing a similar look.
Wrap up any last minute shopping with ideas from my previous guides – MY PINK CHRISTMAS GUIDE, MY BEAUTY PICKS GUIDE, MY PERSONAL CHRISTMAS LIST, MY GIFTS FOR HOME, PRESENTS FOR YOUR SISTER/BFF/COUSIN, MY GRADUATE GIFT GUIDE, MY GLAM GRANDMA GUIDE, PRESENTS FOR THE BOSS, & MY LUXURY GIFT GUIDE.
Scroll through the products below to shop! 
Graphic: Ryan Cleary DiFalco