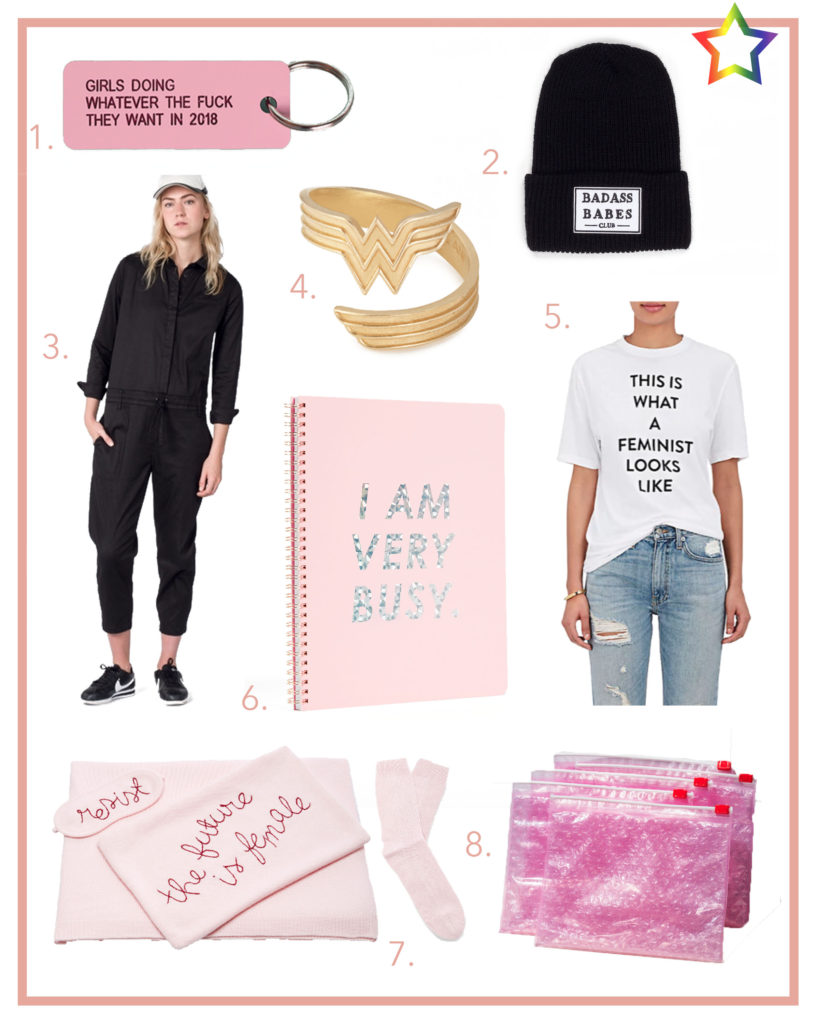 Last year, I literally put up A SINGLE GIFT GUIDE. While I have definitely improved my content output this year, I am happy that this is my second year creating a gift guide for THE BOSS in your life. It is extremely important to me to celebrate women & champion women in all aspects of my life. I hope you find a special present below for an empowering woman; even better if that woman is you!
#1 – This pink KEYCHAIN from The Wing is one of the coolest gifts this season. I love that this item is unafraid to make a bold statement with colorful language.
#2 – The Wild Feminists at Wildfang can do no wrong. Grab an all-black BADASS BABES CLUB BEANIE from their collaboration with Hips & Hair. PS – if you are looking for more badass babe material, check out THE BIG LIFE by Ann Shoket.
#3 – I love the ease of this WILDFANG JUMPSUIT. This is a perfect item for the entrepreneur in your life, who wants to throw on a slick outfit & get out the door.
#4 – Wonder Woman was my favorite film in 2o17, and I love the whole Alex & Ani collection, especially this WONDER WOMAN RING.
#5 – Prabal Gurung's FEMINIST T-SHIRTS made a bold statement to our administration at NYFW in the beginning of 2017. He was inspired by the efforts of the Women's March. A portion of the profit from these shirts is donated to Planned Parenthood, the American Civil Liberties Union, and Shikshya Foundation Nepal.
#6 – This PINK NOTEBOOK reminds me to fill my life lots of projects, ideas, & plans. Busy women create change in our world.
#7 –  THE FUTURE IS FEMALE TRAVEL SET by Lingua Franca is 100% cashmere & millenial pink, so this is the ideal luxury gift for "the next Emily Weiss" in your life. My favorite part is the embroidered "RESIST" eye mask.
#8 Speaking of Emily… GLOSSIER anything & everything is an ideal gift for the on-the-go woman building her empire. Use MY LINK for 10% off your first purchase & order by 12/18 for guaranteed holiday delivery. I linked some of my favorite products in the widget below, but I always have to give a shout-out to BALM DOTCOM & HALOSCOPE – two multi-functional products in simple packaging. I honestly internally nod in approval anytime I meet a woman in the city carrying the pink pouch.
I hope you all are finishing your shopping, so you can relax & enjoy the remainder of the season. Thank you for reading through this guide & I hope you empower boss women every single day.
Interested in more EAC Gift Guides? Read here: MY PINK CHRISTMAS GUIDE, MY BEAUTY PICKS GUIDE, MY PERSONAL CHRISTMAS LIST, MY GIFTS FOR HOME, PRESENTS FOR YOUR SISTER/BFF/COUSIN, MY GRADUATE GIFT GUIDE, & MY GLAM GRANDMA GUIDE.
Scroll through the products below to shop!
Graphic: Ryan Cleary DiFalco