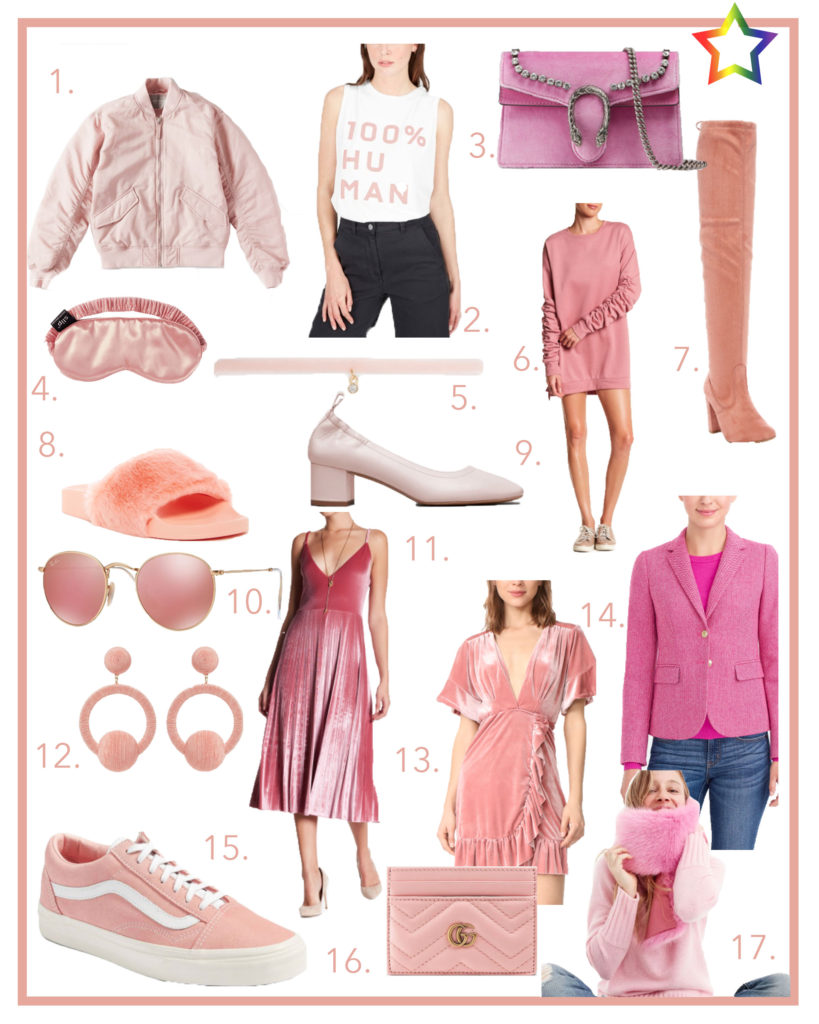 I am kicking off the EAC Gift Guides with Pink Christmas! Read through for my top (mostly millenial pink) gifts. More gift guides are coming throughout the week, so be sure to check back. All of the items are ideal gifts for others or for yourself.
#1 This simple BOMBER JACKET comes in multiple colors & is under $100. This is one gift you may end up keeping for yourself.
#2 I cannot recommend the 100% HUMAN TANK more. I bought THIS TANK at a moving 100% Human event in the city this past summer. $5 from the sale of each shirt goes to EQUALITY NOW, which has been fighting to promote equal rights for women around the world since 1992.
#3 This signature GUCCI PURSE is super bright & extra bold. My favorite part are the Kira Kira ready rhinestones.
#4 Anyone & everyone needs this silky EYE MASK.
#5 This CHOKER is the ideal stocking stuffer at under $10.
#6 A cool & affordable SWEATSHIRT DRESS has been on the top of my shopping wishlist for a while now. Pair it with sneakers or OTK boots; see my picks for both below.
#7 I was gifted my first pair of OTK boots this season, and I am loving the look! These OVER THE KNEE BOOTS are under $30. I have found very few pairs for a price this reasonable.
#8 These FUZZY SANDALS are a new twist on winter slippers.
#9 I have been looking for a pair of small heels that I could wear for hours from work to events. These EVERLANE HEELS are built with comfort in mind.
#10 SUNGLASSES that can be worn year-round, and this color is a nice pop for winter.
#11 The silhouette on this LONG DRESS is super flattering. Holiday party ready in a snap; just add a pair of earrings…
#12 I desperately wanted EARRINGS by Rebecca de Ravenel, since I visited the CJ Laing store in Palm Beach. THIS PAIR will be a hit.
#13 A millenial pink, velvet DRESS checks two major trend checkboxes.
#14 This BLAZER comes in three colors. While I am drawn to the pink, I also like the plaid, as it reminds me of my old school uniform.
#15 Since acquiring my first pair this fall, I am hooked on VANS. FYI – there are multiple colors offered for this style.
#16 Buy the GUCCI WALLET if you want a taste of luxury gift-giving without splurging on the more expensive items.
#17 I shared this FAUX FUR STOLE in my START SHOPPING post during Cyber Week. I still think it is one of the most elegant pieces in stores right now.
Comment below, email me, or DM me if you need any help with present suggestions. HAPPY GIFTING!
Scroll through the products below to shop! 
Graphic: Ryan Cleary DiFalco