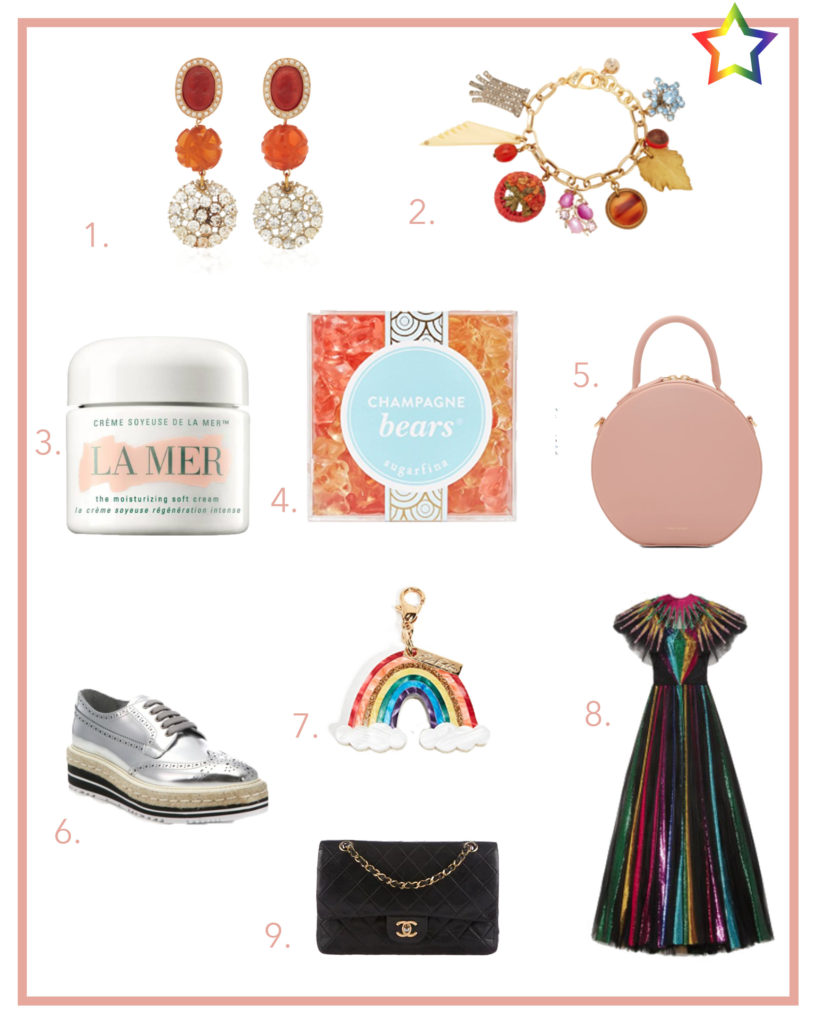 It is thrilling to compile a list of items that are truly luxurious. While a few of these items are beyond my budget for now, luxury does not have to mean emptying your bank account. Check out a few favorites below:
#1 – These CRYSTAL DOME DROP EARRINGS by Lulu Frost are created with a mesmerizing combination of materials. I cannot believe this unique set is still available.
#2 – In addition to the earrings above, I absolutely love the VINTAGE CHARM BRACELET from Lulu Frost. Having had the privilege of meeting with Lisa & her team in New York City, I can attest to how much this brand cares about sourcing beautiful one-of-a-kind pieces to ensure your investment is well-spent.
#3 – I have always wanted to try La Mer MOISTURIZING SOFT CREAM to see if it lives up to the hype.
#4 – Luxury doesn't always have to mean expensive. Grab a little box of CHAMPAGNE GUMMY BEARS by Sugarfina for New Year's Eve treat. They are soaked in Dom Perignon!
#5 – I had to put the PINK MINI CIRCLE CROSSBODY BAG by Mansur Gavriel in. Every time I walk by their pink shop in Soho, my heart sings.
#6 – A smart PAIR OF SILVER BROGUES has been on my wish list forever. These would pair perfectly with a black tux.
#7 – Pair this Edie Parker KEYCHAIN with your daily set of keys or switch it between your purses on rotation.
#8 – If I had an extra $30,000 to spend, I wouldn't mind spending it on this insane GOWN.
#9 – CHANEL BAGS do not need an explanation.
Hope all my EAC Gift Guides made the shopping process a little easier: MY PINK CHRISTMAS GUIDE, MY BEAUTY PICKS GUIDE, MY PERSONAL CHRISTMAS LIST, MY GIFTS FOR HOME, PRESENTS FOR YOUR SISTER/BFF/COUSIN, MY GRADUATE GIFT GUIDE, MY GLAM GRANDMA GUIDE, & PRESENTS FOR THE BOSS. Good luck with the last bit. Xx
Scroll through the products below to shop! 
Graphic: Ryan Cleary DiFalco