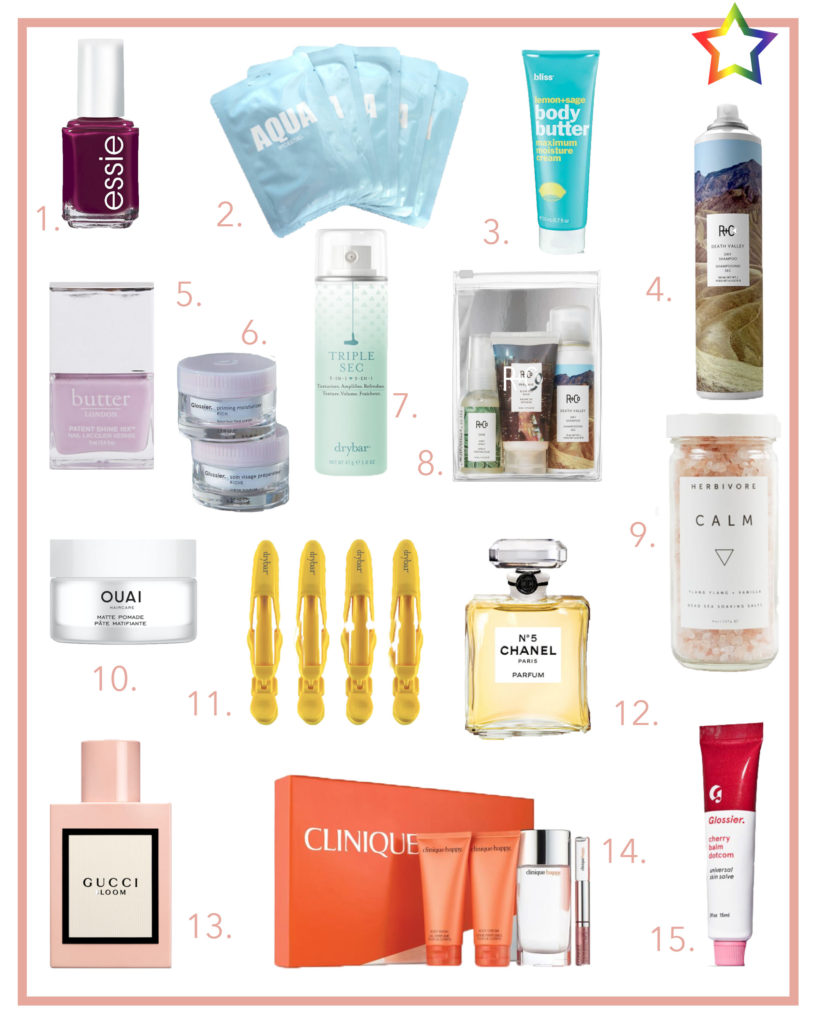 Kicking off day two of EAC Gift Guides with all things beauty. Today's post is a mix of products I love or products I would love to try. Beauty is a personal area for gifting, so unless you are certain that the recipient will love a big ticket item, I suggest sticking to stocking stuffers or the gift sets with mini samples. More gift guides are coming throughout the week, so be sure to check back!
#1 ESSIE NAIL POLISH is my favorite brand for a manicure/pedicure. How fun is the name of THIS SHADE – Bahama Mama!
#2 I am dipping my toes into the masking trend, and this LAPCOS AQUA MASK promises to provide a lot of moisture.
#3 When I went home last month, I picked up a bottle of BLISS BODY BUTTER that one of my sisters had left behind. It smells so fresh, and I love putting it on right after the show to save my skin from drying out as the temperatures drop.
#4 DEATH VALLEY DRY SHAMPOO is such a great product. It has a light smell, in my opinion, and it lasts for a long time. This is a great gift idea for any busy gals on your list who want to make their hair look nice in-between washes.
#5 I've always wanted to try this brand & the LAVENDER POLISH from Butter is a pretty accent for winter.
#6 PRIMING MOISTURIZER from Glossier is one of my most used products. I think PRIMING MOISTURIZER RICH is a perfect gift because it delivers an extra boost of moisturizer, which we can all always use in December. PS – use THIS LINK for 10% off your first Glossier item!
#7 I swear I love visiting Drybar because it makes my hair smell nice. The DRYBAR TRIPLE SEC is a perfect stocking stuffer at under $15, which adds both texture & volume while also smelling ah-mazing.
#8 This R + CO GIFT SET includes a mini version of the Death Valley dry shampoo I mentioned above, in addition to samples of the nourishing spray & styling balm. This would make an ideal set for those who love to travel.
#9 Everybody will need a little R&R after the holidays. These HERBIVORE BATH SALTS are beautifully packaged. Now, if only my apartment had a bathtub…
#10 OUAI MATTE POMADE is on my list, as I have been trying to experiment with more slicked back looks. This brand is quickly becoming a cult favorite in the industry.
#11 This year, I am hoping to attempt to do a little more maintenance on my hair, and these DRYBAIR HAIR CLIPS would be perfect to preserve styling.
#12 CHANEL N°5  reminds me of playing in my grandmother's bathroom with my cousins. Memories aside, there is a reason Chanel N°5 is consistently the number one selling fragrance in the world. It is universally beloved.
#13  This pink bottle of GUCCI BLOOM is almost too chic.
#14 It isn't Christmas if there isn't a CLINIQUE HAPPY GIFT SET under the tree for my mother from my father. There is no other smell in the world that evokes as much emotion as the smell of my mother's perfume.
#15 BALM DOT COM is one of my all-time favorite beauty products. It is the bomb for a reason. It can be used on lips & on dry cuticles. PS – use THIS LINK for 10% off your first Glossier item!
Scroll through the products below to shop! 
Graphic: Ryan Cleary DiFalco