Happy last day of January!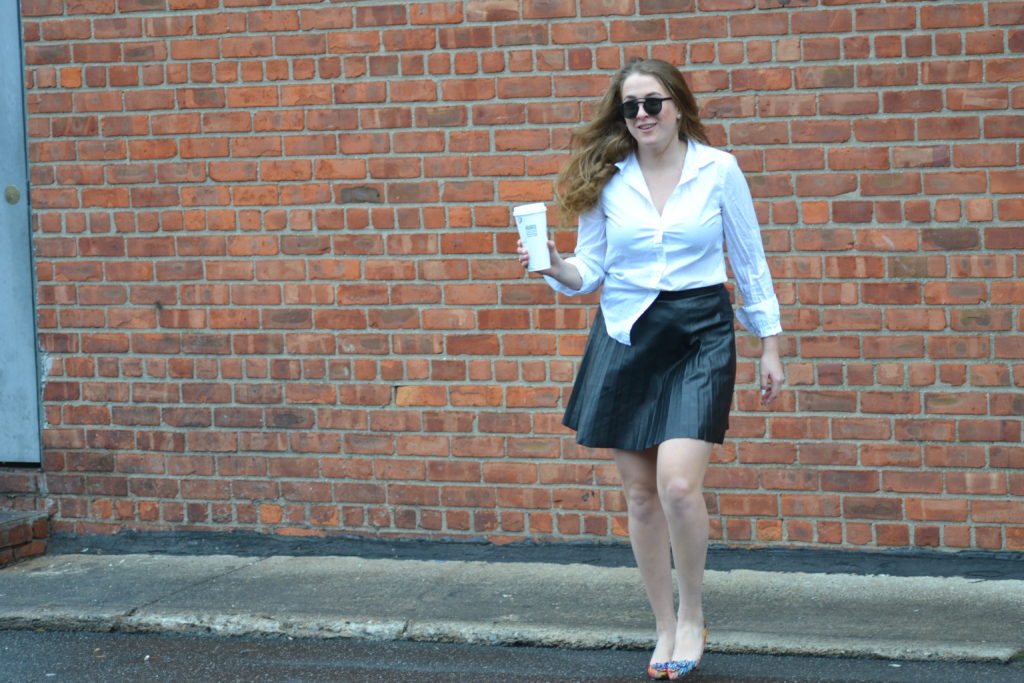 This past month flew by. I believe I suffer from a 31 day holiday hangover after the joy & merriment of the Christmas season. Thus, as I mentioned HERE, it takes me a certain amount of time to decide on resolutions. There are still more to be determined, but I am excited to share a couple of goals for increasing overall body happiness, a personal focus for 2016. I really do love my body, and I pursue these goals to continue body positivity as opposed to turning towards guilt/shame/disappointment.
First, I am going to be more active.
This is the first time since I was about four years old that I haven't been part of an organized team sport. Therefore, although I am still looking for options in the city, I am making a commitment to myself to work out a minimum of 2 times a week. In addition to going to the gym more, I am trying to increase the number of steps I take daily. When I find myself getting tired or antsy, few things invigorate me as much as a brisk walk.
Second, I am going to eat better.
Fruits, vegetables, and whole grains are at the top of my "Eat More of These" list. Bagels & fries are at the top of my "Should Probably Eat Less of These but Will Probably Still Eat Often" list. I think making more day-to-day healthy choices will give me the freedom to eat my favorite foods when I really want to. I am striving to continue to (almost completely) give up soda. With the exception of champagne & cocktails, I prefer to eat my calories. On the subject of beverages, I am planning to swap my current trends for coffee and water. Therefore, I will be drinking less of the former and drinking much more of the latter.
Third, I am going to engage in beauty treatments that help me feel my best.
I have never been a real beauty junkie. However, there are a few areas which contribute to my overall look and, therefore, my overall mood. I will strive to take better care of my nails at home, although I know a salon always does better work. It saves time & it saves cash. As someone with naturally curly hair, I have been meaning to research products that are specifically suited to nourish my hair type. This is the year I want to work with what I've got! Finally, I will continue my LASER HAIR REMOVAL process through the year. I am heading to my third SPRUCE & BOND appointment next week, and I am so excited about it.
In my FIRST POST of this series, I discussed my decision to work with SPRUCE & BOND, and there is no doubt in my mind that anyone considering this treatment should look here first. My treatment specialist is kick-ass but kind, and I am seeing really positive results. My hair growth has slowed and my hair texture has thinned. The brief pain of the treatments have become easier to manage as time has passed, although the fact that my treatment specialist is a laser wizard also helps. Seriously, she is wicked fast.
Spring cannot come soon enough in my opinion. I think winter has conceded defeat, and I can't wait to show off my skin as the warm weather approaches. In my SECOND POST of this series, I described how confident I feel as a result of these SPRUCE & BOND treatments. As happiness with my body is the goal, I am very grateful to have the opportunity to collaborate with a company who truly helps me achieve this ideal state.
In order to track the progress of my body positivity goals, I am thinking of utilizing GRETCHEN RUBIN'S resolution chart, an every-day reminder of your most important tasks. Her book THE HAPPINESS PROJECT is one of my go-to resources for living a more fulfilled life.
This year is already looking beautiful.
ERIN ★
A special thank you to SPRUCE & BOND for partnering on this post.
#STYLESILIKE are meant to be shared.