Every day, I post on social media.
Through these channels, I have grown as a person. I have become more confident in my self. I have become more connected to the world. I have become more curious about the unknown. Yet, while I firmly believe in the tangible power of social media, I also recognize there is a dark complexity to the application of filters to our actual lives. Social media almost never portrays our exact reality. This desire to appear perfect on our various accounts can be harmful if not contextualized. While our screens can open our world, they can also at times limit our ability to be present with those in front of us.
For example, Leandra Medine of Man Repeller, one of my biggest Internet inspirations, isn't cleansing with green juice in an attempt to be a healthier person. Rather, this whip smart, fashion-forward blogger is doing a weekly DIGITAL DETOX to encourage herself to be more engaged in the present moment. Her efforts are rooted in a greater necessity for self-care.
Vogue recently interviewed individuals who choose to remain dark online. They may be THE MINORITY, but there are those who find other forms of communication, such as phone calls, to be more genuine methods for keeping in touch with loved ones. In the most ironic sense, social platforms went crazy last week when a famous Instagrammer/YouTuber QUIT SOCIAL MEDIA after building her career online. Unlike those interviewed by Vogue, her story was especially interesting given the immense amount of time & effort that went into creating her following.
In my opinion, social media can be used in powerful ways – to champion causes, to support friends & family, to showcase your talents, to explore future destinations, to learn about new subjects, to fundraise, to stay up-to-date on current events, to discover brands, to find others who share your passions, or to celebrate an achievement.
Yet, while I love social media, I don't always love what it compels me to do.
I am guilty of asking someone to take 30-40 shots to get just one to post on Instagram. I am guilty of zoning out while someone is talking to check my followers count. I am guilty of letting my meal get cold while I try to snap just the right picture. I am guilty of only sharing HALF THE STORY – the "beautiful, perfectly lit, fits neatly in square spaces" story. What is missing?
HALF THE STORY is a brilliant movement founded by a brilliant friend, LARZ. We met, as bloggers frequently do, via the world wide web. We followed each other's social accounts, and I have continued to be inspired by her rock glam & edgy boho style ever since. As I pursue my own goals, I am motivated by her drive to create, a community-focused process that she is insanely passionate about. We were finally able to meet in person at a Dannijo sample sale in the summer of 2014. Our connection was still mostly virtual, as our plans to meet up again never came to fruition. One fateful day during NYFW this year, I realized LARZ was attending an event in my office building. I texted her, and we met up FOR COFFEE serendipitously. It was here she first told me about this movement & invited me to be a part of it.
HALF THE STORY is founded on the principle of social storytelling, honoring the parts of ourselves that don't always translate into beautiful INSTAGRAM photos or witty TWITTER updates. Larz & I discussed why she felt the need to launch this project. As her following on social media has grown, she recognizes that her story appears to be a beautifully carefree existence, filled with artsy lattes and music festivals and killer outfits. Yet, you don't see her cracked phone or her tired eyes or her disappointment when someone lets her down. I kept nodding my head as she talked, understanding this feeling all too well. I followed up with her after her initial launch, and I decided her approach blends realism with optimism. We can be honest about the crazy, messy moments of our days but still strive to be the best version of ourselves.
What is my #HALFTHESTORY?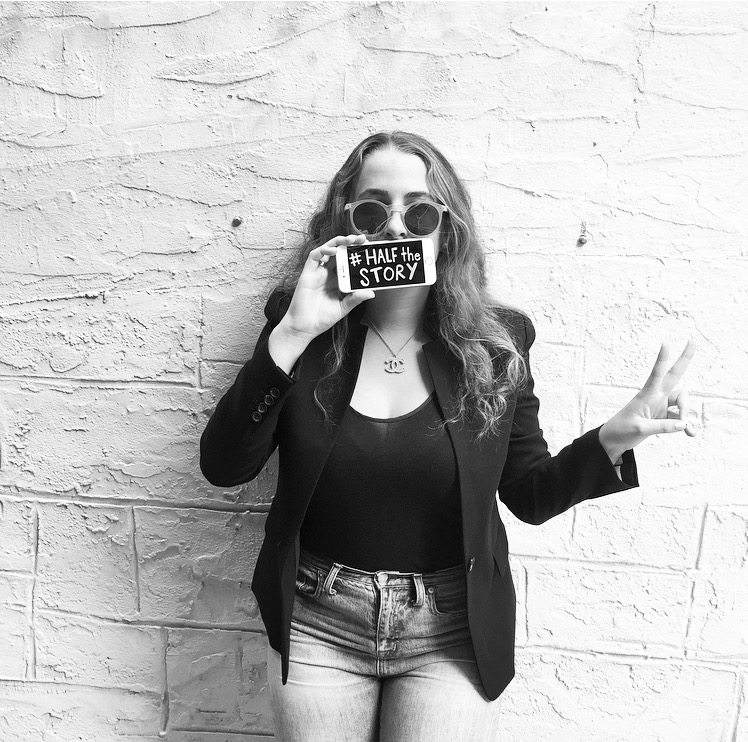 As an extroverted person, in person and online, I feel compelled to share my day-to-day life. I try to be authentic. Yet, as we all do, I tend to spotlight the parts of myself that I am the most proud of.
What don't I choose to share?
I have always been self-conscious about my hair. As LARZ took this picture, I knew my mane was going to look frizzy. There is a 90% chance I am feeling too warm at any moment of the day. I have terrible time management skills, and I am a huge procrastinator. For example, it has taken me a month to write this post. While I strive to be an independent person, I am very scared of being alone. There is a lot of clutter in my room. My biggest regrets involve hurting those I care about. I cry on public transportation more times than I care to admit. My jeans feel too tight, probably because I haven't been exercising as much as I usually do. New York City is overwhelmingly full of opportunity. Yet, I occasionally feel paralyzed by the amount of options there are. The transition after Boston College was harder than I thought it was going to be. I honestly don't know what my purpose in life is, but I am committed to figuring it out. I want to honor these other parts of myself because they are just as much a part of me as the ones I choose to upload daily on social media.
Margaret Atwood, author & activist, wrote, "You're never going to kill storytelling because it's built into the human plan. We come with it."
The purpose of this movement is to create a space where we can tell the other half of the story, in order to know the whole person.
I urge you to SHARE what you come with.
ERIN ★
#STYLESILIKE are meant to be shared.