In an attempt to become a real adult person, I have (slowly) begun cleaning out some of the belongings from my bedroom at home. It's a difficult task, due to my incredibly sentimental nature. However, moving into a new apartment later this month has forced me to re-evaluate at least a few things that I have been holding onto merely because of the memories they represent.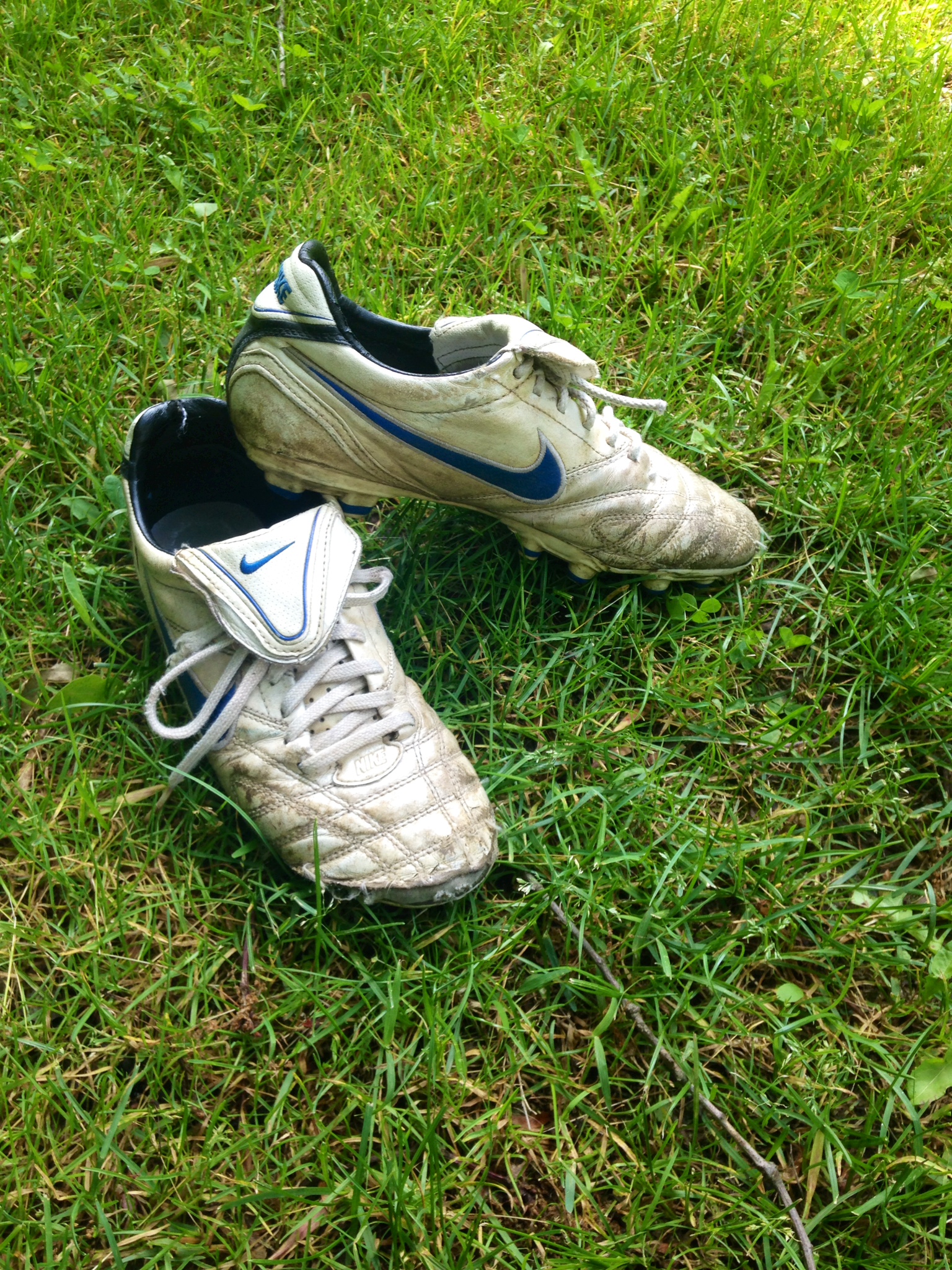 One of the items I have decided to part with is my beat-up Nike cleats, ones that I haven't worn since I played on my high school's soccer team four years ago. They are dirty and ripped. For some reason, the shoelaces don't match. To me, they were one of the most special things I owned, and it really was hard to part with them. I kind of want to go outside and bring them back after writing this.
Don't worry. I know they are just a pair of shoes, but they represent some of the happiest moments in my athletic career. For example, I wore them when Villa Walsh won the county championship for the first time in school history. My love of soccer was a personal path, but it grew over time and continues to this day because I had a lot of supporters – inspiring coaches, invested teammates, & invested fans AKA my family.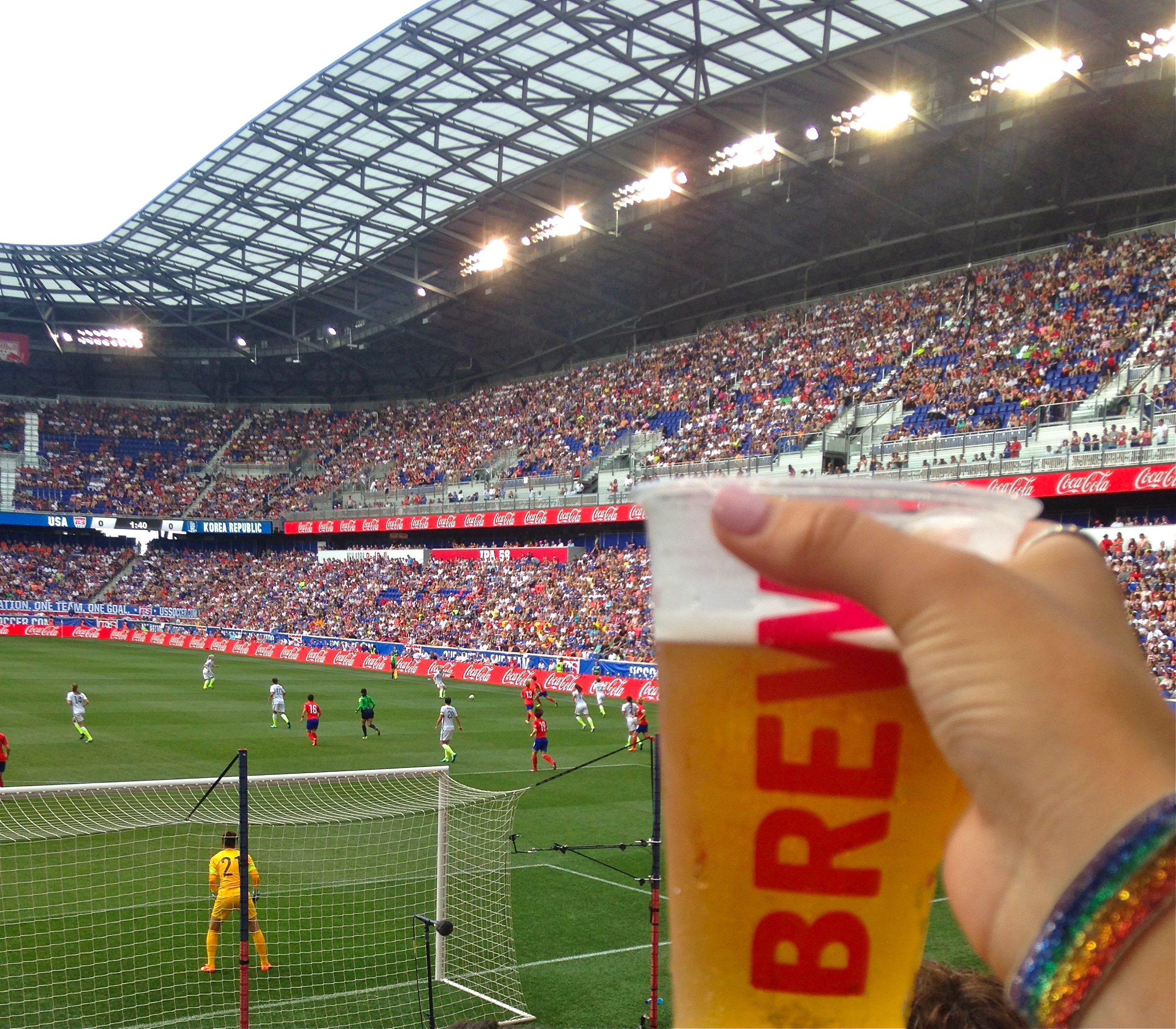 The
U.S. WOMEN'S NATIONAL TEAM
is beginning their path to World Cup victory tomorrow at 7:30 PM in a match against Australia. I cannot explain how excited I am to watch, even if I can't see the games in person. Luckily, I was able to send them off in style at
THEIR GAME AGAINST SOUTH KOREA
with my two sisters, Kerry & Meghan, and my best friend, Daniele.
The stadium was packed with all different kinds of people – men & women, young kids & elderly adults. After the national anthem finished, the crowd went crazy as the stadium unfurled a giant banner that read "Bring It Home" with a picture of the World Cup trophy on it. I wore this 
NIKE TANK
in red, but I am also digging this super official 
NIKE JERSEY
.
Looking to show your Team USA spirit this summer? You can shop the links or the widget below by clicking on the items you like!
NIKE JERSEY | NIKE SHORTS | NIKE TEE
NIKE TEE | NIKE TANK | NIKE TEE
The game ended in a tie. Although the beer carts closed before we could get a second drink, it was amazing to watch the whole team and especially my favorite player, Abby Wambach, in action. I am pumped to be keeping up with all of the World Cup matches, but of course, I will be rooting for the USWNT to win the whole damn thing.
During half-time, we decided to go pay a visit to both mine and Meghan's former high school soccer coach, who was also watching the game with her daughter. Because there were a bunch of empty seats by her, we ended up staying there for the rest of the game. It was a really special moment, observing the best female soccer players in the world with Coach Falz, a woman who constantly encouraged me and every person on the team to be the best players we could be. Her young daughter, who was wearing a fabulous shirt that read "Future U.S. Soccer Star", has already been exposed to the passion people possess for this beautiful game.
It is for her that I am so happy the USWNT launched a purposeful mission to continue to be an inspiration for females, whether or not they are athletes themselves. The #SHEBELIEVES campaign is "a message to young girls that they can accomplish all their goals and dreams". The team explains, "As part of the #SHEBELIEVES initiative, the team invites fans to share on Twitter, Facebook and Instagram all the ways in which they are working to be the best at whatever they choose to do using the #SHEBELIEVES hashtag."
What do you believe?
I believe my coach's daughter will grow up to be a girl who loves soccer cleats as much as I do. I believe that I need to work harder to understand difficult technological concepts. I believe that I will never feel completely satisfied with what I have achieved, pushing me to always strive for more. I believe that I have a personal determination to continue to share thoughts & outfits & ideas that are important through this blog.
Tomorrow at 7:30 PM against Australia in their first World Cup appearance this year, I believe that the USWNT will win.
ERIN ★
#STYLESILIKE are meant to be shared.