These next three days are my favorite of the entire year!
Bagel sandwiches fueled us to finish the last-minute cleaning & decorating this afternoon. I am lucky to have my cousin, Quinn, here because she is basically my professional room organizer, in addition to the family-wide hairstylist. Literally, every single one of the Cullen girls is wearing one of her braids/updo combination for the party tonight. I still haven't picked out my outfit for our party tonight, but my father came home from work today wearing the look below. He said he placed in the top 5 of the student council competition at the high school where he is a math teacher. I have mentioned before that my dad is one of my style inspirations. He is wearing a shirt with multiple clashing pattens, a holiday tie, a confident smize, & his iconic fanny pack. Is it really hard to see why?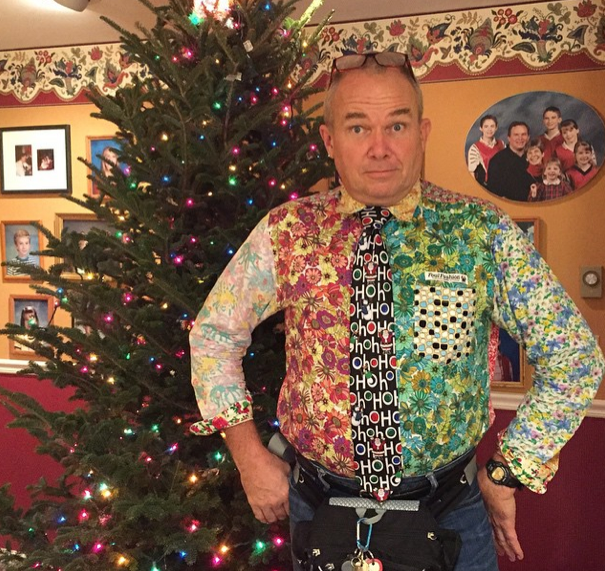 Image via Instagram
Hope you have a festive night, whether you're at a party, out on the town, or in your warm, cozy home.
Only two more sleeps till Christmas Day…
ERIN ★
PS…
Hope you are enjoying the #25DAYSOFSTYLESILIKE as much as I am.
See all the previous posts below.
[ 1 | 2 | 3 | 4 | 5 | 6 | 7  | 8 | 9 | 10 | 11 | 12 | 13 | 14 | 15 | 16 | 17 | 18 | 19 | 20 | 21 | 22 ]
FYI – Gift Guide #1 & Gift Guide #2 are LIVE!
XOXO
#STYLESILIKE are meant to be shared.