Happy Thursday!
It's almost the weekend which is always something to celebrate, and I wanted to give you another reason to look forward to this day of the week. In my previous post, Don't Cry Over Spilt Pearls, I advised checking out the Tailour Apparel Intern Guide, full of resources and tips for making an impression at your workplace.
Every Thursday for the rest of the summer, there will be a post about Tailour, a women's clothing line dedicated to finding the balance between professional attire and beautiful clothes, and its two fabulous founders. Interestingly, I have never met Chrissie or Lauren in person. Chrissie and I first connected on Twitter. Although based in California, she mentioned she would be coming to Boston to host a trunk show that she was hoping I could attend. Unfortunately, I could not as I had to be in New Jersey to interview for the internship I am currently working at.  When I looked at the apparel section of their website later that day, I saw the great potential this company possessed.
Each and every piece is gorgeous. There are various styles, shades, and silhouettes for every body type. These founders are committed to making clothes that women want to wear! They graciously took some time to speak with me today about their company.
Discuss your experience in business and/or fashion before Tailour.
Lauren: I've been working in fashion one way or another forever. I worked in retail while I was in college, then moved to NY to study design at Parsons. I interned at Zac Posen there, then moved back to LA where I've worked for several contemporary designers.
Chrissie: I started my career as a management consultant and was always frustrated by the apparel options for young professional women.  Nothing really fit that well or transitioned well from the office to after-work.  While getting my MBA at Harvard, I discussed my frustrations with classmates, realizing that we all had experienced the same problem.  So, I set out to solve it!
Describe how your brand was developed over time from concept to creation.
Chrissie: I initially received a grant from Harvard to create, what I called, "the Lululemon for work pants."  However, after creating some initial samples, I realized that something might look great on one woman, but it might not fit another woman's body.  From this, I started thinking about how can we design clothes that fit multiple women's shapes.  I started working with Lauren and, from that, we created a line that is designed to flatter different body shapes.  We've gotten great feedback so far and are, above all, committed to creating a line that makes women look and feel their best in the workplace and beyond.
What are you favorite features of the brand?
Lauren: It's a fun challenge to develop clothing that is beautiful as well as office-appropriate. We are working with gorgeous materials and amazing pattern and sample makers, which makes the process really fun and rewarding.  I love that we are creating something wearable that is special and well-priced!
What potential for growth does Tailour have in the closets of today's businesswomen?
Lauren: Presently, women can update their staid work uniforms with garments that fit well and look great.  In the next few months, we will be developing pants and tops in gorgeous silks that will maintain that fit and will complement women's existing pieces perfectly.
Want another reason to love Tailour? This stylish brand is offering an exclusive discount for all Styles I Like readers! Just enter WORKIT2 at checkout for a special discount on your Tailour dress for a day in the office or a night on the town. I have already purchased the Melrose + Rosewood dress in black!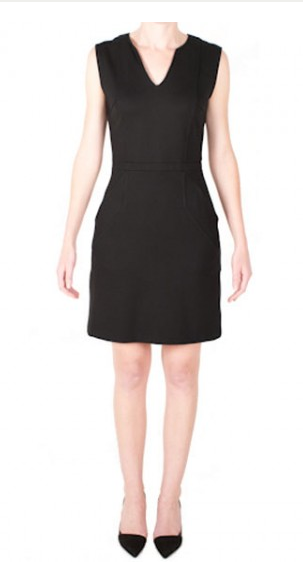 Thank you, Chrissie and Lauren, for your support. I look forward to working as the Official Dressed in Tailour Intern for Summer 2013!
Stylishly Yours,
Erin ★