In honor of the 15th anniversary of Sex and the City…
Here are 15 favorite of the thousands looks that SJP rocked as television fashion icon, Carrie Bradshaw.
Shopping For Vintage Downtown
 Hat. Gloves. Smile. [Paris Perfection]

 Ghetto Fab "Carrie" Necklace
Weekend Morning: Barney's In A Fur Coat 
Non-Model Modeling
Designer Ball Gown & McNuggets 
White Hot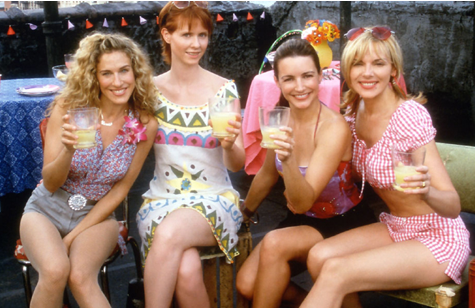 A Flower In The Meat Packing District
Wall Street Waits Only For C.B. 
Brady's Baptism Chic
Colorfully Casually Chanel
Accessorize Bare Midriffs With Gucci Fanny Packs
Wears Her Heart On A Chain
En Vogue 
Oldie But Goodie 
Here's to all the leading ladies of the show (Carrie, Miranda, Samantha, and Charlotte), costume visionary, Patricia Field, who made SJP a style icon, and any girl who has ever seen a little bit of the person she is and a lot of the person she would one day like to be in Miss Carrie Bradshaw.
Stylishly Yours,
Erin ★